ART COMPETITION 2021
******** WINNERS *********
it was reaaaally difficult to choose the winners, one minute I thought it was going to be this and then the next minute I would change my mind. Different moods had different results, but alas, I had to make decision and here are the winners!!! I took a lot of time to put them here so if I forgot something or wrote the info or name wrong please let me know and I will change it. It also probably takes some time before all the pictures are loaded on this website but hopefully they will appear, all the works are spread over 3 different webpages. (this page 1 , page 2 , page 3) . Thanks to Sara, Suzanne & Luis who also judged the entries.  Here we GO!!!!!!!
WINNER OF THE CASIO SK1 SAMPLING KEYBOARD:
Audrey Ayavou from Finland wins the Casio SK1 sampling synth keyboard. I love how its got this 'folkey' artisan character…the flowers, the mooses, the wolf, the houses. All done quite discretely in perfect balance; the juxtaposition of the traditional flowerbed with the cosmic gradient heaven encompass a great humbleness.
WINNER OF THE YAMAHA PSS380 FM SYNTHESIZER: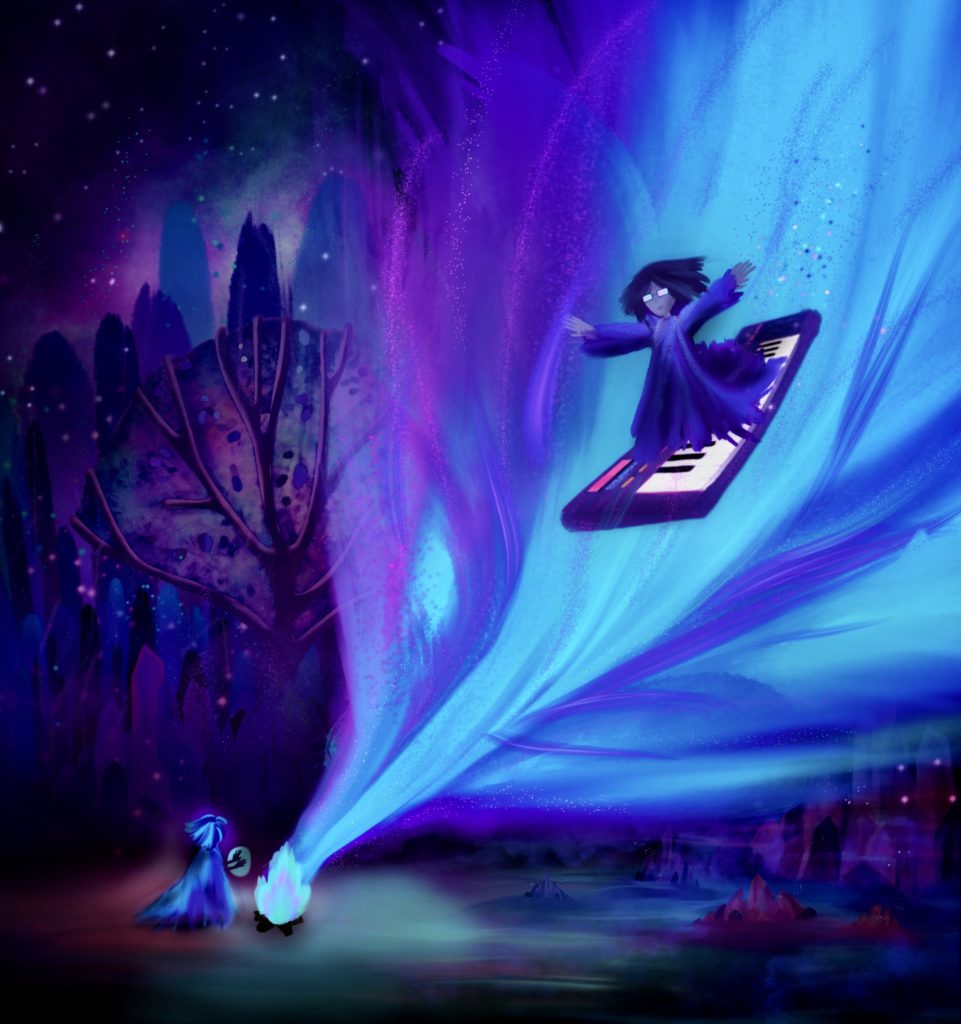 "Invocation" by Misty Dey from Corsica wins the Yamaha PSS380 FM synthesizer. Fabulous fairytale vibes Something out of dreamy Japanese RPG video game, very professional and lovely eerie purple swamp mist! This was part of a series of artworks which you can check out here
WINNER OF THE ELECTRO ACOUSTIC KALIMBA: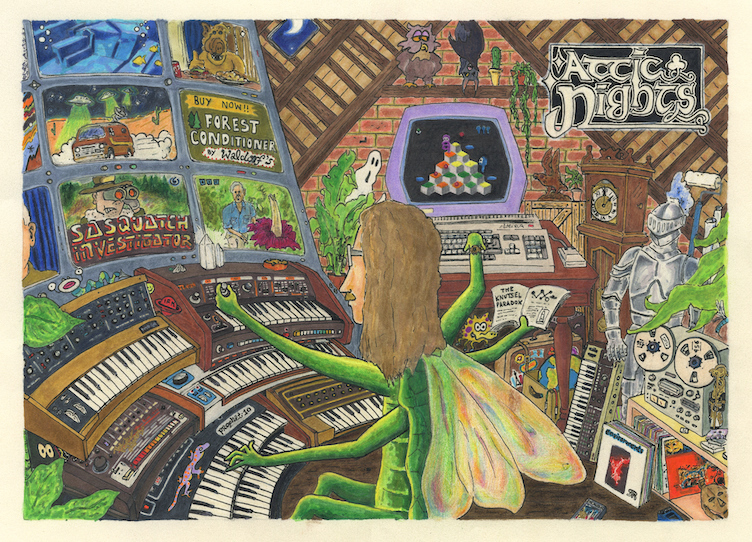 "Attic Nights" by J.Fabian from Essen, Germany. wins the Electro acoustic Kalimba. If only I had an attic like this 🙂 This is based on the LP cover of Bo Hanson's 1976 Attic Thoughts LP Check out a high resolution version for detail here
WINNER OF THE SMACKIE SM-23 LO-FI NOISE KEYBOARD: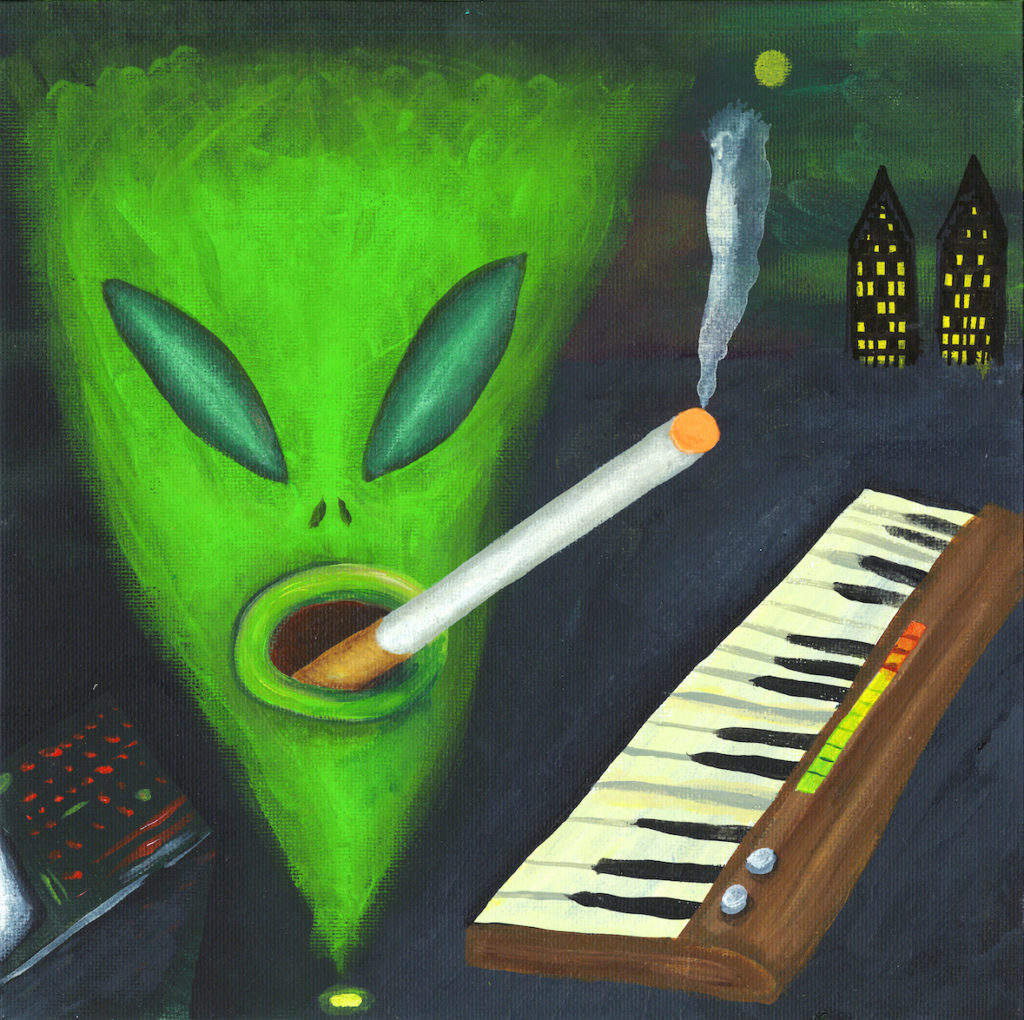 "Lazerboy Crystalized 100S" by Jim Mooijekind from Haarlem, The Netherlands wins the SMACKIE SM23 lo-fi Noise keyboard.  A great composition, especially the gradient buttons on this keyboard (its definitely a keyboard not a synth, probably inspired by an early CASIOTONE circa 1982???) Also the houses and the lights, the clouds, the neon-esque green dinkyness. A strange otherwordly simplicity definitely resides in this painting. Highly effective in being sinister!
WINNERS OF MUSIC PACKS AND T-SHIRTS ETC. :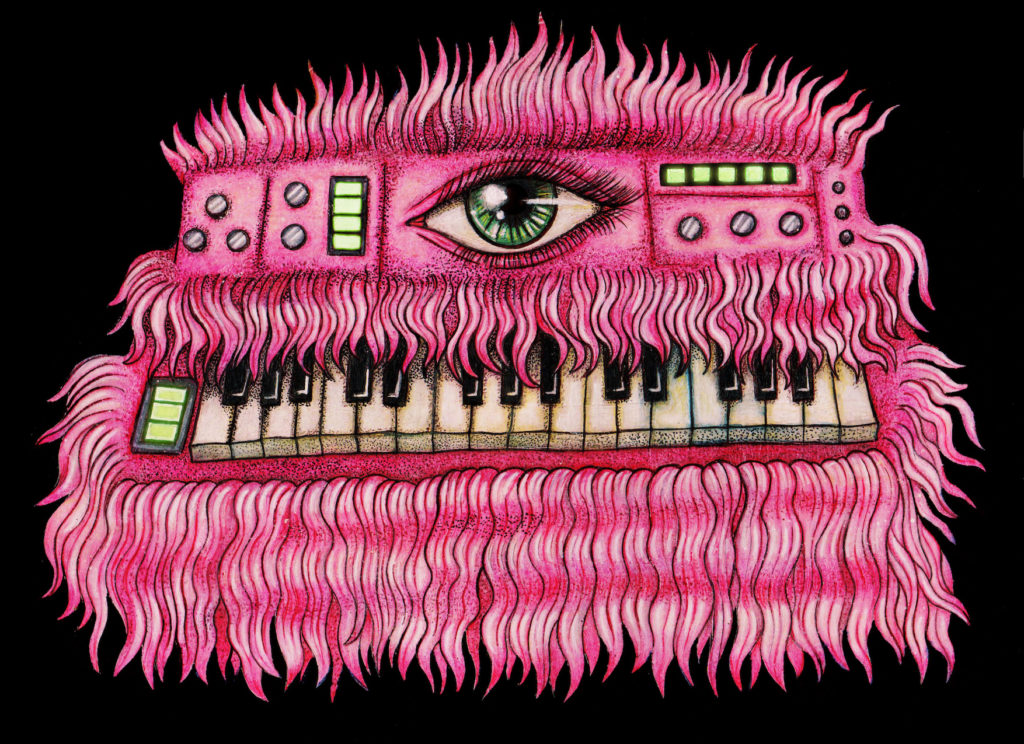 "Pink Noise" by Hernan Alvarado AKA Hex from Lima, Peru wins a Sweater T-shirt & music/merch package. Is it a furry muppet-esque creature or are they slimey crawley tentacles out of a nightmare, that scribbles around your floor in the night to devour your dreams??? Fantastic colors and detailed drawing techniques make this a sure winnner!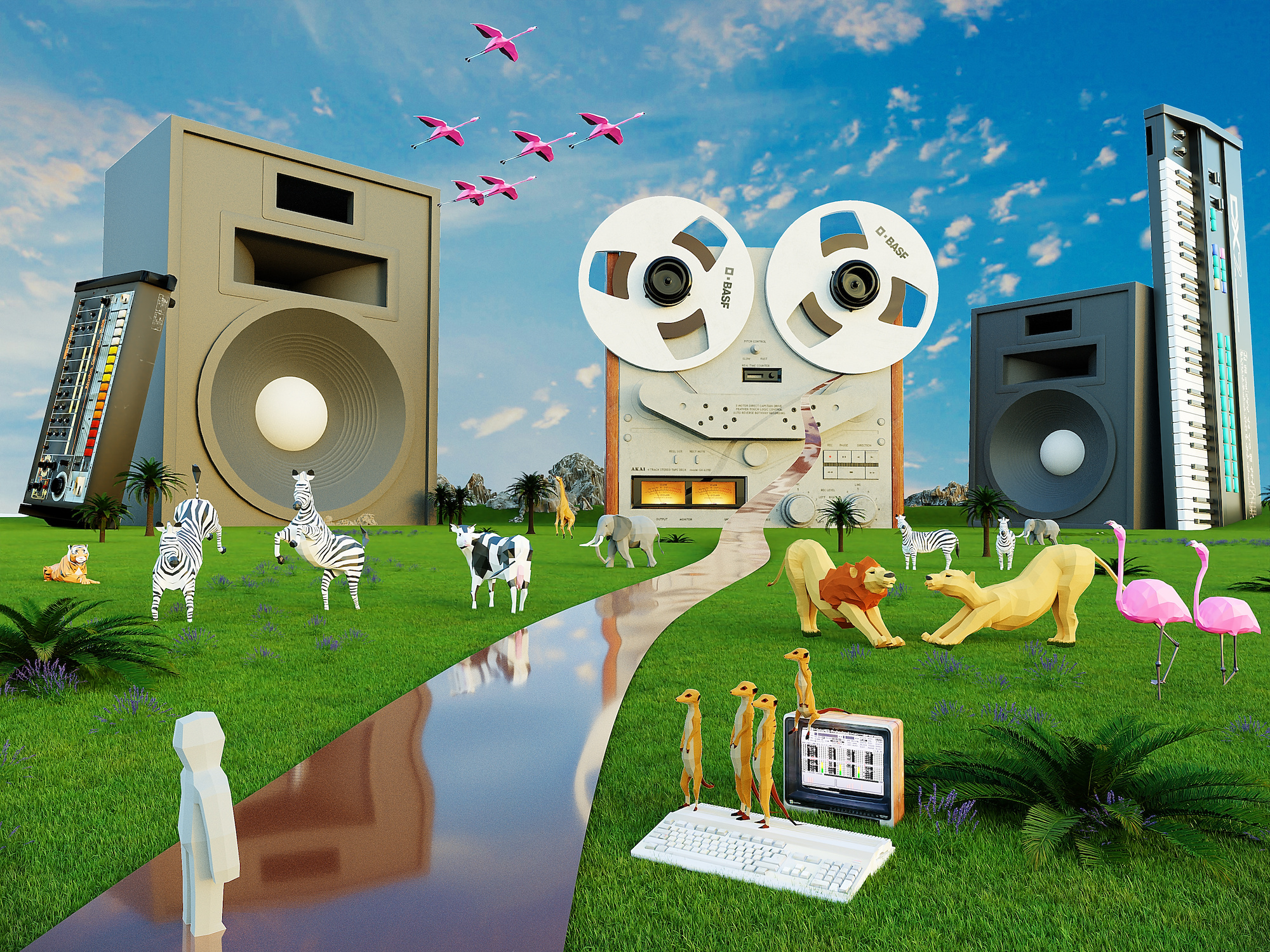 "Techno man in Paradise" by Kevin Koekoek from London, England wins a music package &  T-Shirt. Click here for detailed view Fresh as a breezy mint, emerge yourself in this paradisical 3D rendered world…love the Yamaha DX7 synthesizer tower depth, the shiney tape path and the squadron of flamingos.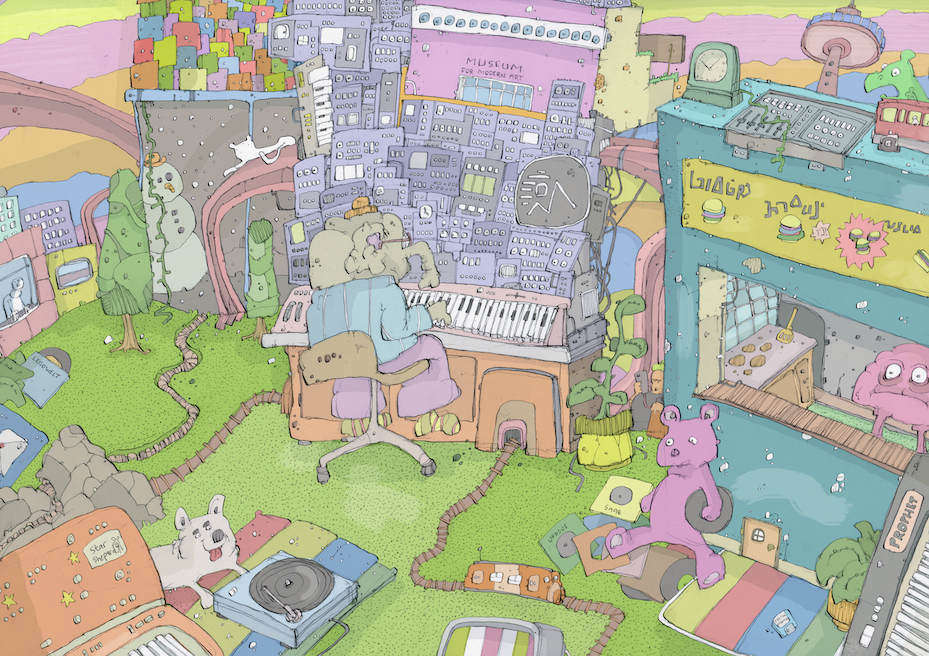 "The Shepherd Typo" by Kiskelfacit AKA Mikael Forsberg from Stockholm, Sweden, wins a music pack & T-shirt, love the pastel colors and Kiskelfacit's unique chaotic scribbly yet totally controlled drawing style! More of his work on his instragram here
"Morning after Rave" by So So Sonya. Click here for detailed view  wins a Music pack & T-Shirt. A lot of stuff going on, my favorite is the little creature on the donkey. The gradient planet sky is a reoccuring theme in many entries and I love it 🙂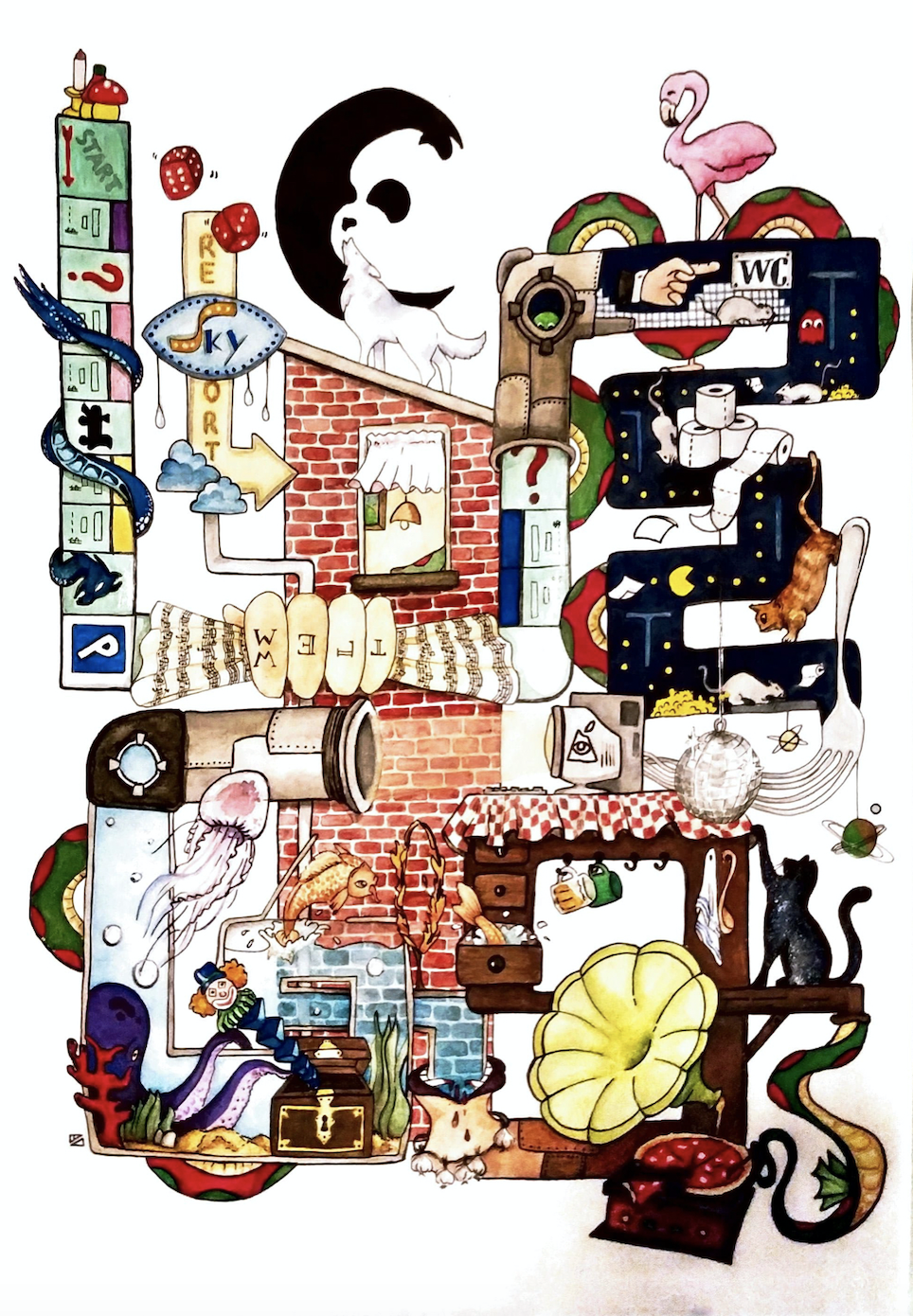 Inspired by, amongst others, Zandvoort & Uilenbal's "The Ski Resort was Buried in The Avalanche" this beautifull piece was created by Allesandro & Agnese. A bit of a fuzzy oversaturated scan but one can easily see that it is a magnificent work centered around a boardgame, including a clown…and I love clowns. Very intriguing and done with lots of effort. A definite winner. They win a music pack & shirts.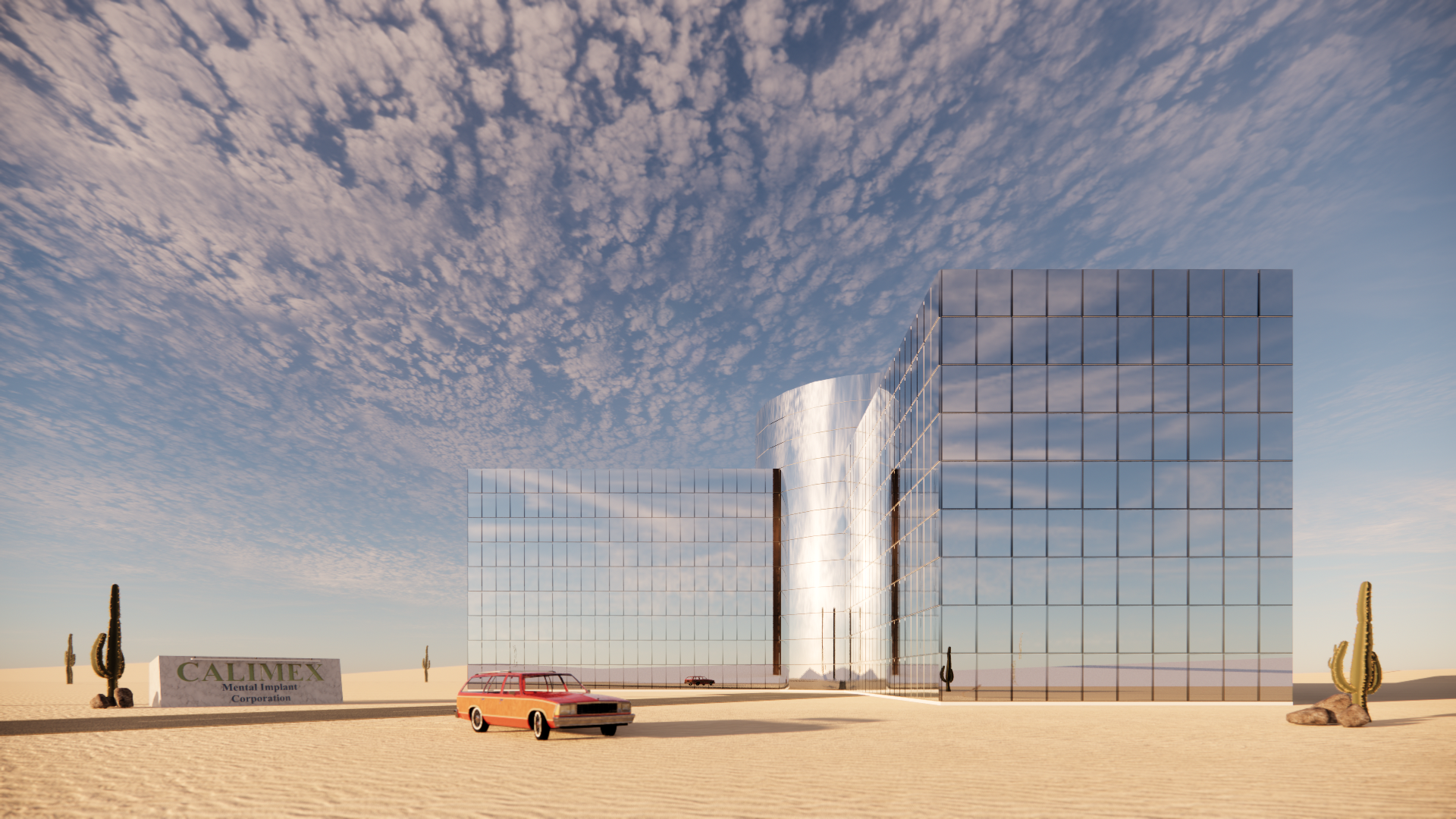 "Revisiting The Calimex Mental Implant Virtuality Continuum" by Thomas Russell from Scotland wins a T-Shirt. This is actually an  'immersive' 360 degrees 3D experience which can be seen here   (Don't step on the Alesis HR16!) and even a videoclip recorded in that 3D space which I will upload soon.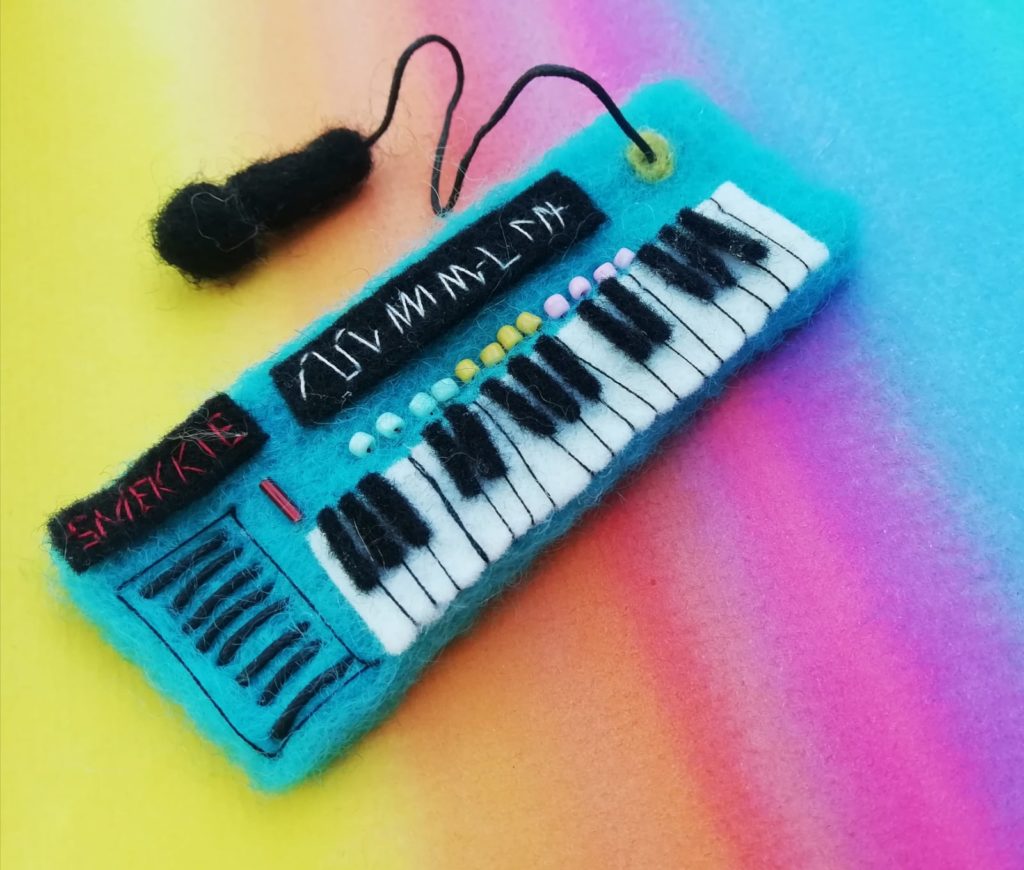 "Legofelt" By Nadine Trachsler from The Netherlands wins a T-Shirt. It's the SMACKIE SM23 in filt!!! Very itchy to play tho…
Tonnie van der Varst wins a T-Shirt. Yesss pure simplicity, early MSPAINT DOS games vibes. The lime or lemon or whatever it is, is a bit rough on the edges, Some shadows would have made it perfect but alas it is still fantastic and just massages the brain with pleasant nostalgia. If only we could enter this world and spend some time there to forget our sorrows…you can FEEL THE HEAT.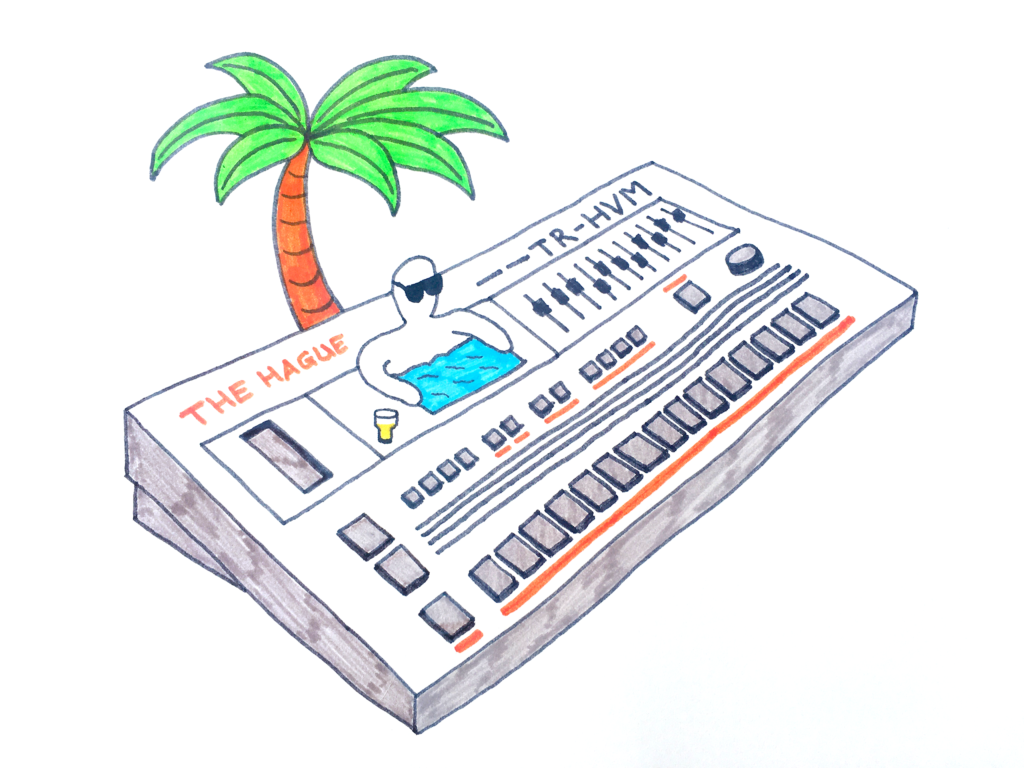 "Summer-oh-Seven" by Harry van Mierlo wins a T-Shirt. Pure, simple and original this celebration of the trusty old TR707 drummachine just oozes total confident control over the markers.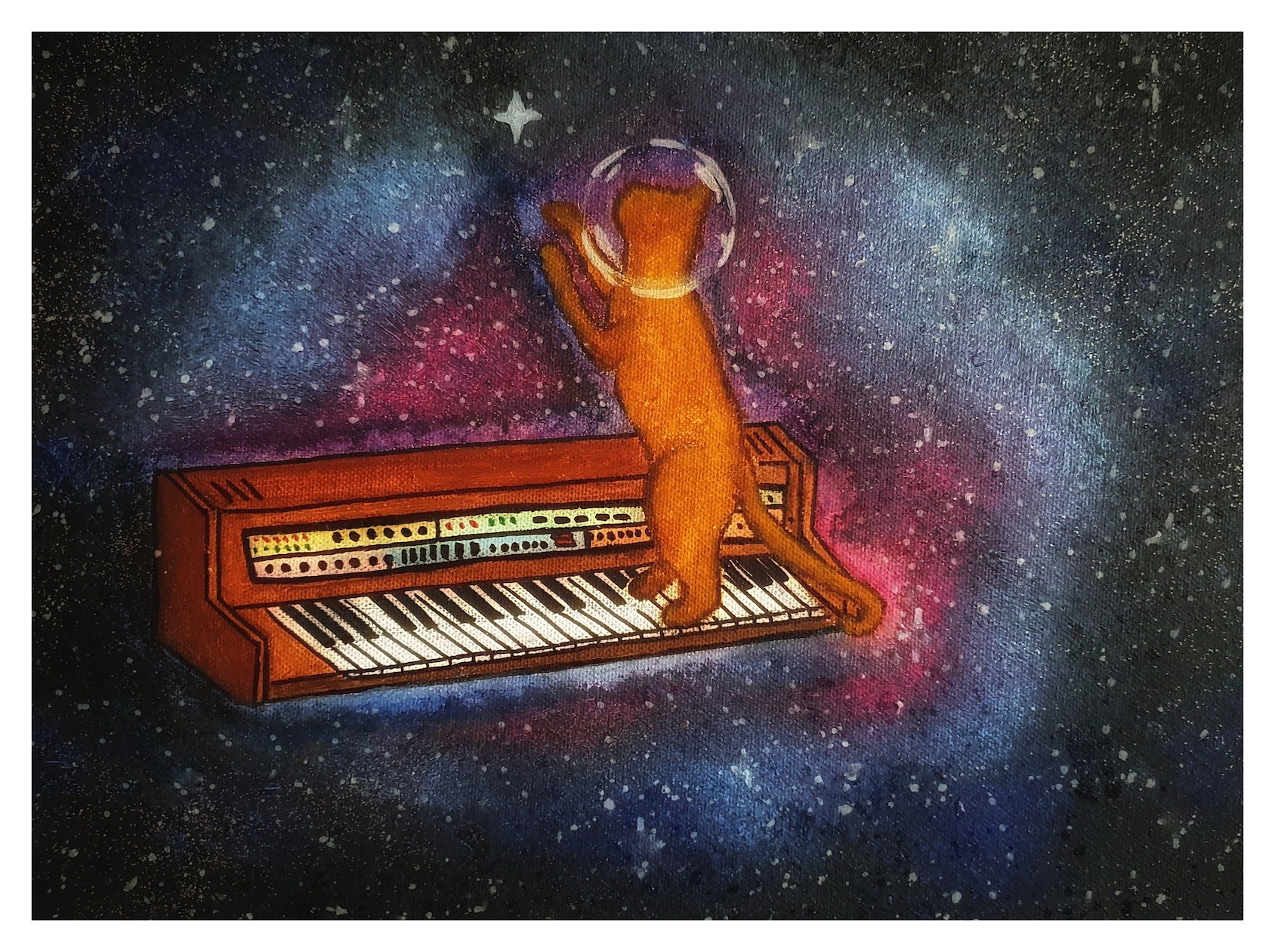 "Galactic Cat Having a Party" by Veronika Rusnáková & her brother from Slovakia win T-Shirts, part of three paintings. You can see their creation in a video here

"Twilight in the Wilderniss, fine art removals" By Jack & Myma from Bristol, UK win T-Shirts
"The Cosmic Breakfast" By Frederica Scalise wins a T-Shirt, check out her other cool work here 
"Ezra Ontmoet zijn papa de tovenaar" Jordi Holterman click here to see bigger image for detailed view  wins a T-Shirt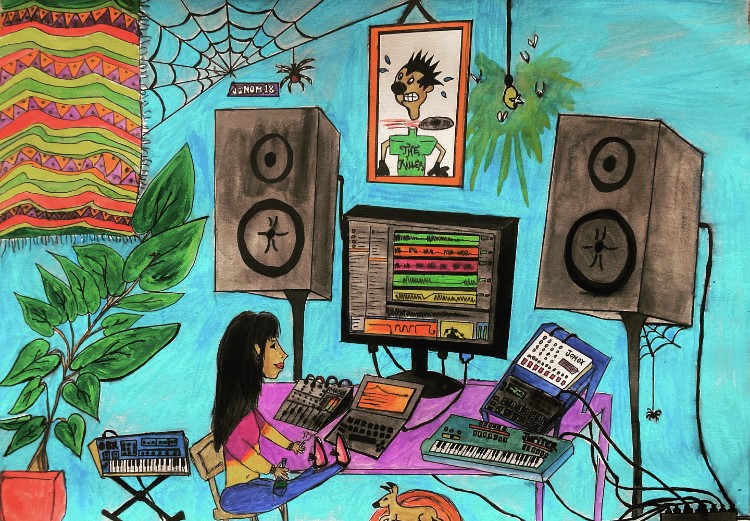 Leticia & Trauma (my extenson my dog) from London, England wins a T-Shirt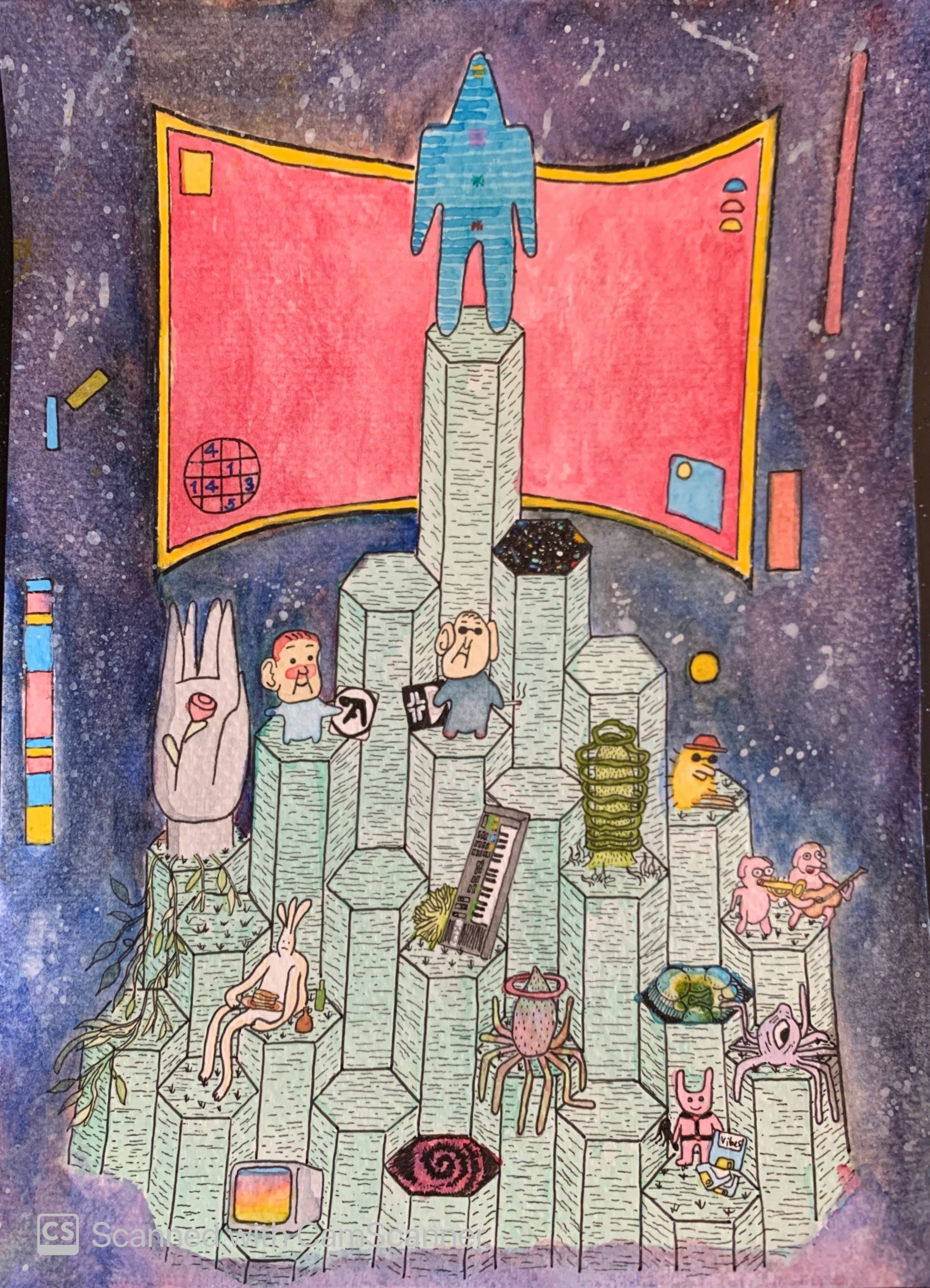 "A Sad Hologram projected from the Edge of the Universe" by Leopoldo Chumaceiro from Amsterdam, The Netherlands wins a T-Shirt
Andrea Badaloni wins a T-shirt, this is some extreme heavy psychedelic cloudy vaporized setting!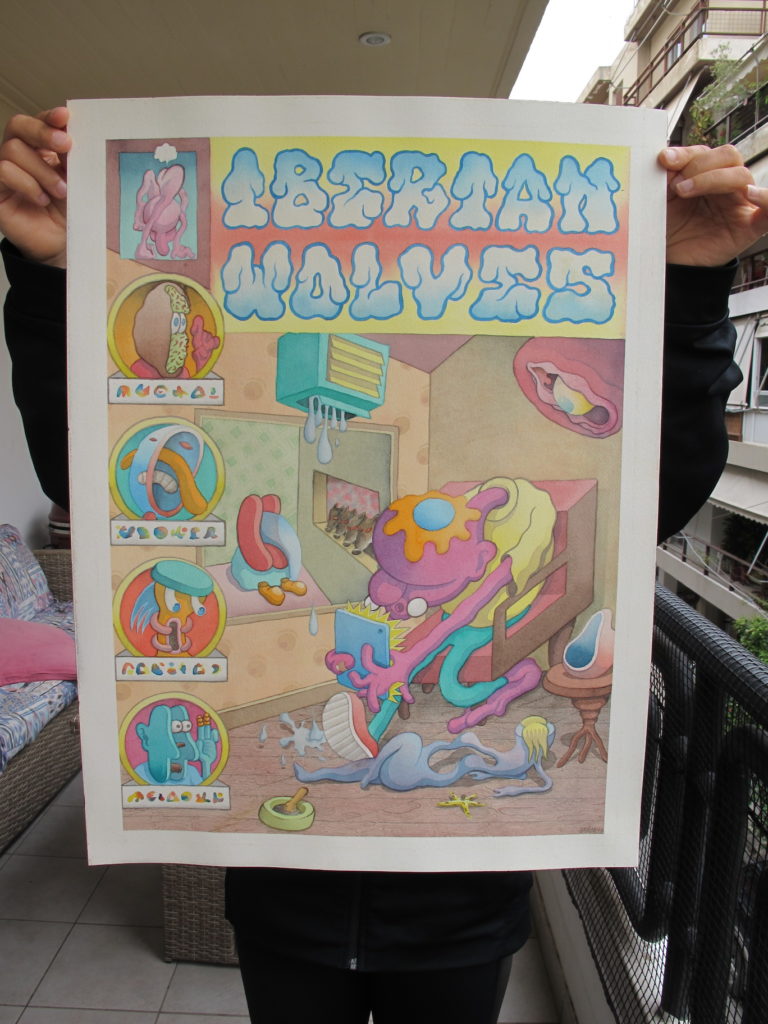 "Iberian Wolves" by Rachid Omick Bulbien wins a T-Shirt!
Jessica Fennely aka Datenite wins a T-Shirt. I really like that starry night, the adobe style room atmosphere and the wooden synthrack -they sell something similar here in Holland at the XENOS store for very cheap-. Its a bit rough but it has this cosey artisan atmosphere that can mesmerize even the most grumpy art critic.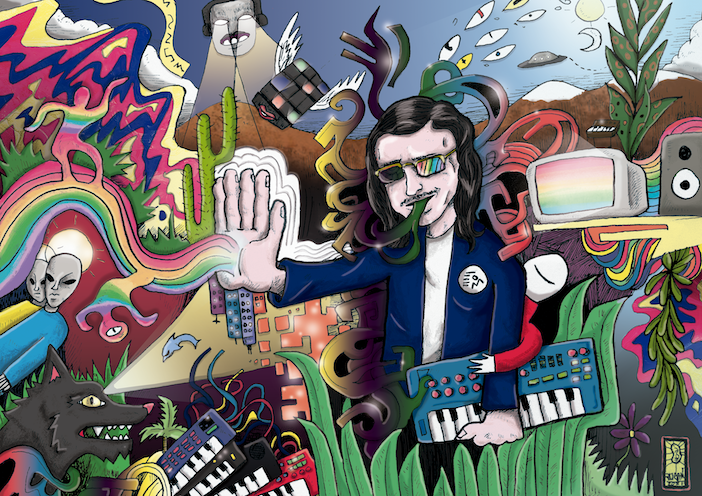 Jocan Deka knows I am a lizard reptilian secretly trying to take over to world, so he wins a T-shirt…Novus ordo seclorum!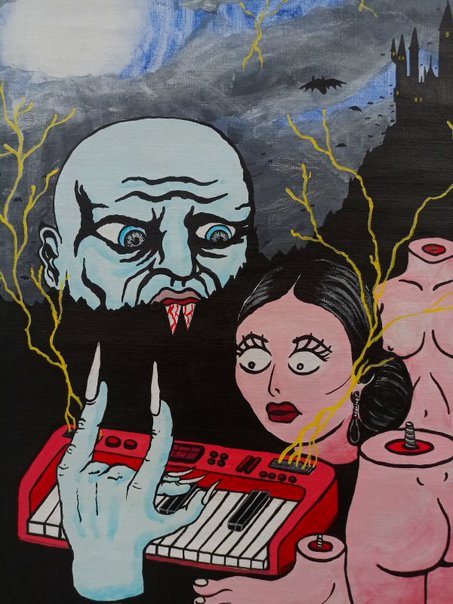 "Nosferatu möcht mit einer Schaufensterpuppe schlafen" Rowan van der Sterren wins a T-shirt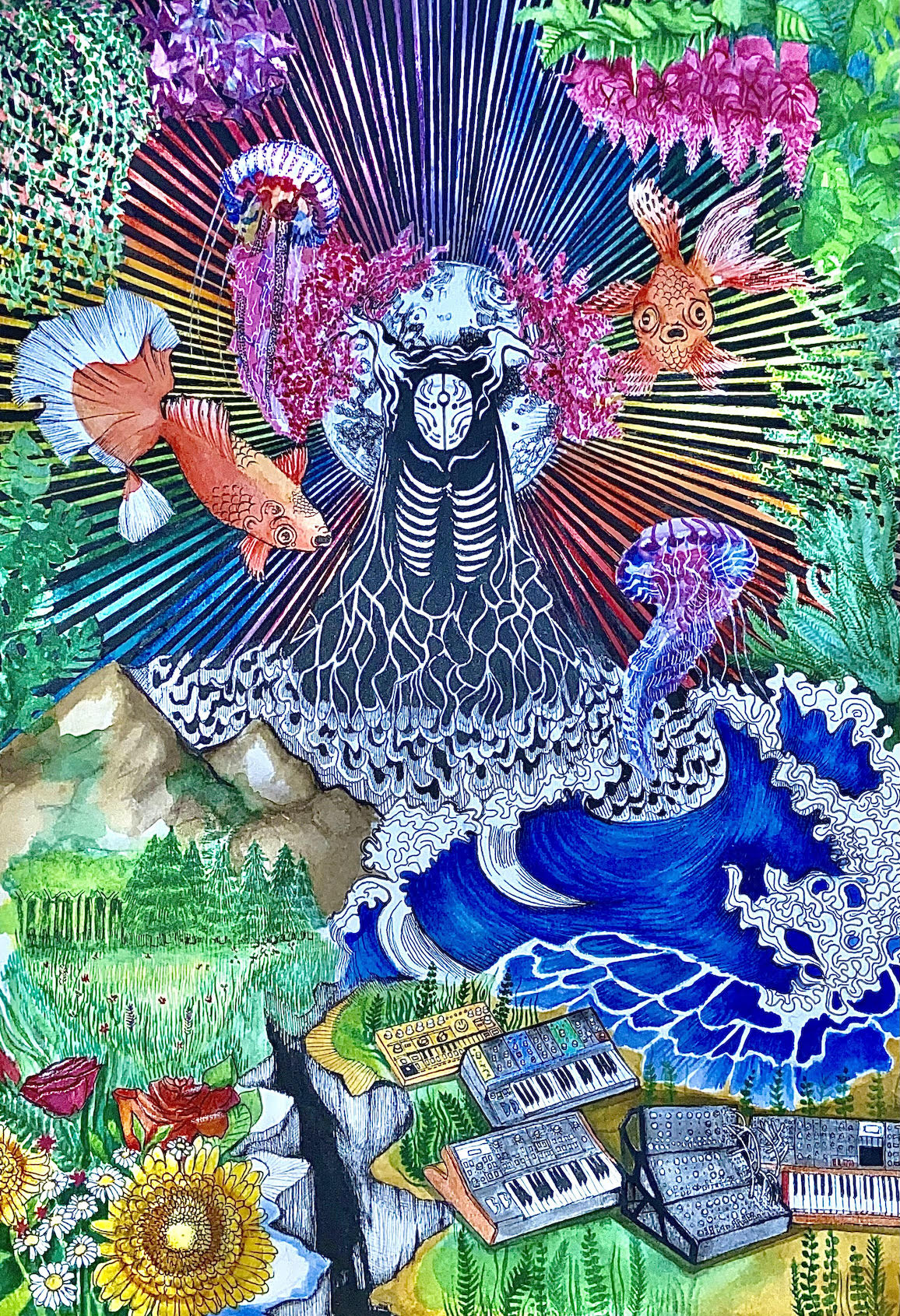 "Biogenesi"by Iride Mendola from Turin, Italy wins a T-Shirt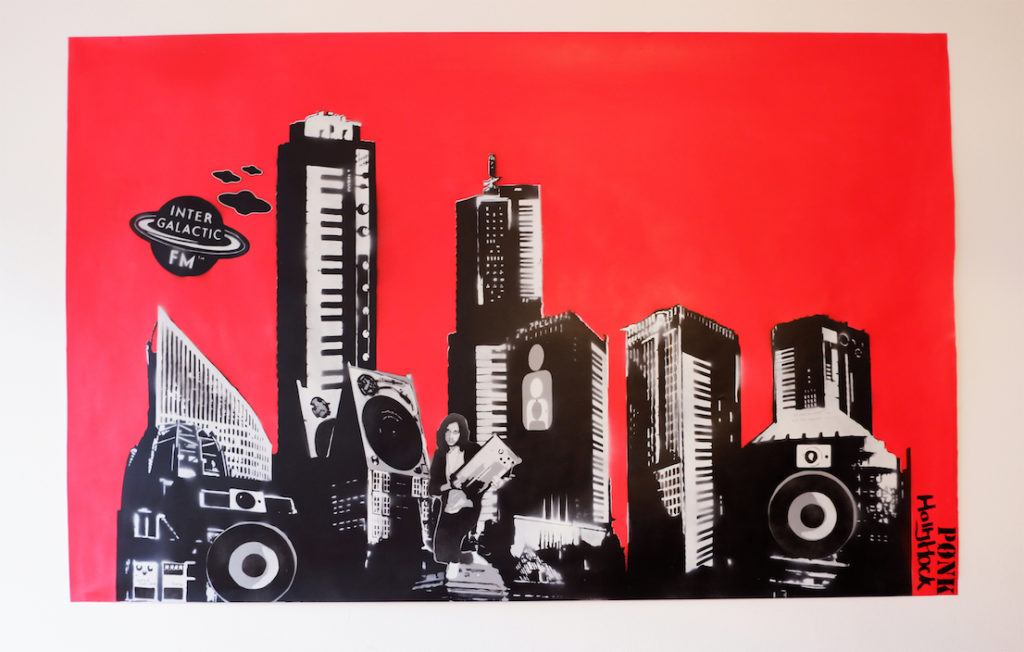 "Legowelt City" – Graffiti & stencils on paper by Ponk stencilart & HollyHock
@ponk_stencilart @hollyhock_art win T-Shirts

HONORABLE MENTIONS:
The rest doesnt win a prize but I send you all good karma and luck for the rest of your life 😉
here we go…..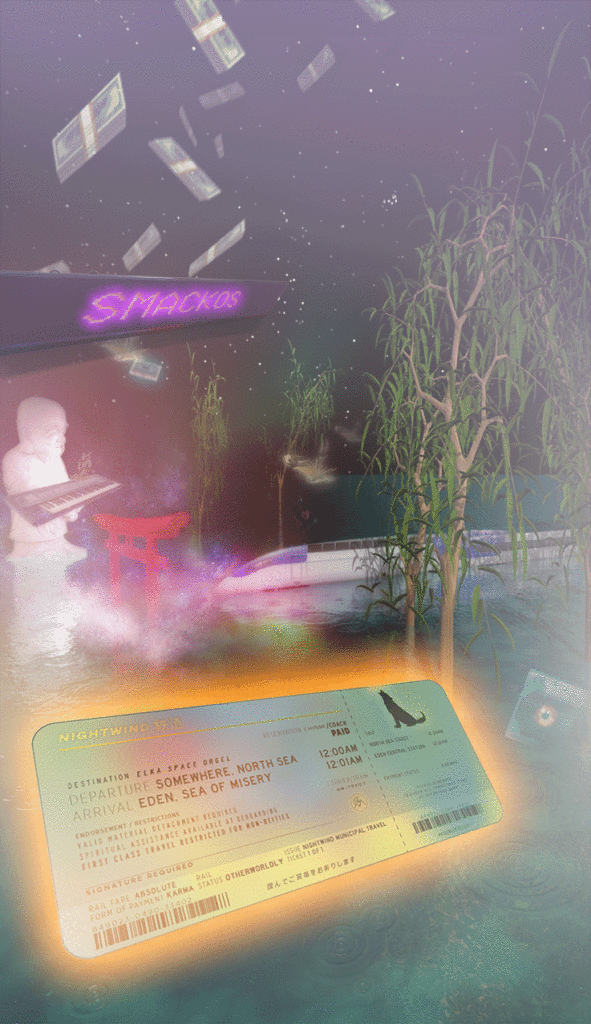 "A North Sea Departure" By Leon @Bakaweight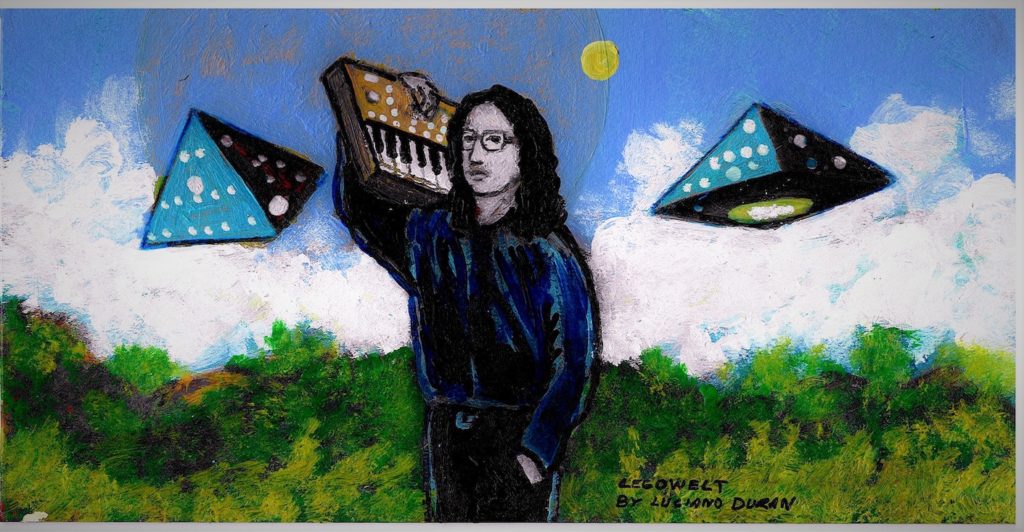 "Synth Contactf" by Luciano Duran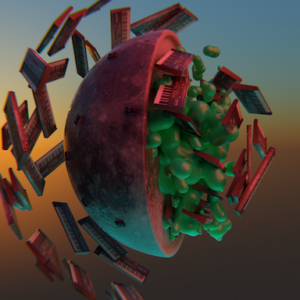 "Half Moon 106" by Alejandro Gallegos from Guayaquil, Ecuador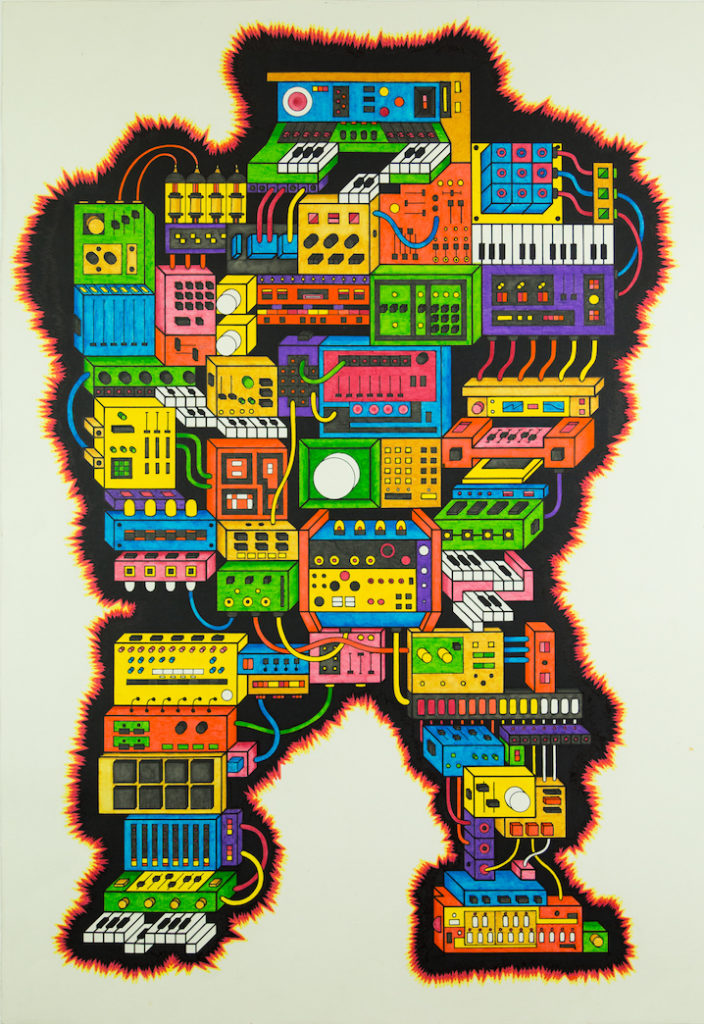 "Robot" by Diego
Internet by Night PC, love that DPAINT style gradient brush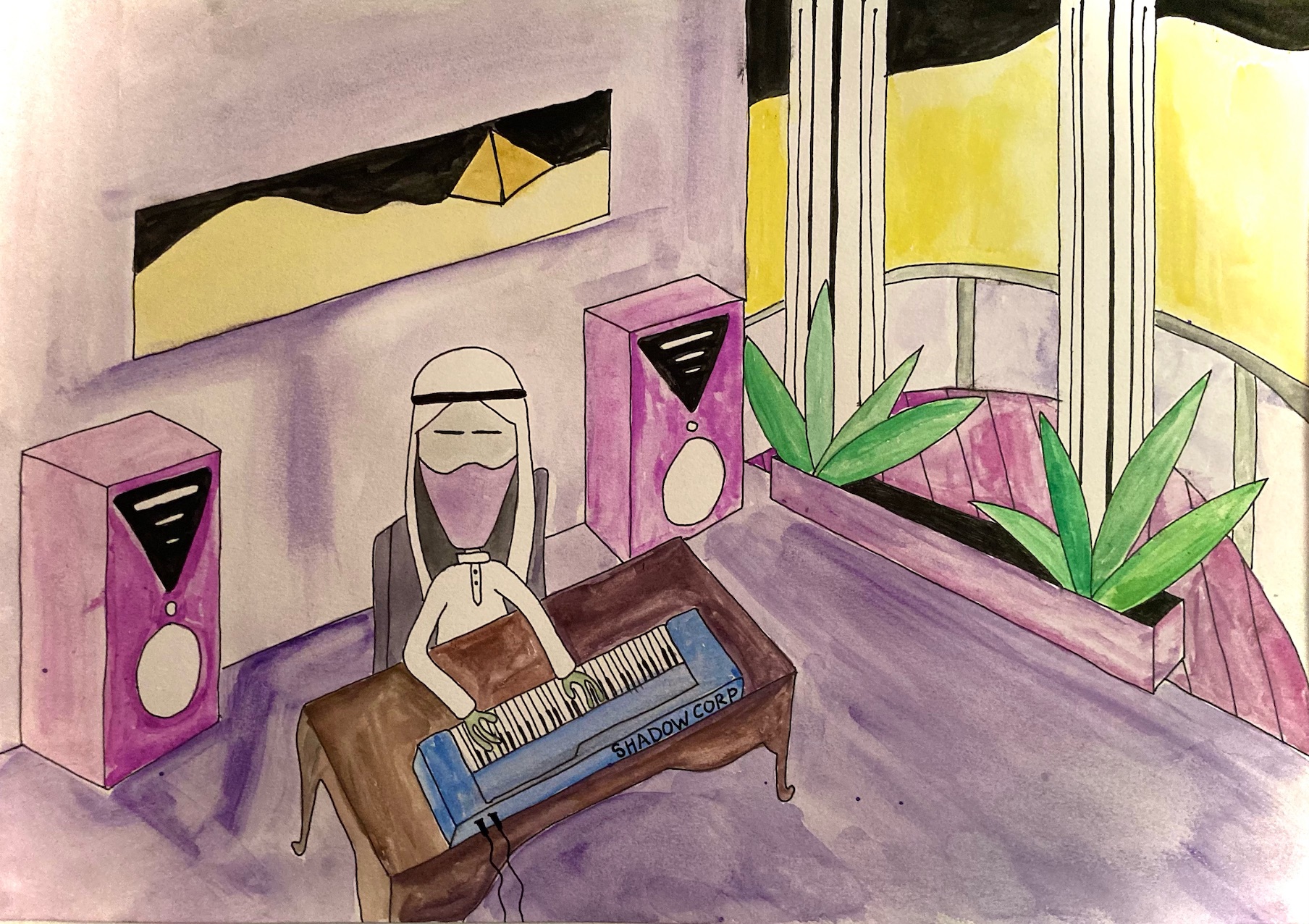 Dex from West French Indies
"Forgive my synths" by Domenika Fotak from Croatia

2kilobyte PIXELART animated GIF by Jaap Lindfors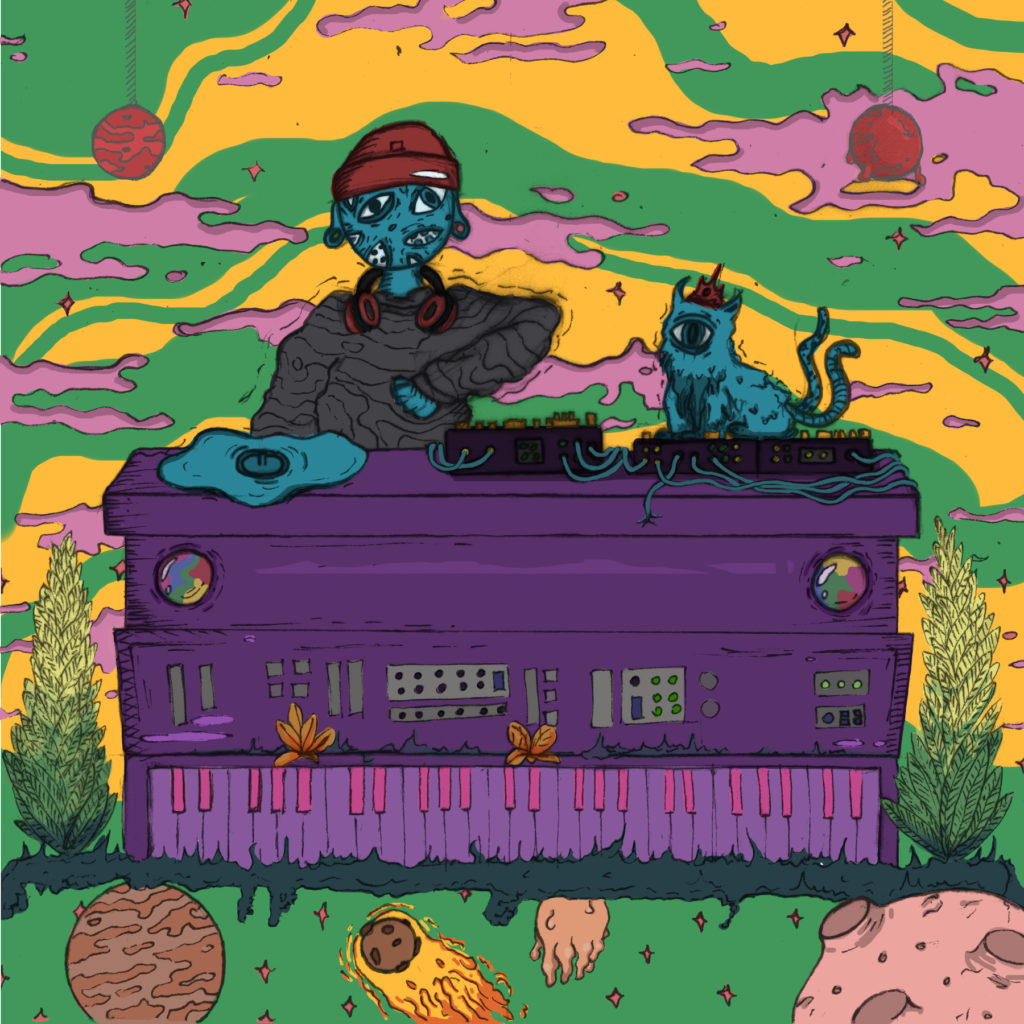 Delire Ecstasy by Sara Zukan from Sisak, Croatia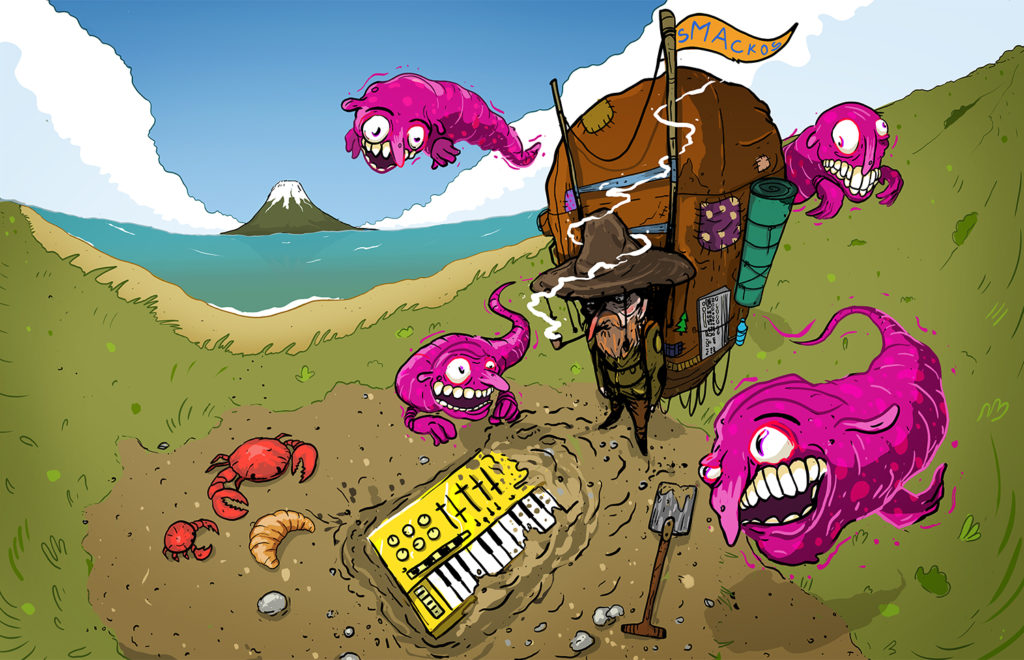 "Valley of Freaks" by Jakub Kuc from Poland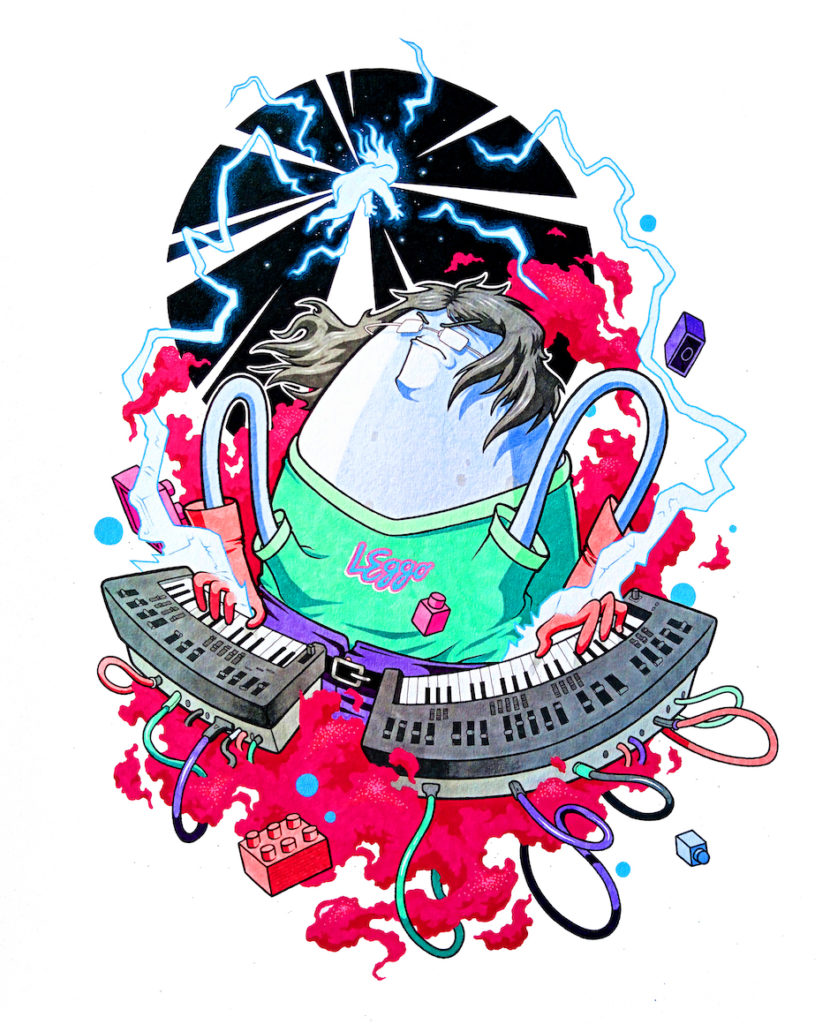 "The Homily of Colored Bricks" by @personagenerica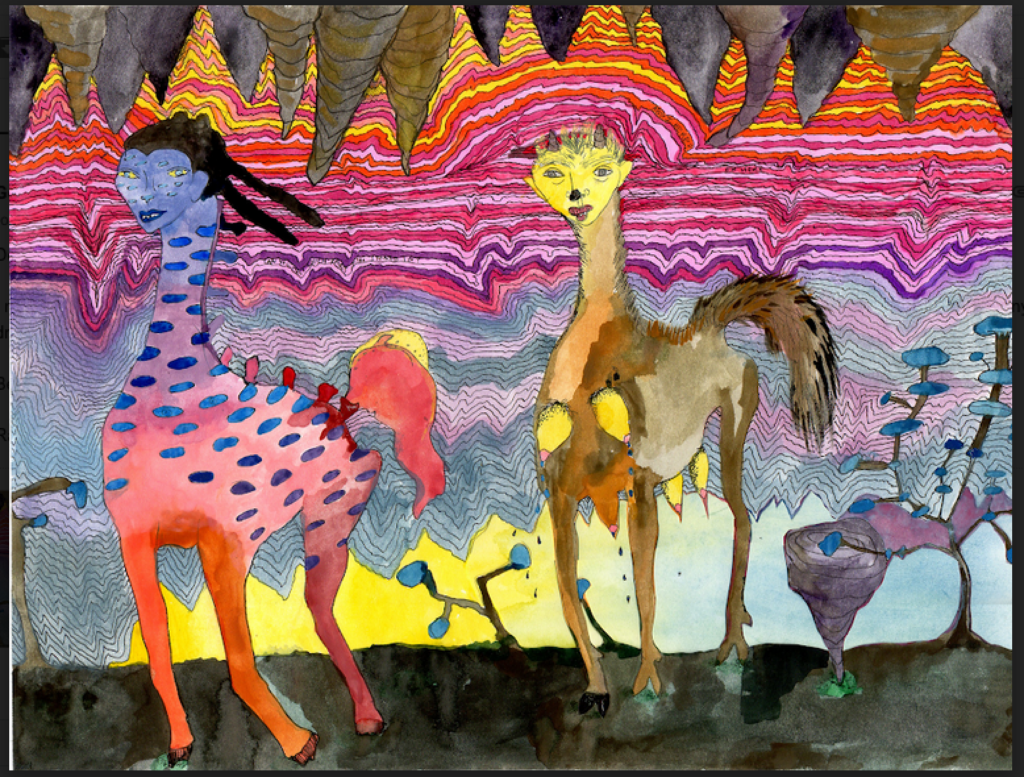 "Crossing the Dibs of Dimension 106" by Got Rabies from Philadelphia, Pensylvania , USA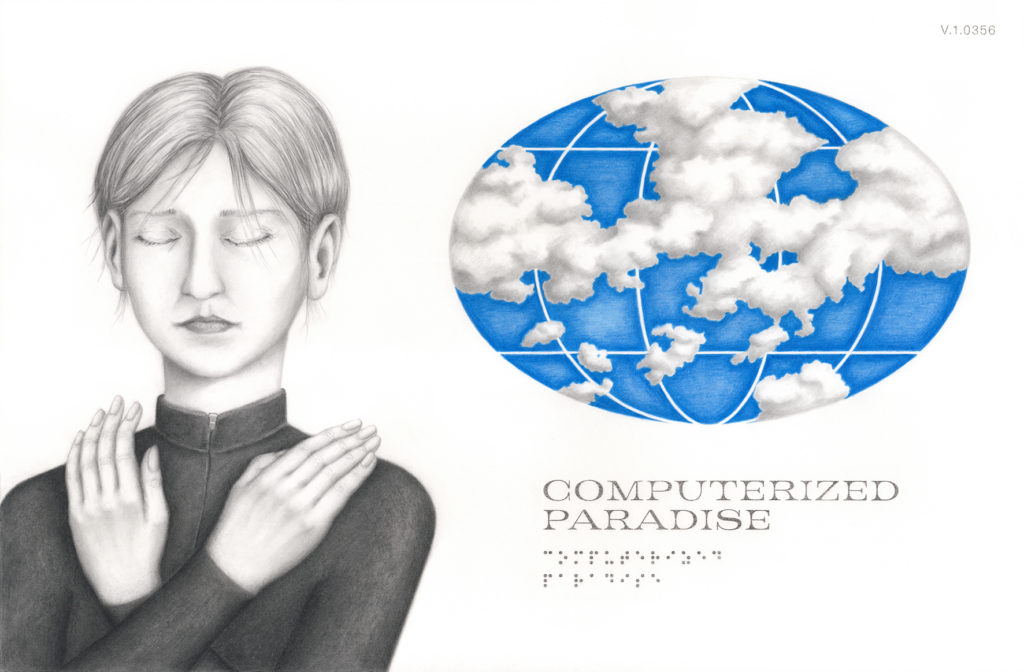 "Computerized Paradise" by Simon Piu. Fantastic soft focused pencil technique very dreamy 1970's vibe.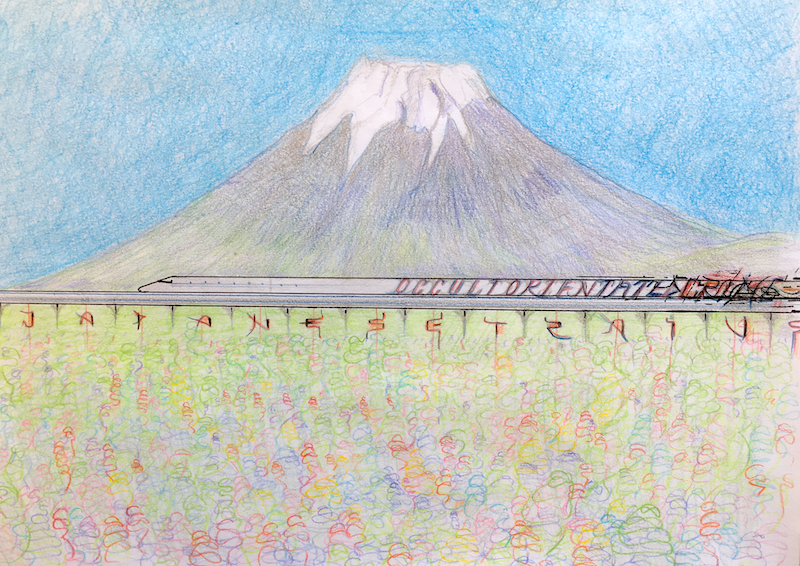 "Japanese Trains" by Nick Adam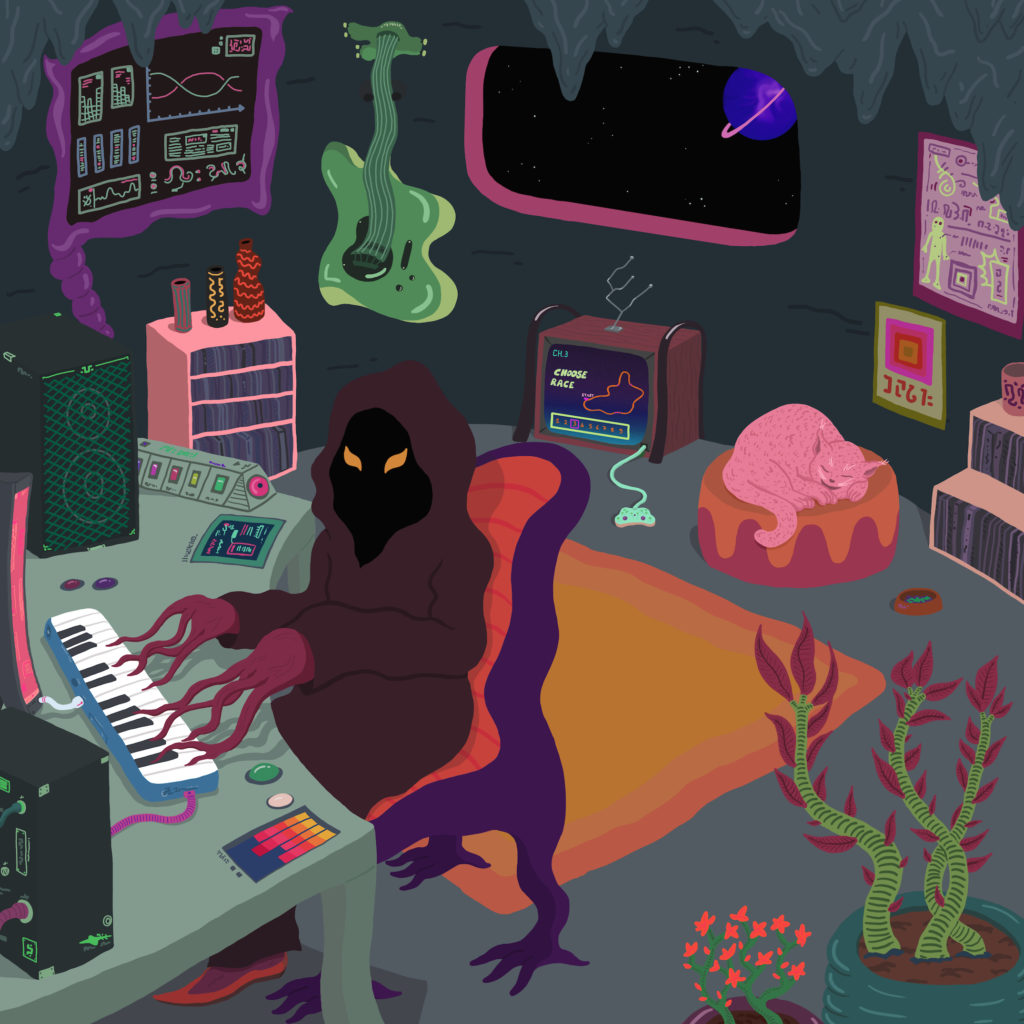 "Spacecave V3" by Victor Bernard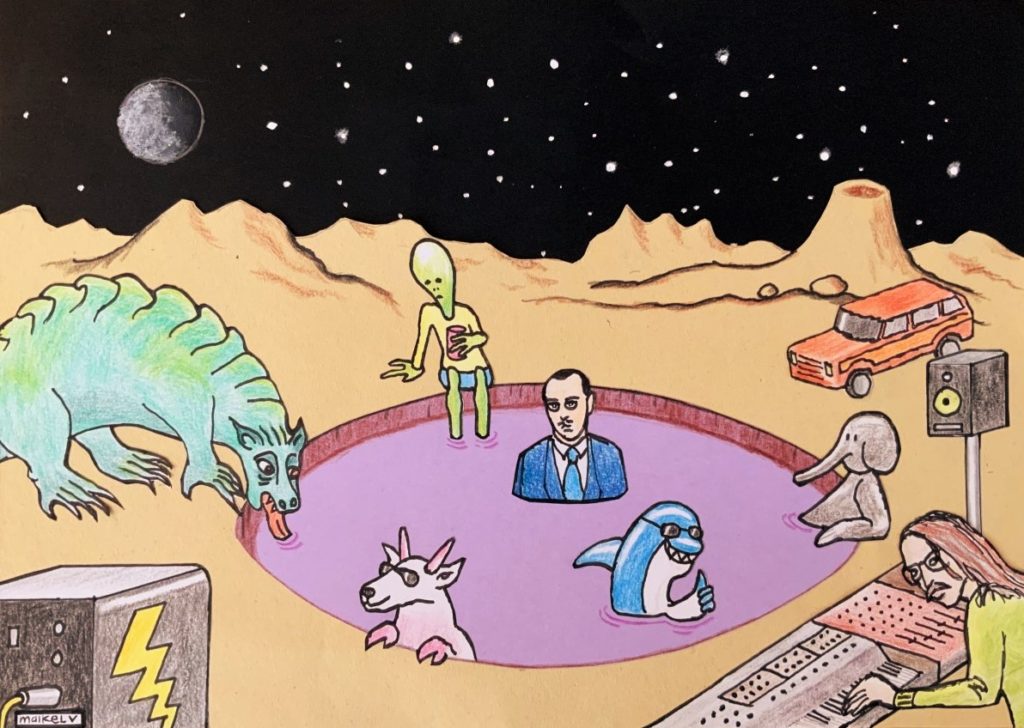 "Intergalactic Pool Party" by Maikel Voors from Amsterdam, The Netherlands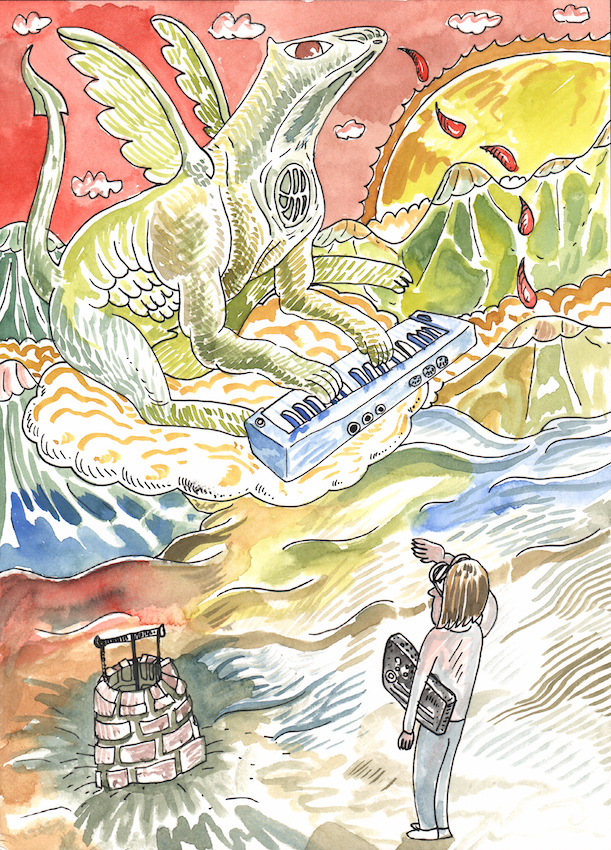 Michael Schiøler Tingsgård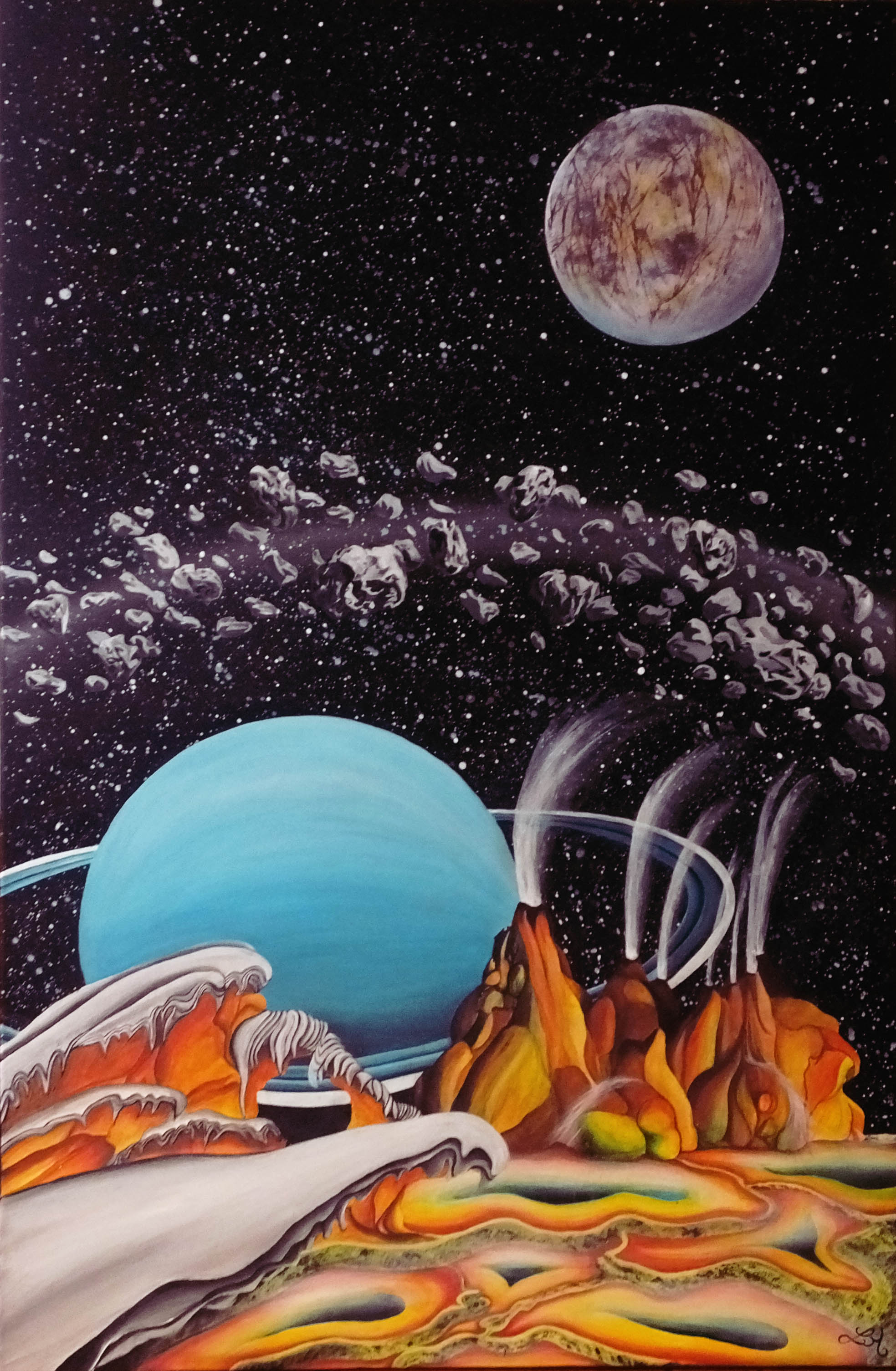 "Outer Space" by Laura Marchand
Drita Nokaj from Pristina Kosovo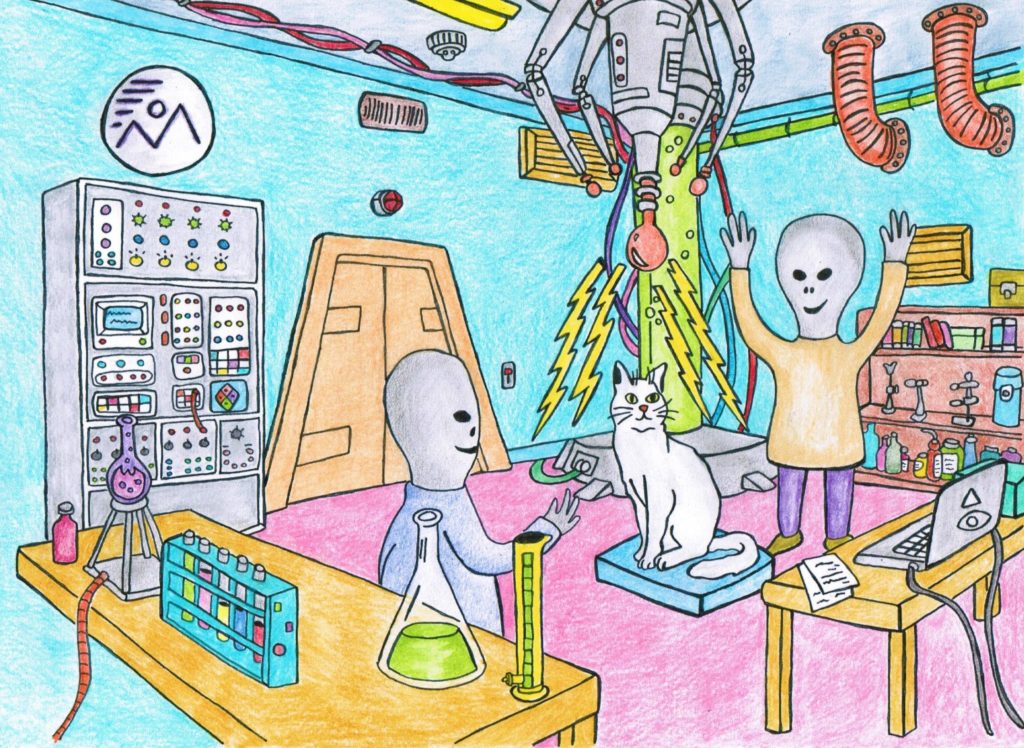 A very cosey drawing in fineliner & color pencils by Tanel Matsalu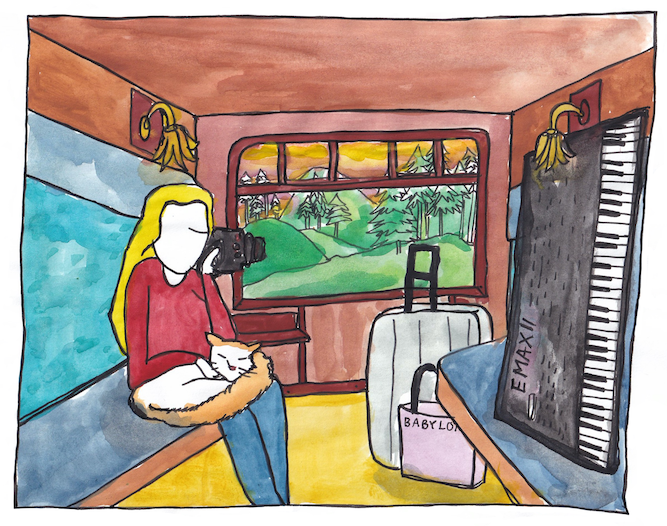 "Schwarzwald Escapade Black Forest" by Prada Sosero, inspired by the Ambient Trip Commander animation movie
"Sharks are Awesome" by Euker @eutwat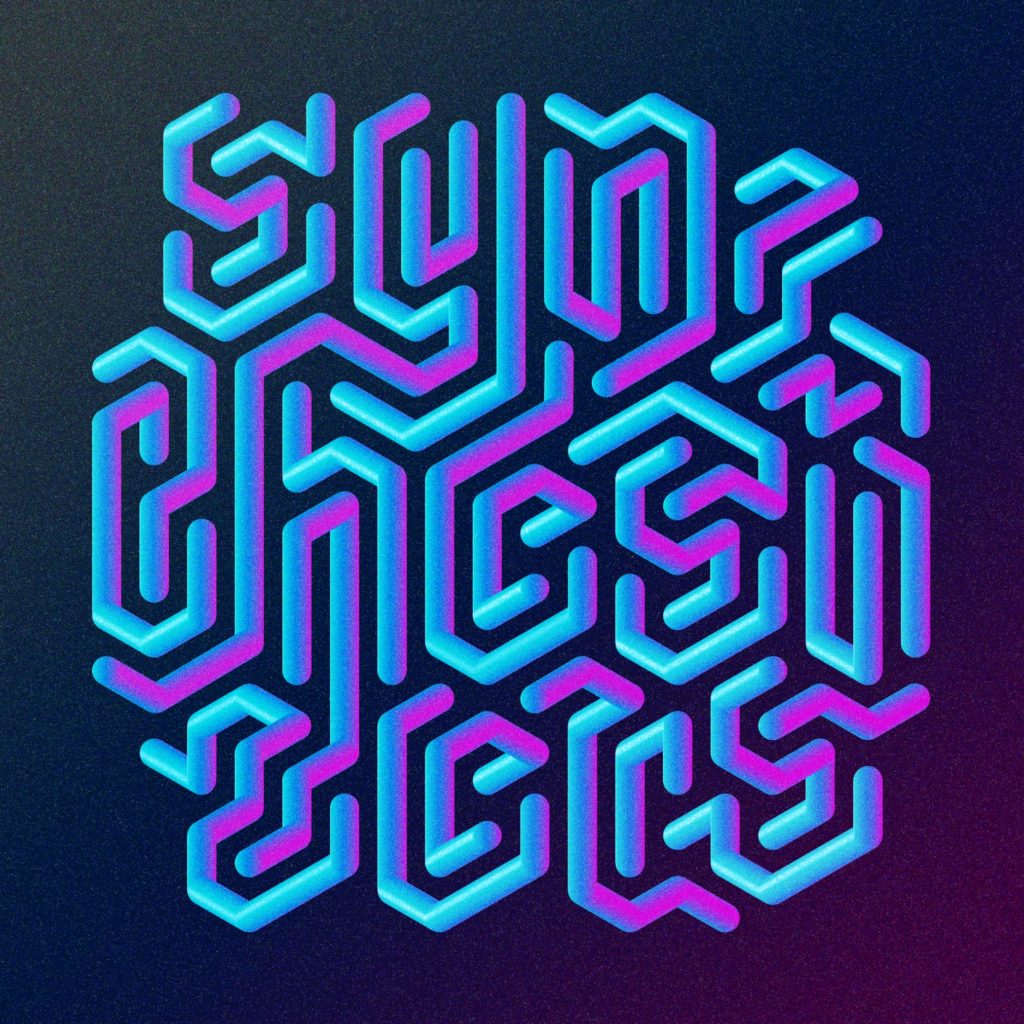 Sjoerd Kulsdom made a font called "Legowelt2021"!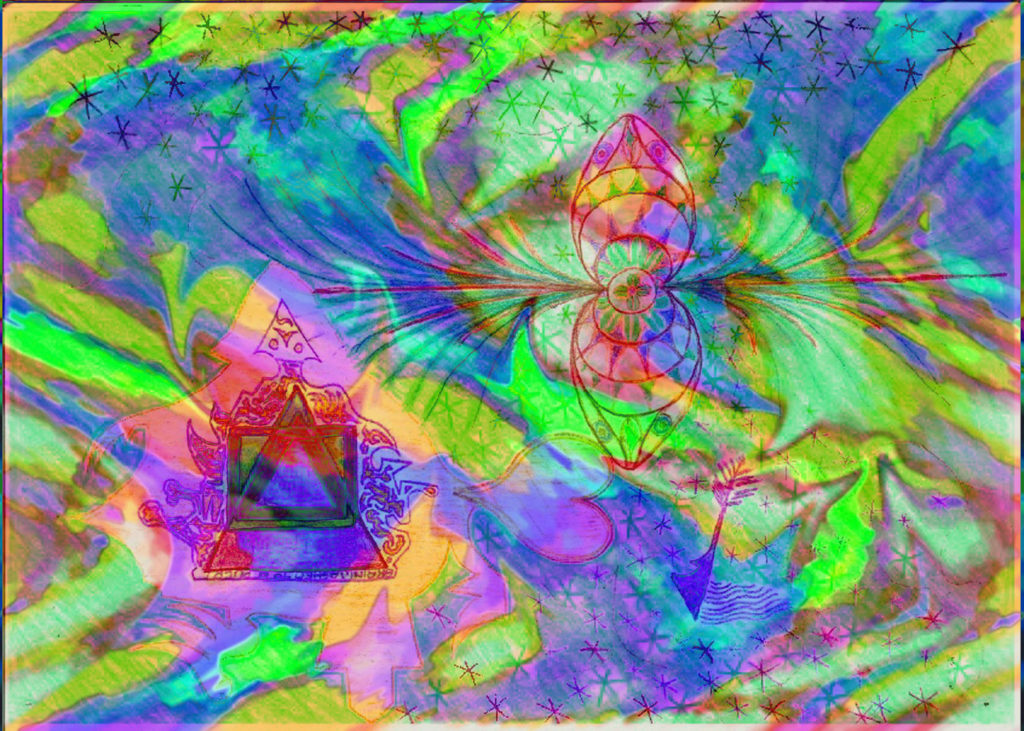 "Untitled 1C" by Rafael Heckman from The Hague, The Netherlands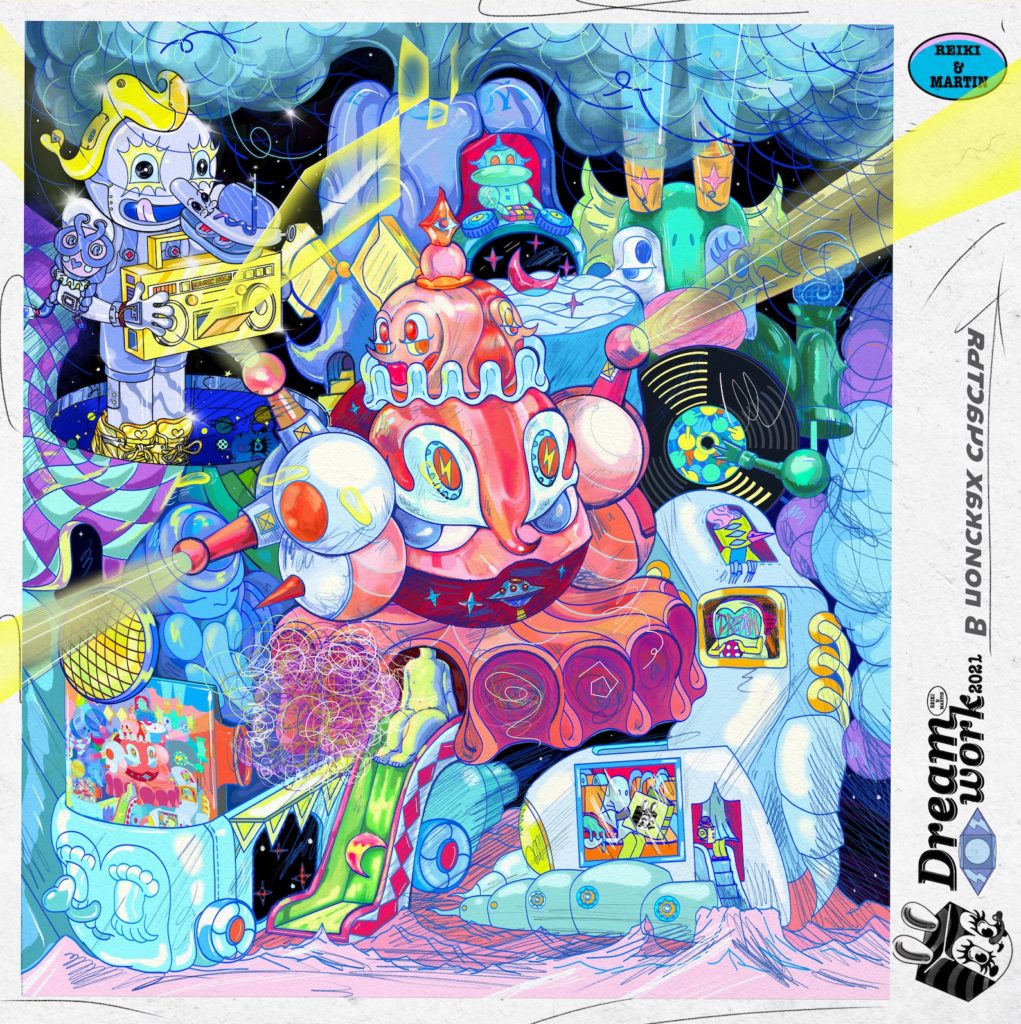 By QianQian AKA Reiki from south of China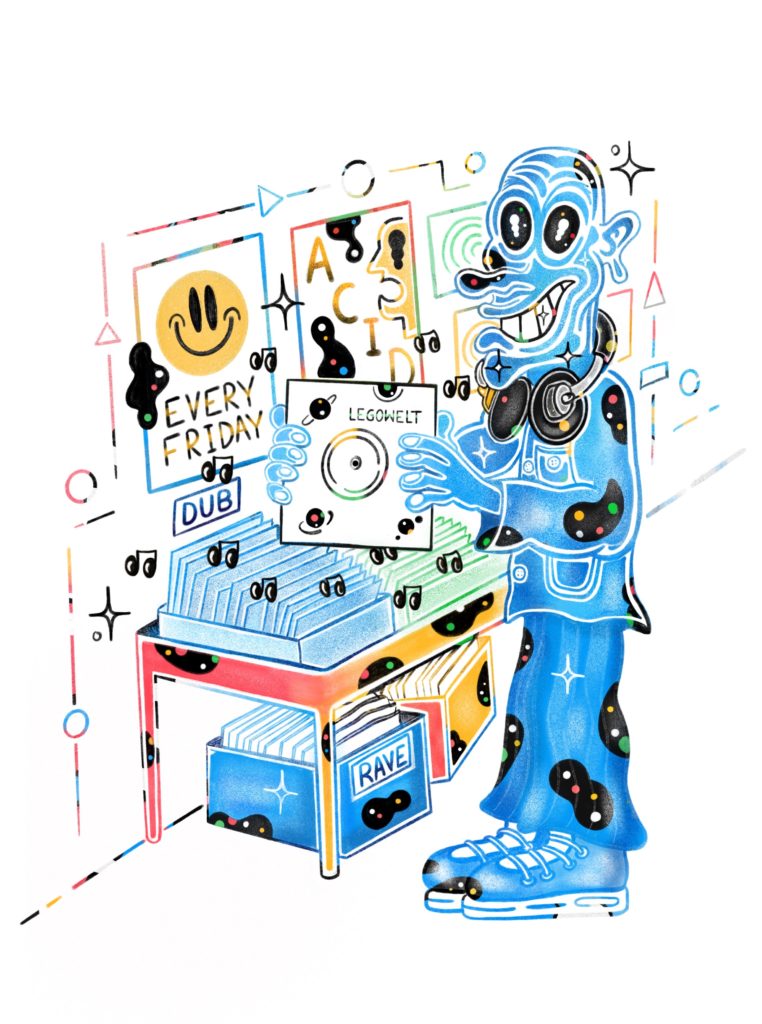 Elliott Dobs UK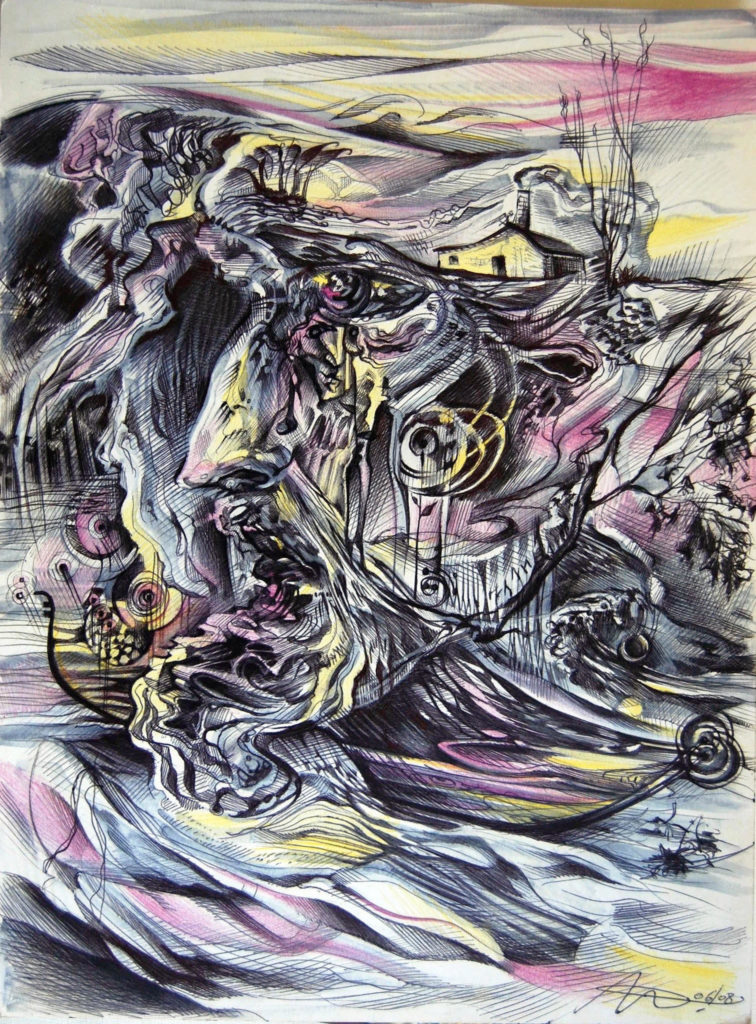 Igal Shenderey from Haifa, Israel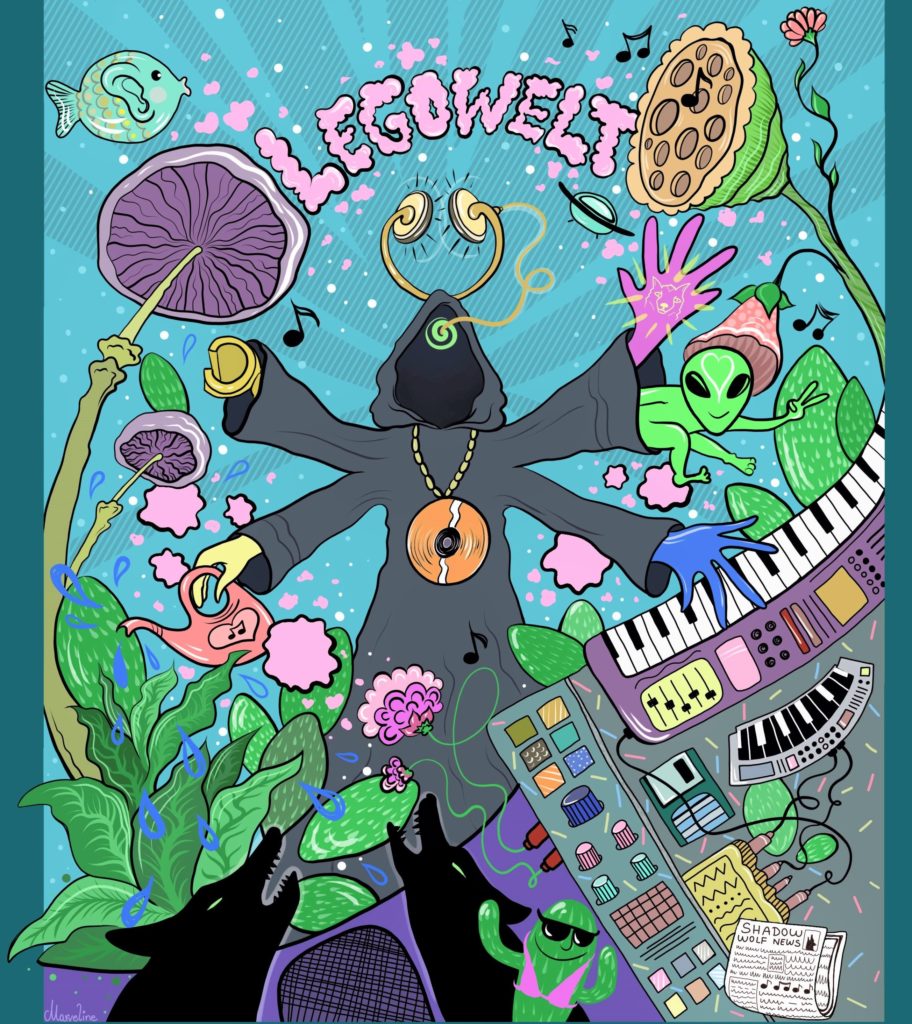 Marveline from Vienna, Austria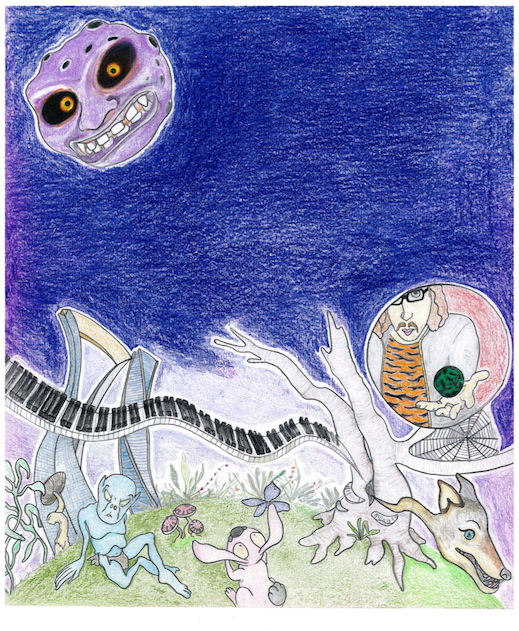 Sary Aboy from Montreal Canada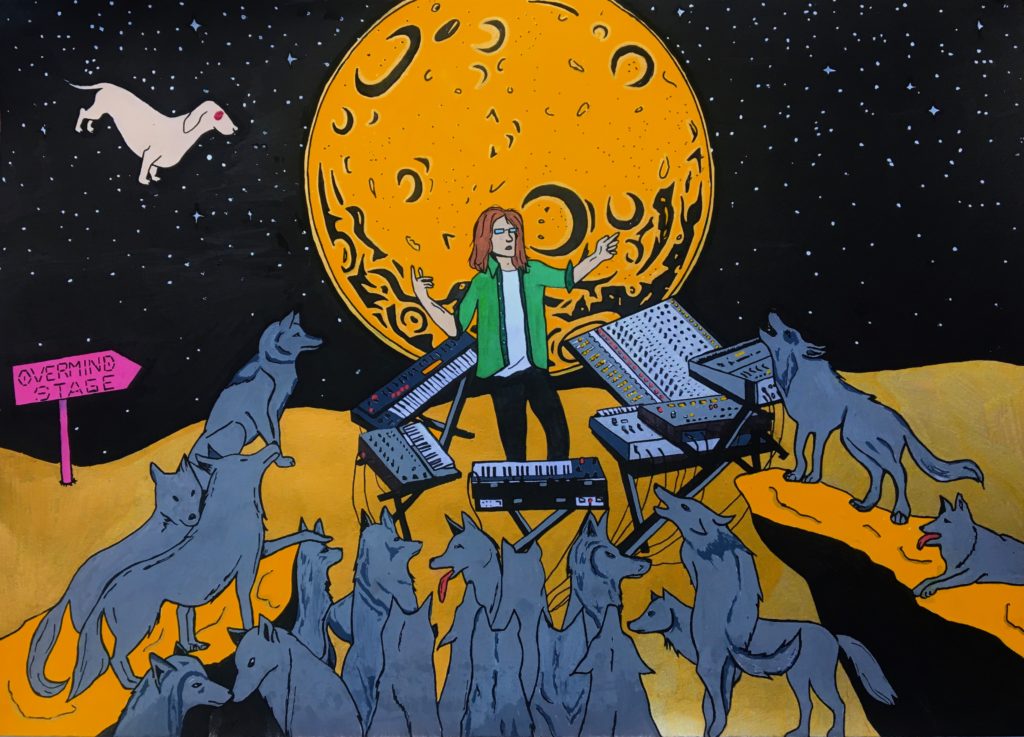 "Wolf Season" by Julie Bernigaud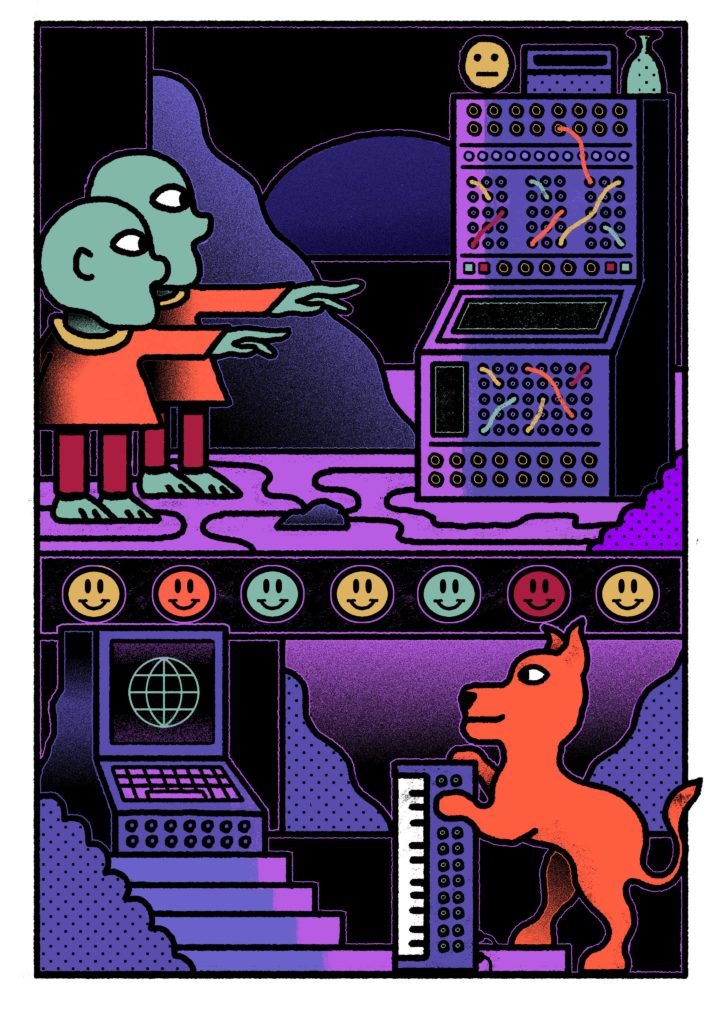 Legowelt Computerized paradise by DOM dot 2 D O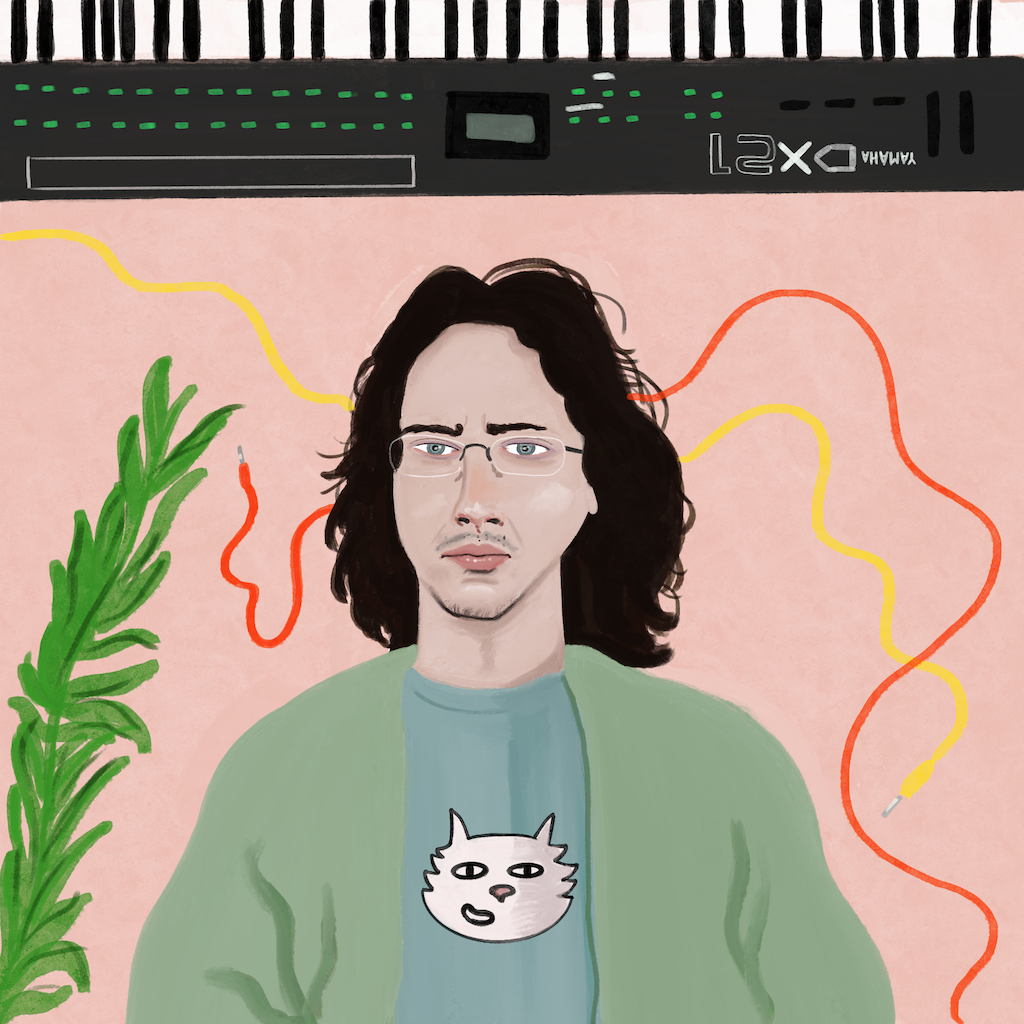 Sebastiano Urciuoli

Bigass Shadowwolf 2 by Pinch Hat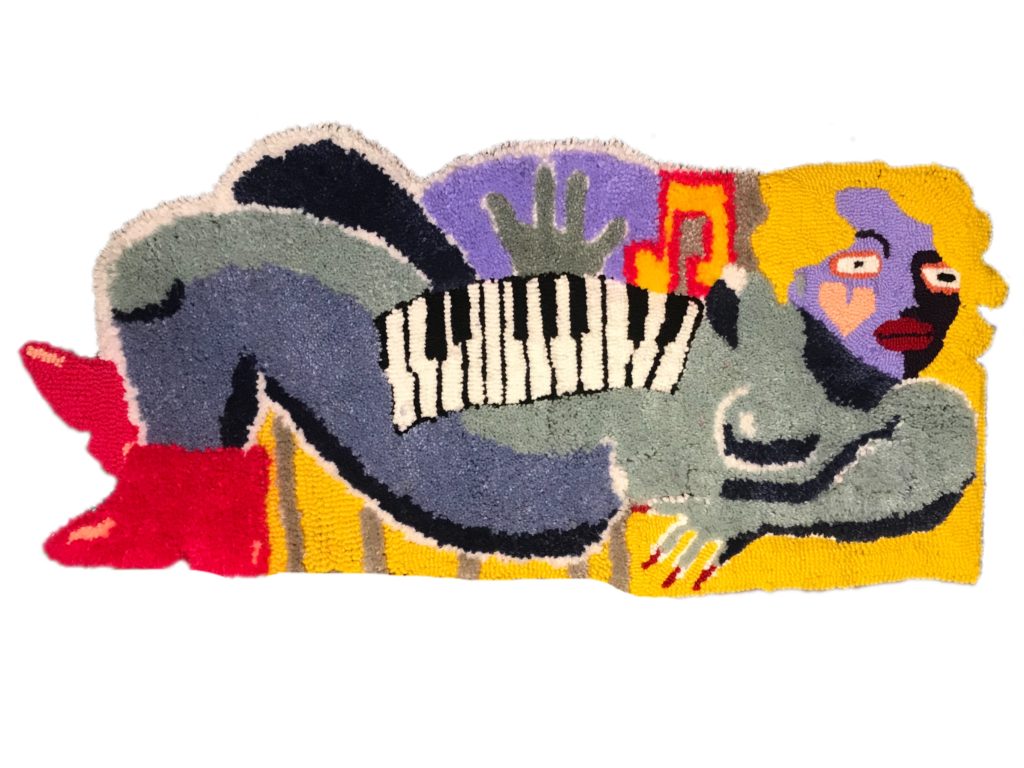 Its a tufted rug! By Jesse Einhorn-Johnson check out more rugs here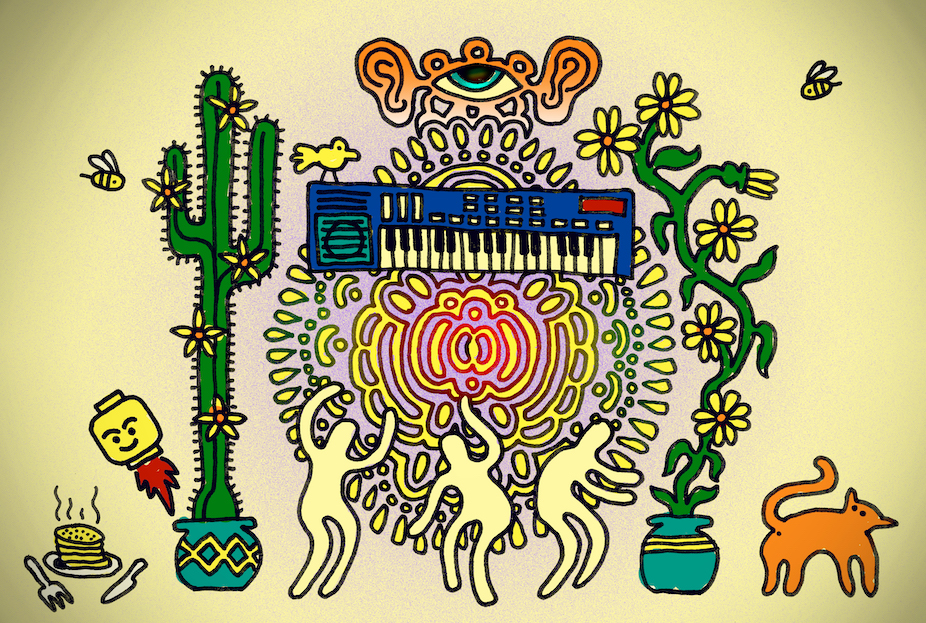 "Legoweltian ripples in mindspace tm" by Bart Zijlstra from Groningen, The Netherlands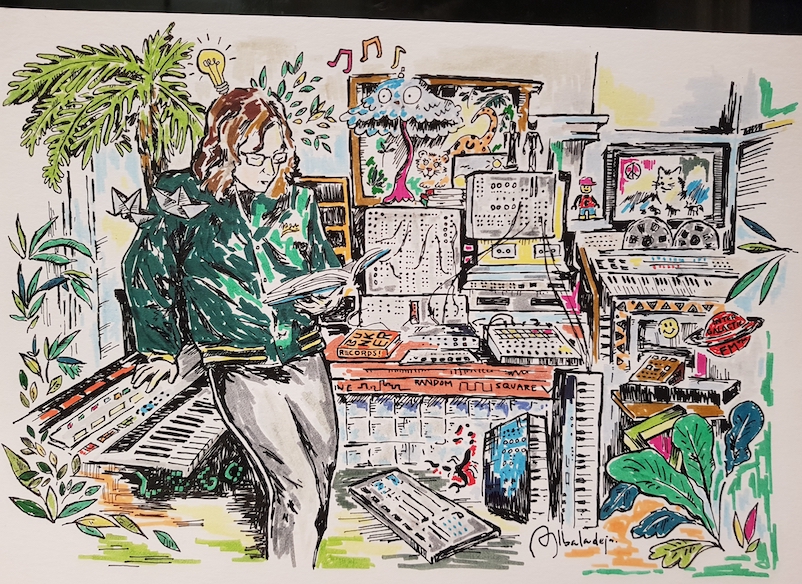 By Bea from Galicia, Spain  more of her work can be seen here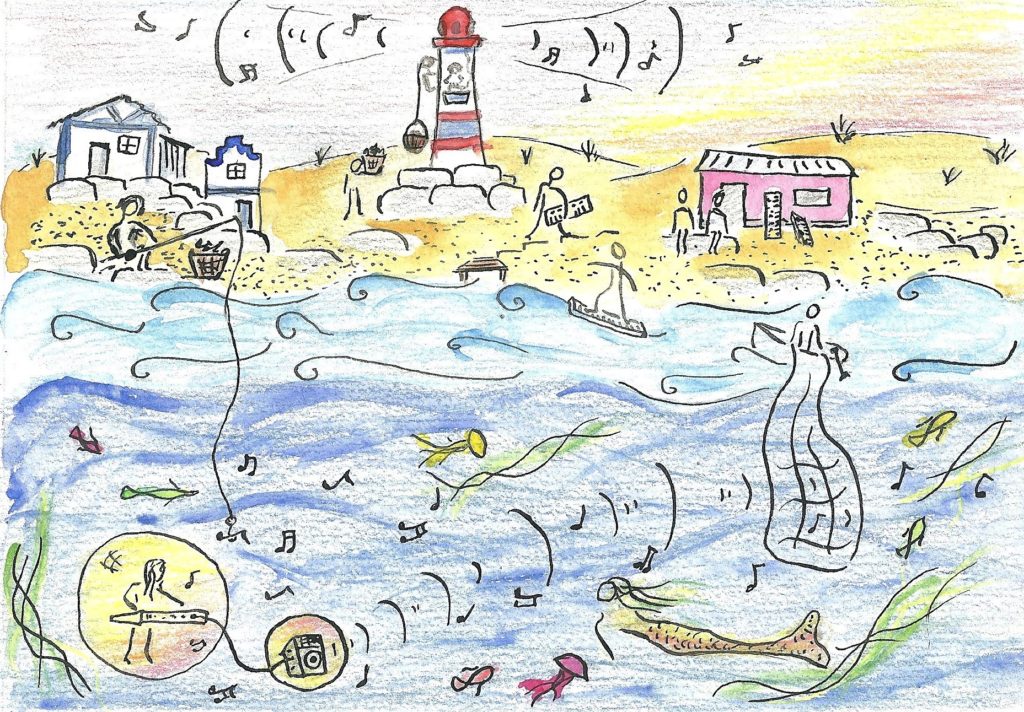 Rob Hillen from Belgium, very 1990's Blokker tablecloth design, cool!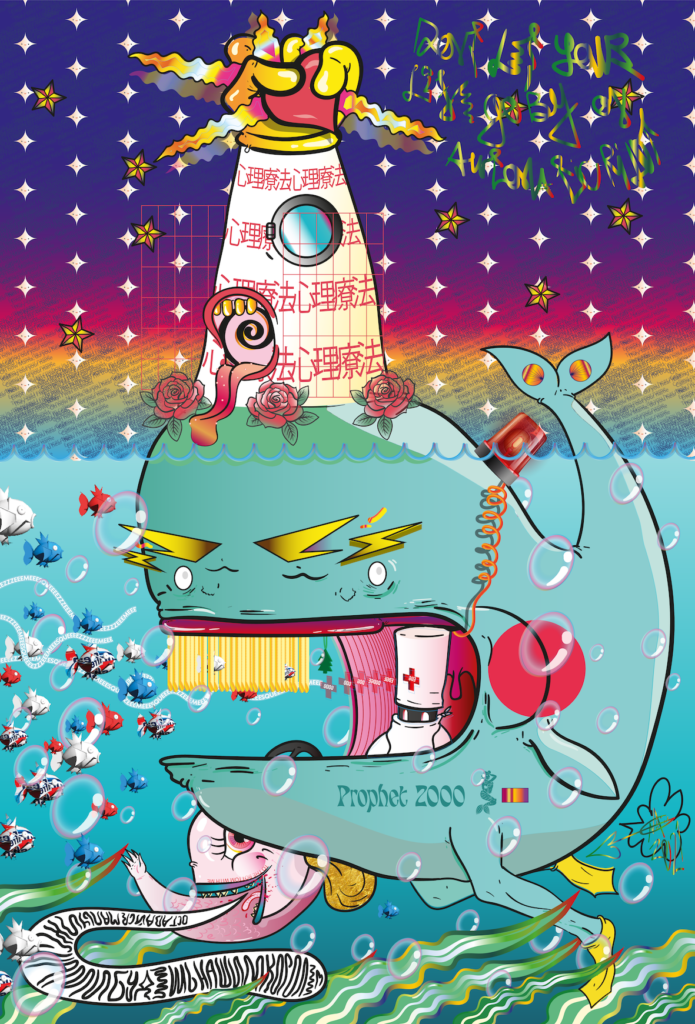 "Don't let your life go by on automatic Pilot" by Misha Gorelow
Tom Cochien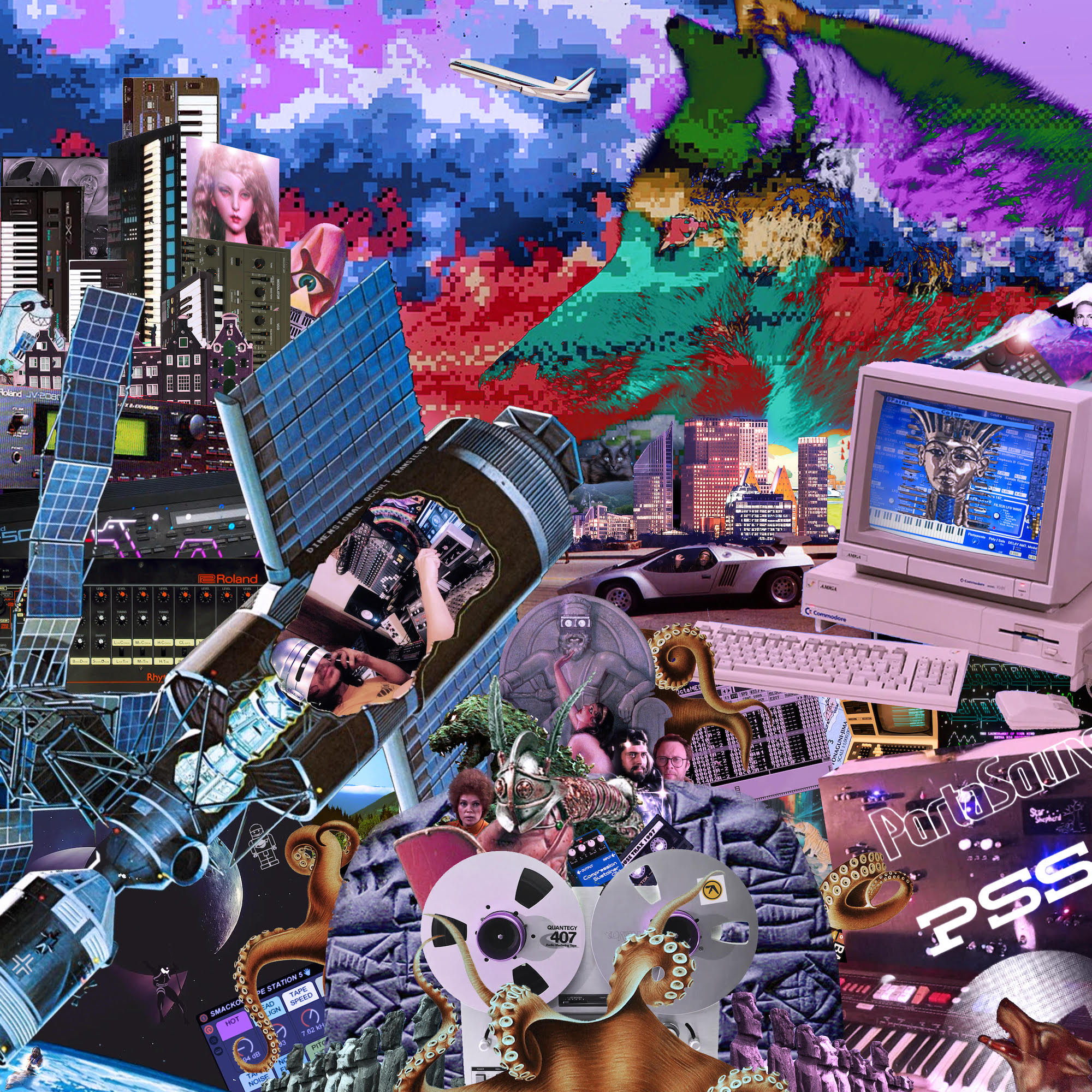 "Welt" by Louis KW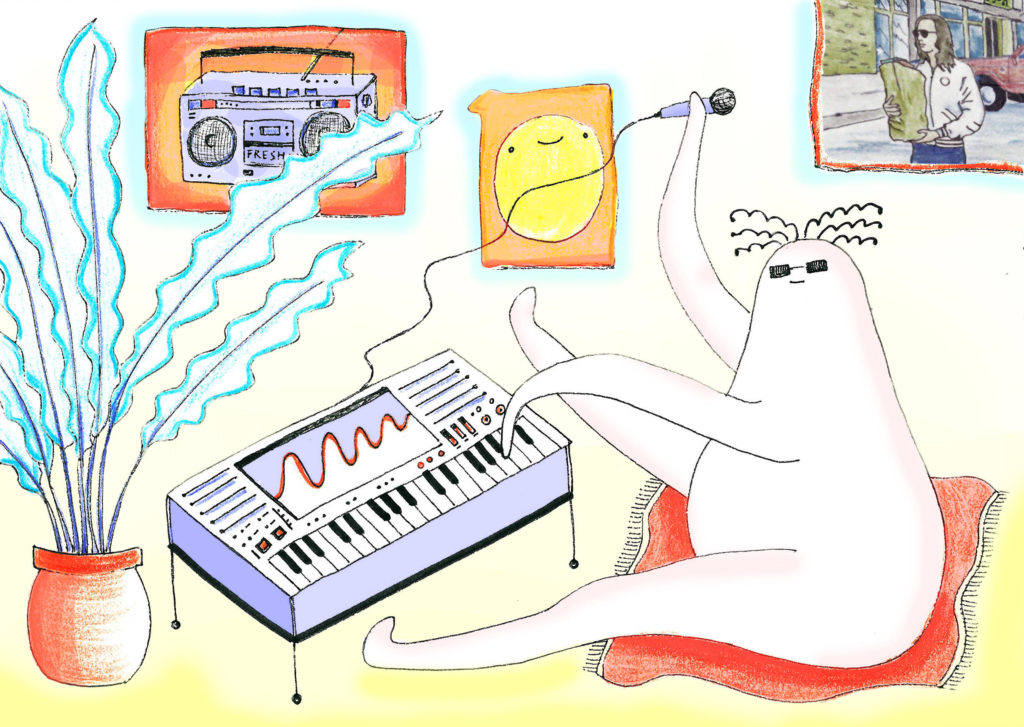 Lino Rex from Athens

"The World of Legowelt" by Liorzh, there are a lot of cool details and this one works well as a giant painting so check out the big version here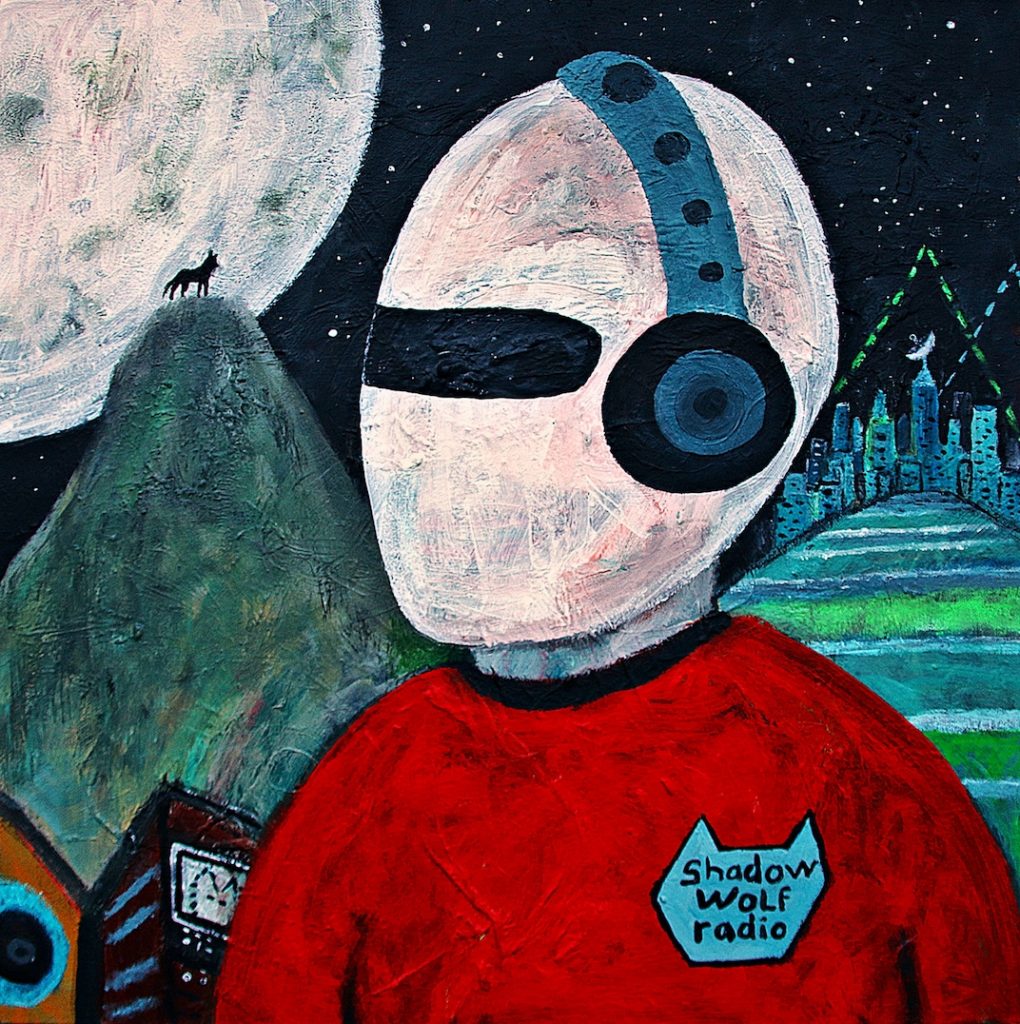 "A Wolf at Moonlight" by Stefan Kibellus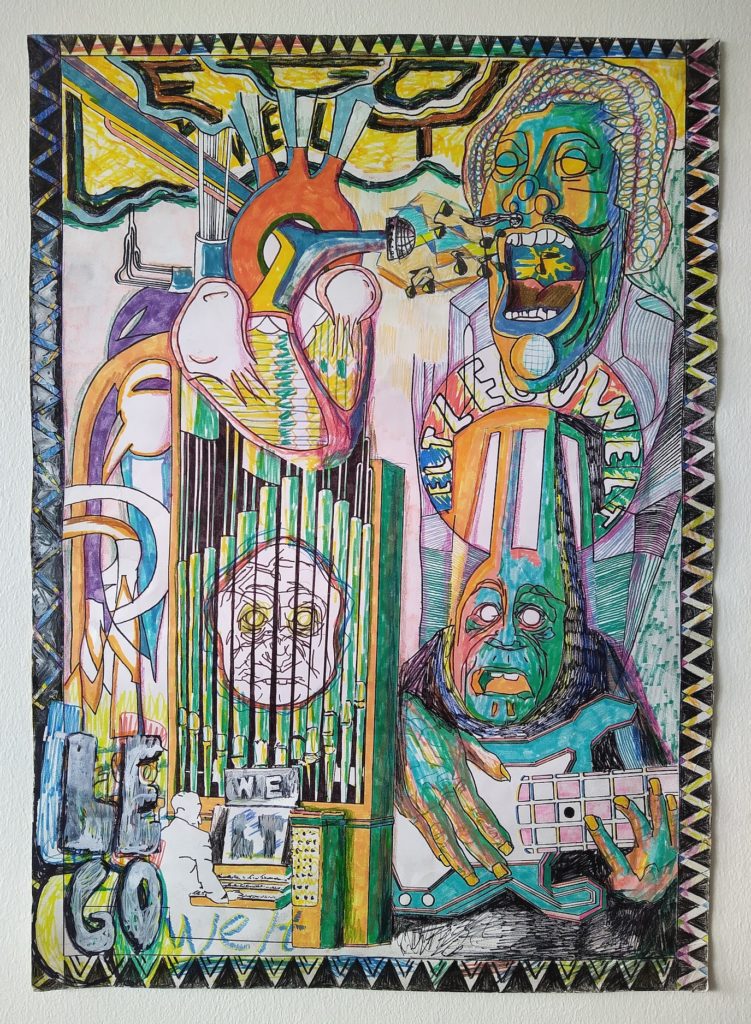 Jonas Karen from Helsinki Finland
"Kosmische Tanz Grupen" by Duncan

Martha Remus from Germany