LEGOWELT COMPUTER SOFTWARE
UPDATE: All c64 was gone apparantly: the old XS4alll server stopped working because xs4all was bought by KPN and xs4all basicly ceased to exist becoming nothing more then a wimpey vasal sub holding to laundry money or something.
ah well life goes on…If I find the old C64 software I will put it back here.
Meanwhile here is a lot of stuff for ABLETON I made to use in your music, like the legendary SMACKOS TAPE STATION and SMACKOS 808 SIMULATOR:
---
SMACKOS TAPE STATION
The legendary tape saturation emulation for Ableton. Instant minimal wave – lofihouse – VHS warble – cassette smudge!!! What the JP8000 was for supersaw trance this is that for lo-fi house…or something like that.  >> download here << (Windows/MacOSX)
---
SMACKOS 808 SIMULATOR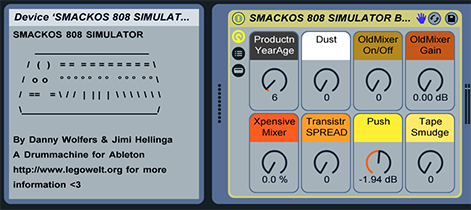 Tired of all those modern Roland 808 drumkits and emulations that sound like an old soggy biscuited sock? weak claps and small sized snares?????? Your worries are over…behold the SMACKOS 808 SIMULATOR developed by Danny Wolfers & jimi Hellinga.MAC OSX & Windows.

Smackos 808 simulator for Ableton version 9.5 and up – download >>here <<
Smackos 808 simulator JR for Ableton between version 8 and 9.5 and up – download >> here << …This version has some slightly different functions and a different sound character, if you have 9.5 and up you can also download this one and see which version you like better.
---
SMACKOS AMIGA 909

Raw TR909 drummachine for Ableton. Based on Legowelt's legendary AMIGA 909 sample floppydisc. Introducing brand new technologies such as FLOCCULENCE, AMIGAnizer and SKOOLY SPACE to give u a fresh spectactulair 909 experience u never had before! MAC OSX/Windows for Ableton 9.5 and up. Download here 
---
CLAPERNICUS CLAP SYNTHESIZER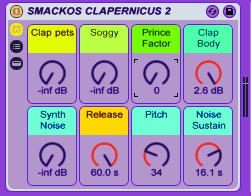 Synthesize the hottest and sleaziest claps. Includes PRINCE factor for that extra Linndrum-Drumtrax Funk clappness. For Ableton 9 and up. MacOSX and Windows. Download here
---
 SMACKOS LEMURIA Vintage Sampler Simulator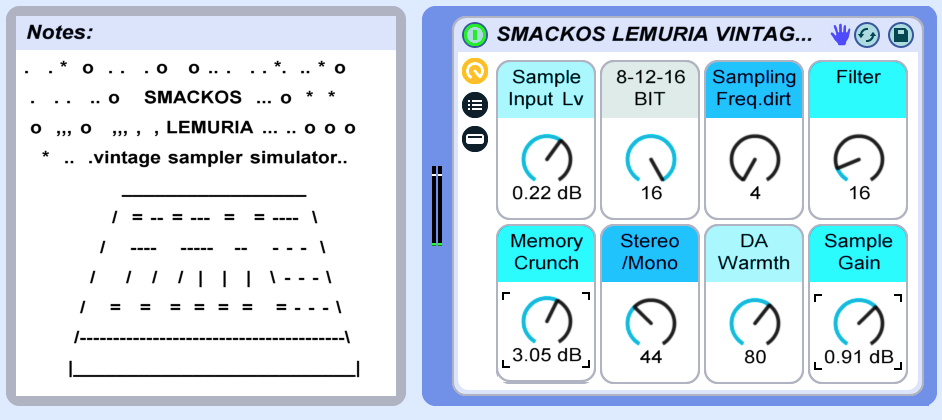 emulate the sound of old samplers more or less, makes your samples / audio more puncy and LO-FI check it out here