LEGOWELT COMPUTER SOFTWARE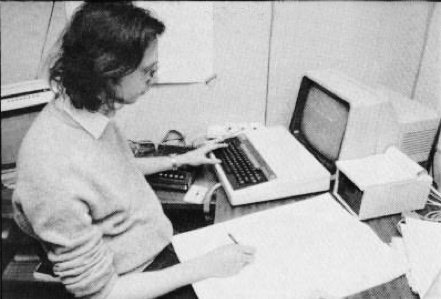 Some macOSX/Windows Ableton plugins and computer games for the Commodore 64 I made. For the sample kits check out the samples section.

SMACKOS TAPE STATION
The legendary tape saturation emulation for Ableton. Instant minimal wave – lofihouse – VHS warble – cassette smudge!!! What the JP8000 was for supersaw trance this is that for lo-fi house…or something like that.  >> download here << (Windows/MacOSX)
SMACKOS LEMURIA VINTAGE SAMPLER SIMULATOR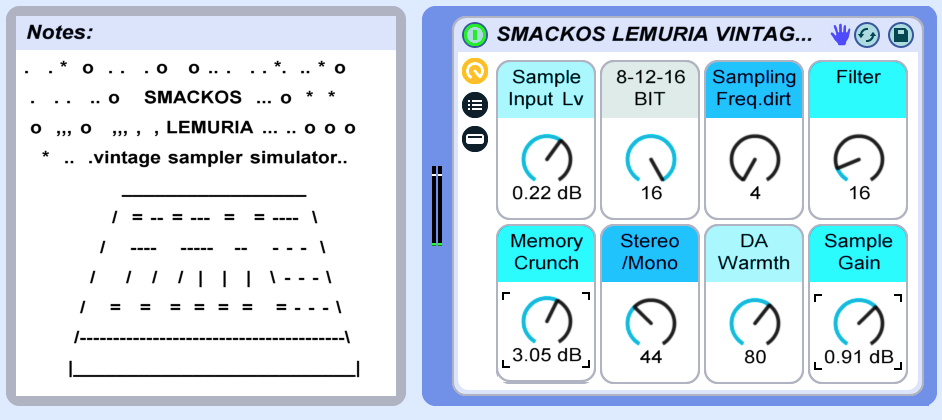 Turn your soggy porridge productions into cult classics with this vintage sampler simulator – instant  Lo-Fi warm digital sounds for your Ableton – Works on 9.7 and up Windows/MacOSX get it here
AMAZONIA 5 VST SYNTHESIZER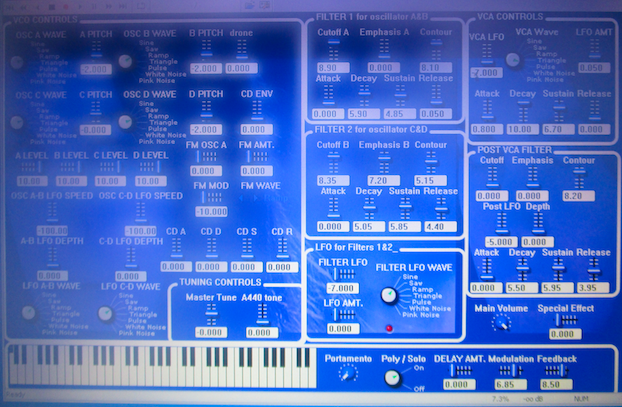 A 2004 VST plugin I made in Synthedit – rather spartanic and amateuristic but it does make some haunting exotic sounds, even if I say so myself! 32bit PC only. More info and download here
Check out the cool AMAZONIA 5 audio demos made by Jorge Velez here
SMACKOS 808 SIMULATOR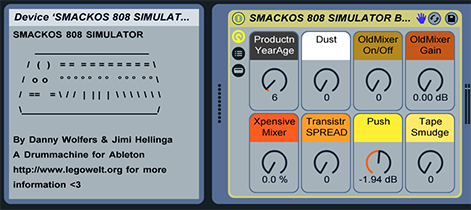 Tired of all those modern Roland 808 drumkits and emulations that sound like an old soggy biscuited sock? weak claps and small sized snares?????? Your worries are over…behold the SMACKOS 808 SIMULATOR developed by Danny Wolfers & jimi Hellinga.MAC OSX & Windows.

Smackos 808 simulator for Ableton version 9.5 and up – download >>here <<
Smackos 808 simulator JR for Ableton between version 8 and 9.5 and up – download >> here << …This version has some slightly different functions and a different sound character, if you have 9.5 and up you can also download this one and see which version you like better.
SMACKOS AMIGA 909

Raw TR909 drummachine for Ableton. Based on Legowelt's legendary AMIGA 909 sample floppydisc. Introducing brand new technologies such as FLOCCULENCE, AMIGAnizer and SKOOLY SPACE to give u a fresh spectactulair 909 experience u never had before! MAC OSX/Windows for Ableton 9.5 and up. Download here
CLAPERNICUS CLAP SYNTHESIZER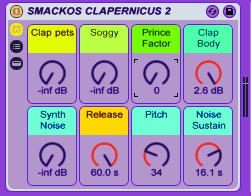 Synthesize the hottest and sleaziest claps. Includes PRINCE factor for that extra Linndrum-Drumtrax Funk clappness. For Ableton 9 and up. MacOSX and Windows. Download here
---
Software for the Commodore 64:
One of my hobbies is to program really crappy software for obsolete computer platforms like the Commodore 64:
FOREST OF LOOM 2008

A game developed in SEUCK – 1000% garantueed HOT ARCADE action as you wander through the pacific northwest forests and small villages fighting aliens, secret agents, snakes and mega robots. This was original a 'promotional' gimmick after the release of the Smackos – Computer Day album in 2007. You can download the .d64 file here
Here is a small 'play through' video with some of the Computer Day album music:
SPIRICOM 7 2012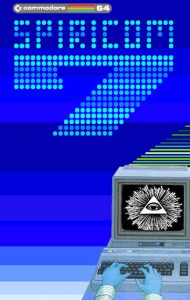 A 'Dimensional Occult Transiever' or an experiment in A.I. language processing on the Commodore 64. Make contact with the unseen world -> Ghosts and spirits and evoke paranormal activity in your own home! Endless fun for the whole family!!! Open the door for demonic entities that will haunt you on every corner. Simply let the computer create a doorway for these frequencies – if contact is made you can converse with the spirit and find out more about your houses netherworld.
For some reason there is no d.64 file but I got a .prg file which will also open in a commodore 64 emulator like VICE. Just drag the file into the VICE 64 window. Download here.
And here is an MP3 of the audio cassette you need to insert in your hifi system when the program asks for it. You can just play the mp3 but if you want to be real authentic you can ofcourse record it to a cassettetape and play it for some extra scary mood.
Here is a movie of me and Willie Burns running the program:
TRIDENT CRISIS 2009

considered to be one the worst games ever on the Commodore 64 and I am proud of it! In this cold war text adventure (or 'interactive fiction') you take the persona of Franz Falckenhaus and try to escape to the west. It was originally programmed in one day for an intergalactic FM/CBS radio auction and was part of an extremely rare Strange Life Records release of which only one copy exists.
I am also very proud it got cracked by a demo group – you can download it here including the cracking group intro (.d64 file)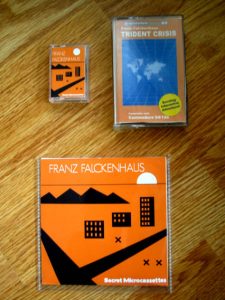 The original Franz Falckenhaus release of which only 1 copy exists came with a microcassette, the CD with music and the Commodore 64 game on cassette.
Here is a little movie of the game with some music from the release:




////////// ///// /////////////// ///////// ///////// /////// ///////// //////// /////// ///////// ////// ////// //

////////




HOW TO USE THE VICE COMMODORE 64 EMULATOR
The VICE Commodore emulator (nothing to do with the media news company) will let you emulate various old Commodore computers like the C64, VIC20 and PET on your MAC, Windows etc. computer! More information about this great program here
1. Download VICE for your platform MAC OSX here or WiNdows here  or other plaftorms (AMIGA, ACORN, SunOS, OS/2, MSDOS etc.) check here 
2. Install the software
3.Open the X64 program
4. Select 'Smart Attach Disk/Tape' from the File Menu (or just drag the .d64 or whatever program into the VICE window and go to step 5)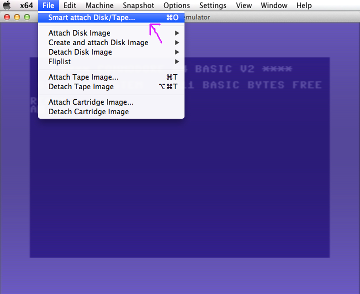 5. Open the .D64 (or T64 of .prg) file you want to run
6. If the software uses a joystick (Like Forest of Loom) you can assign a USB joystick
or keyboard keys to emulate the joystick in the Settings Joystick menu.
7. If you want to reset the Commodore 64 emulator use "Hard Reset" in the Machine menu