23 December 2020
SHADOW WOLF CYBERZINE ISSUE # 9
Here we go ISSUE 9 of the SHADOW WOLF CYBERZINE!!!
 In this Issue:
Ron Morelli interviews David Foster aka Huren, a DJ Psychology TEST, A Scene in SHOCK: DJs in 2020, a bunch of D.I.Y articles,  PPU records, Gino's Psychedelic trip guide, lots of ASCII ART, diary from a techhouse producer, Studio tips, experimental archeology with a calculator and lots lots more!!! 
(P.S. This most probably looks really f*Cked up on a phone, you got to read it on a computer old school haxor style)
ALSO for the FIRST time we got a 'COVER TAPE' a compilation with various supercool artists from the Shadow Wolf CYBERZINE-o-SPHERE. You can get that compilation for free/paywhatyouwant here
COMMODORE AMIGA VERSION:
Finnish demoscene legend Vesari made a Commodore Amiga computer version! Check out the cool movie below and the .MOD version of my 'Danger in the Air' track playing in the background which sounds better then the original in it's crunchy Amiga .MOD music format appearance. Download the Amiga version on AMINET here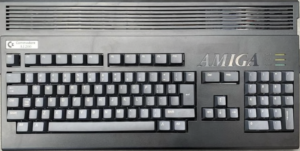 If you never heard of the Amiga: The Commodore Amiga is still the greatest computer ever, a creative rebellious cyberpunk powerhouse that started zillions of music/graphic/design/animation/coding careers in the latter 1980s and 1990s. As a musical instrument it is a raw sampler/sequencer/drummachine that earned its place in gear history next to, let's say an EMU SP1200, MPC and stuff like that. Sadly they went bankrupt in the 90s and now we have to use boring PC's & Macs. In a parralel dimension Amigas are still thriving and the world is a peacefull utopia.
Also some more AMIGA legowelt related news: Fastram from PT1210MK1 (the cult Amiga .mod tracker DJ software) converted the Legowelt Drum Wizardry sample pack to Amiga 8 bit sample format so you can use it straight away in your Amiga trackers! Download the converted Amiga Legowelt Drum Wizardry sample pack here. (.LHA file 3,3 Megabytezzz)