JVC KB700 Keyboard Synth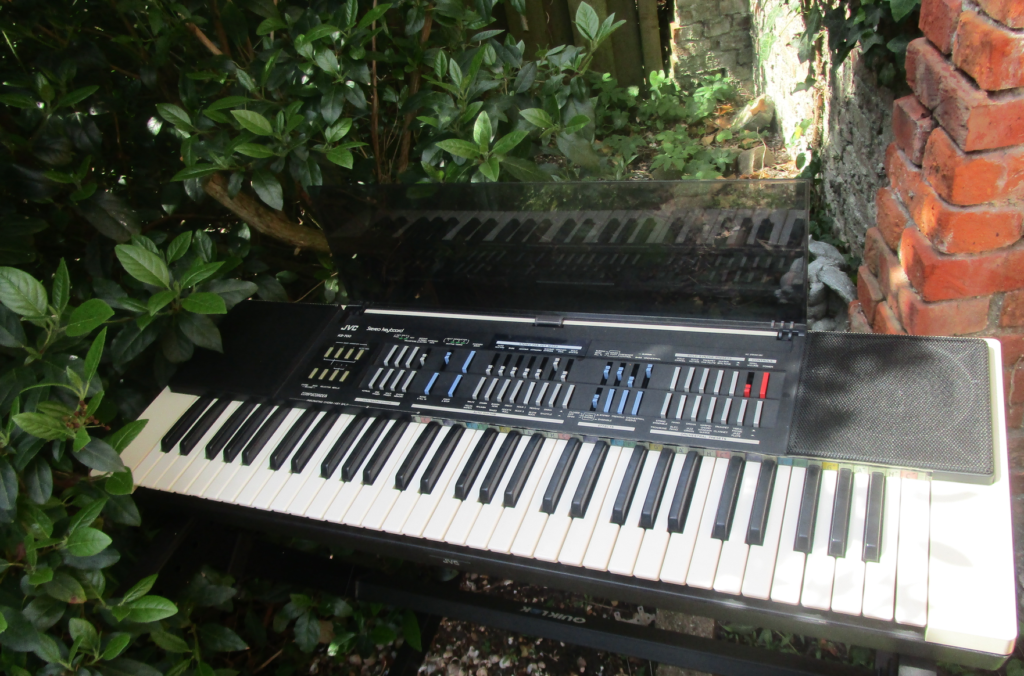 I tried to attain a bit of Druid atmosphere deep in my back garden near an ancient monastry wall
In the realm of obscure early 80s keyboard synths we have attained a HOLY GRAIL. Many hifi brands had synth or keyboard ranges, Technics, Phillips, but also HIFI VHS videorecorder consortium JVC had a keyboard line…
ENTER THE JVC KB700
The wonderment already begins with just looking at the machine. Creamy white, more buttons and blinking lights then you can handle, retro COMPUTER FONTS, stylishly embossed speakers -pure bliss for any synth keyboard dork
The most striking feature is this black plastic glass lid. Functioning as a sheet music stand once opened, it also gives you access to all kinds of buttons and parameters.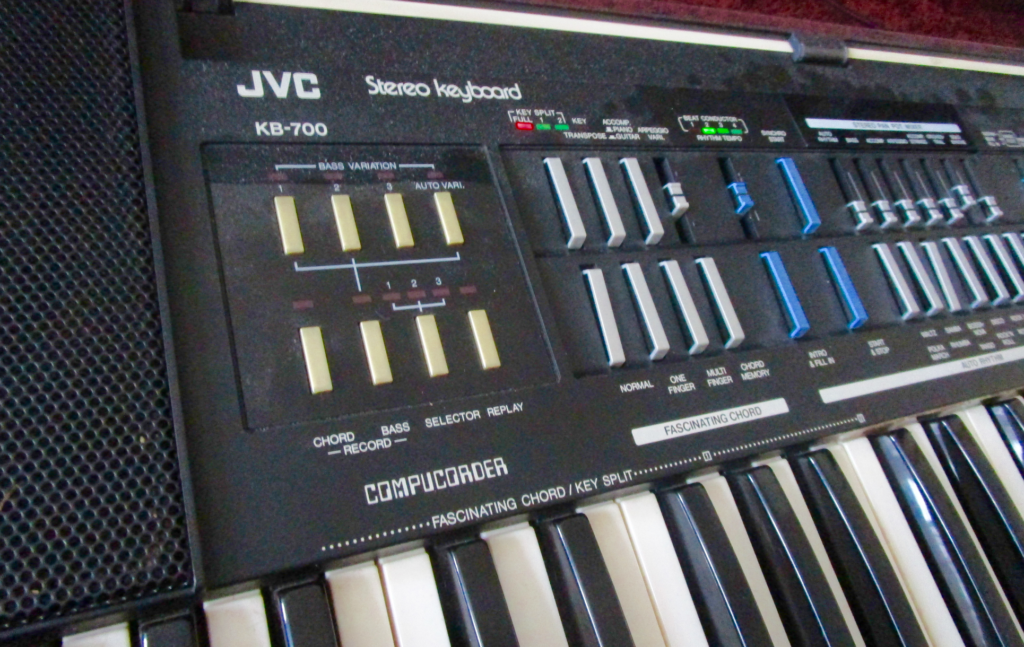 The wonderment doesn't stop yet, words of a pure psychedelic poetic beauty grace this keyboard: FASCINATING CHORD  – MAGIC FOOT SELECTOR COMPUCORDER are but a few examples of word choices.
So it is definitely a LOOKER …Soundwise its Minimal wave bliss all the way…..with a snappy analog and funky build in rhythm box, the usual auto accomp-chord stuff, unstable yet characteristic neurotic strings, funky solo synths and not too bad pianos.
Check out this cover of David M. Hanlon's "DRUID II – Enlightenment" theme played on the JVC…all sound are from there, with a littlebit of delay and I driven the mixer a bit hot to get an even more FAUL sound:
A bit more info on this music: David M.Hanlon composed the original in 1987 for the videogame soundtrack of DRUID II: Enlightenment on the Commodore 64 – It is considered a bonafide Commodore 64 music classic with its incredible minimalistic sad melancholic stirring melodies. check it out below:
Some more PIX: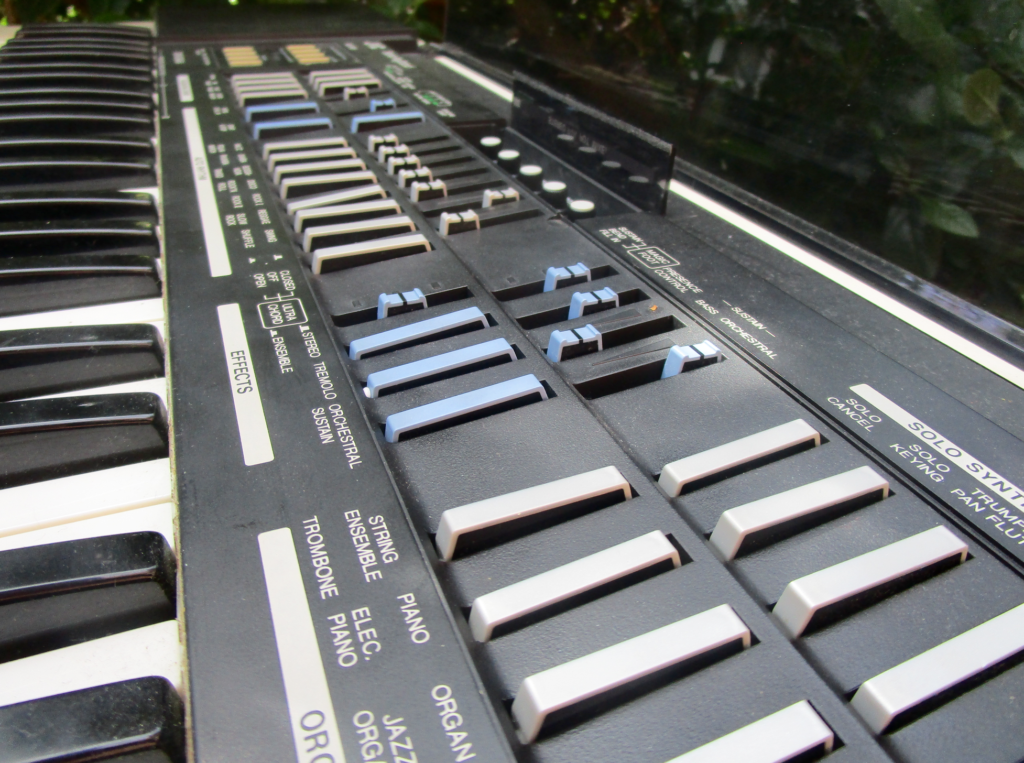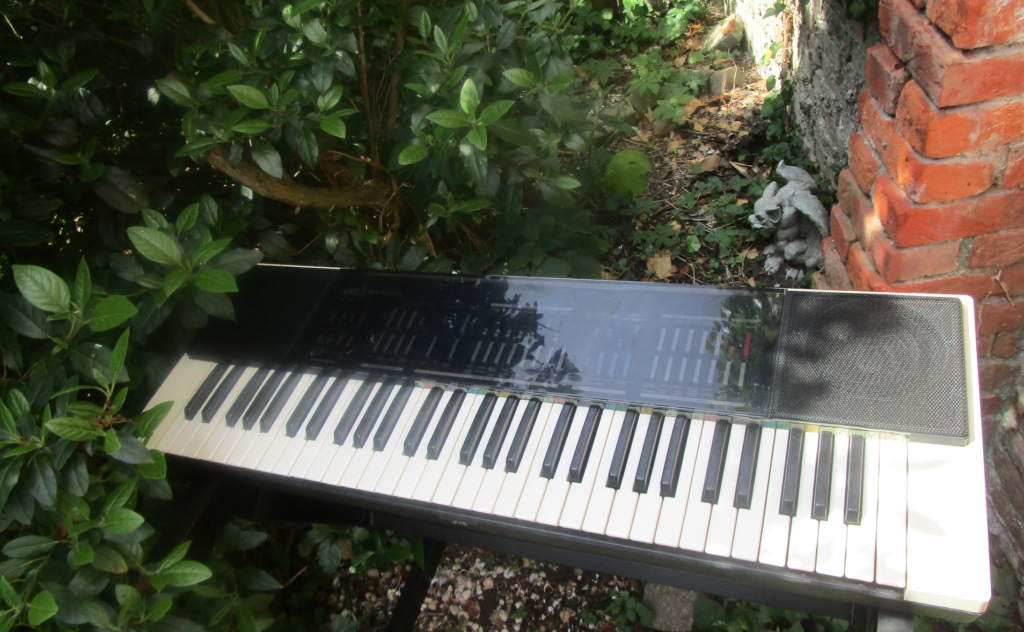 The  JVC KB700 with its lid closed