Shadow Wolf Cyberzine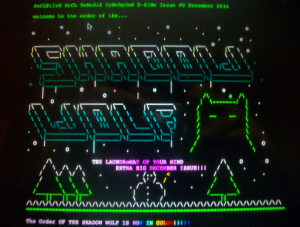 Back Issues of Legowelt's 'Shadow Wolf Cyberzine' Internet's No.1 lifestyle opinion glossy for the modern Cyberpunk Electronic Music afficinado – An e-zine in classic ASCII art BBS txt haxor style -> Illicit subjectmatters that span a wide horizon – Not for flippant bros or  superficial blokettes. Released yearly around Christmas with some special issues at other times…
---
Issue 8 released December 2019
Interviews with Franzsika Lantz, Acidic Male, the Ivorian industrial ambient nosie label Nostalgie de la Boue, Guerilla Gardening, Unconventional Modular Modules, Confessions from Club Promoters, The Origins of ACIDHALL (including free ACIDHALL compilation), Gabber Tales From The Lowlands and lots more!!!
Read it here
---
Issue 7 released December 2018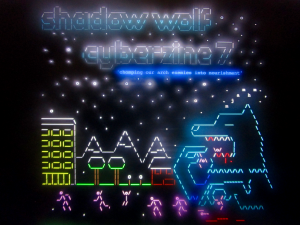 with lots of interviews with cool artists like Michele Mercure, Surf Nazis Must Die soundtrack composer John McCallum, WEME records boss Frederic Mergam, Studiotips with Shawn Rudiman, Terry Riley's LIFESPAN soundtrack, Peter Slaghuis' DISCO BREAKS II – lots of DIY hacks like turning any cassetterecorder into a infinite multitrack recorder, how to build a field recording dome, Video Advice, music tips, the return of U-TRAX records and lots more!!! check it out here
---
Issue VI released February 2018
A special issue of the Shadow Wolf Cyberzine. Number 6 – most of it was made in one Saturday afternoon – on the 10th of February 2018 – at a Shadow Wolf cyberzine workshop seminar in the WORM institute for avant garde media in Rotterdam.  Around 20 participants were introduced in Cyberzine culture and ASCII art and embarked on making their own content for the zine.  Some subjects that the participants wrote about:  Diabolo in Musica – David Vunk's International Mayonaise review – MS20 Tinitus sound therapy  – The other parallel internet that time forgot – Animistic Belief's secret family noodle recipe – OPAMPS The building blocks of Synthesizers – Wondrous Worms and lots more!
Read it here
---
Issue V released December 2017
Shadow Wolf interviews Inter-dimensional music pioneer Iasos, Alexander Robotnick, ASCII Synthesizer Quiz, Guides to binaural music production, overtones in synthesis, lucid dreaming, Ethiopian scales, psychedelic garlic chocolate focaccia, ASCII Ski Simulator and lots more!!! Read it here
---
Issue IV released December 2016
Extra BIG issue: Shadowwolf interviews pioneer electro producer Man Parrish,  Techno producer Voiski and his virus friends, Cybotron's Alleys of Your Mind, Tips for touring producers and DJ's, Baz Reznik Sci-Fi Story, Techno Fashion tips, Build your Lazer oscilloscope projecter and lots lots more!!! Check it out here

---
Issue III released December 2015
Shadow Wolf interviews DJ Overdose, how to start your local synthesizer club, Smackos Tape Station user guide and lots more!

check it out here
---
Issue II released December 2014
Shadowwolf interviews Rotterdam's Modular Synthesizer don Monopoly, ball lightning theories, psychoactive properties of garlic and lots more! – Now in Color!!! Check it out here

---
Issue I released 2014

The very 1st Issue. Shadowwolf interviews cult The Hague electronic music producer PHOCHOS, Memphis Rap corner and lots more!

read it here