21 April 2020
Ambient Trip Commander Mix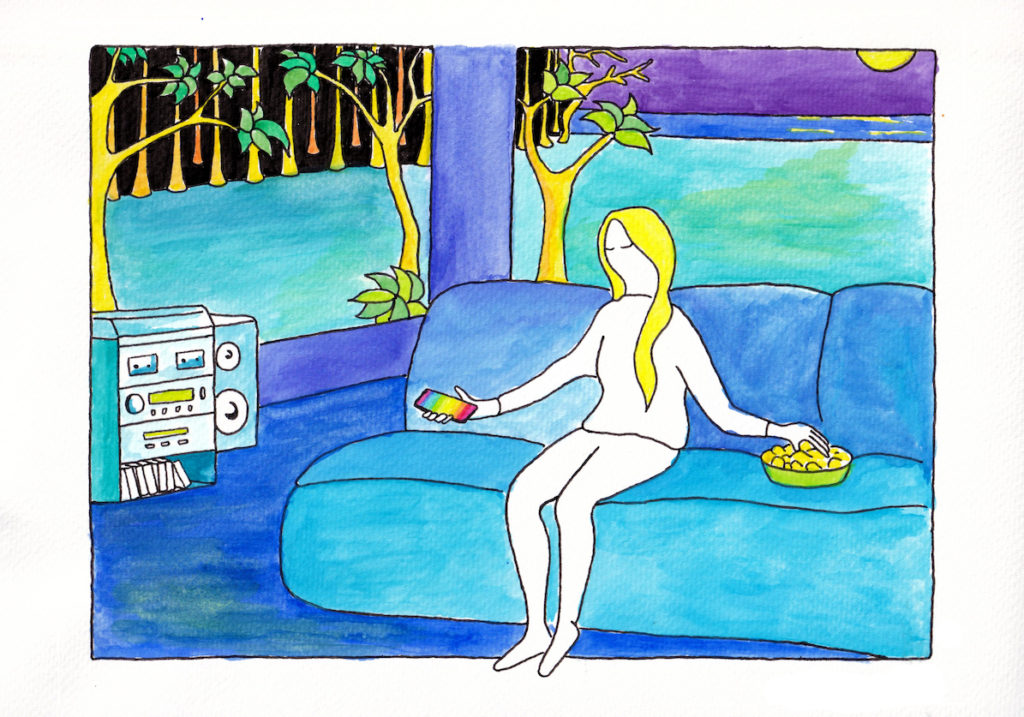 a 100+ minute hardcore AMBIENT SPACE DJ mix to drowse into dreamland with, trip your consciousness into a cozy custard of exaltation, make your fitness yogo meditation stretching substantial,  uplift menial work tasks into a more pleasant adventurous experience, transform your living quarters into a temple of transcendence, soundtracking your solo wanderings or whatever.  
Mostly stuff from the North Sea Institue for the Overmind made recently and a few tracks from other artists such as O Yuki Conjugate, Kali Malone, Corrupted Belly Buster, Eliane Radigue,  Dim Garden etc.
Its also on youtube because a looooot of people listen to music on youtube:
The mix has an xxtra dose of the magnificent Alesis MIDIVERB II FX machine BLOOM effect for an intense space experience
The painting is also called 'Ambient Trip Commander' I will make some prints of it soon and you can probably buy the original too with frame etc.. 
anyways here is the…Tracklist:
The Obsolete Computers –  新たな始まり
Rudolf Lalleman – De Zwarte Regenboog
Samantha Otto Fielding – A Light Only Seen In The Stars
Oberheim gepiel
EMU EMAX II Huxley Bliss
The Futures – Ain't no Time Fa Nothing Loop in Akai X7000
Luciano Berio's Wasserklavier on Synths
O Yuki Conjugate – Cloud Cover
Corrupted Bellybuster – Untitled
Small Town Minstrel – Castle Illuminator
Peter Michael Hamel – Organum
Arcane Head Celery – Spring Rain
Oiseaux Tristes – S900 Ravel Loop
Dim Garden – Sleeping like a Baby while the World Burns
Pancakes With Mist – Frisky Snowdog On A Mountainslope
Alchemulator PSS480 – Larping at Fairsnake Market – Wind Gallopper
Moon Film – See The Hills
Kali Malone – Fifth Worship
Éliane Radigue – L'île Re-Sonante
Zandvoort & Uilenbal – Noordzee Zo Eens in de Winter