Synthstuff Oberheim Matrix 1000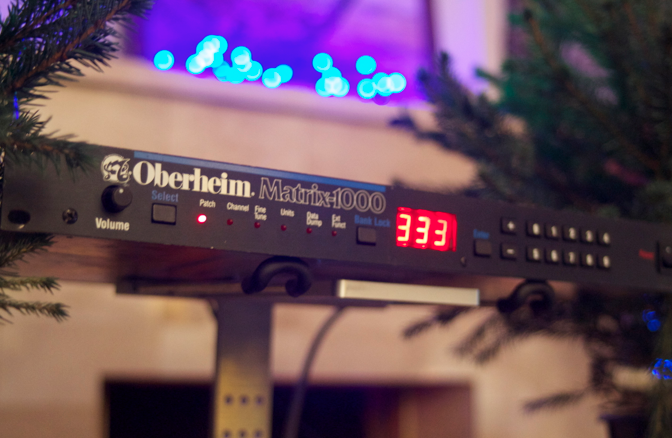 Behold the OBERHEIM MATRIX 1000 rack-synthesizer from the USA built in the years 1987 – 1994. Inside: Analog 2 DCO 12db Filter with a Looooot of modulation capabilities.
Basicly a 19″ rack version of the Oberheim Matrix 6/6R stacked with 1000 preset patches. You can't edit it from the front panel but its fully editable with an editor, controller or 'other' Matrix 6/6R.
It uses the same chip as the Cheetah MS6 and Elka EK22 (the CEM3396) and if you know a bit about that chip you also know its incredibly slow when you program it "live". It differs in the Elka and Cheetah by having a giant modulation matrix that is almost "modular" by nature. You can patch and modulate the hell out of this thing: great  for unique exotic sounds.
The sound is beautifull….sparkling, lush …..sharp but not harsch. Excells at brassy, plucky sounds, strings, pads but basses and other stuff can be quite decent too.  Overall a 'sophisticated arcane' sound, nubile analog. It can sound incredibly scary and eerie. The Oberheim Matrix 1000 really shines with a bit of reverb
There is also a "White oberheim" colored version of this synthesizer which was produced in the later years.
Check out some Oberheim Matrix 1000 demos I made  (all 100% M1000 with some reverb added) :
Deep Japan influenced Oberheim tones
Badalamenti strings transmorphing into SID style PWM
7 Minutes of Oberheim tweaked with a KIWI programmer
More freaking on the Matrix 1000
go back to main synthesizer site