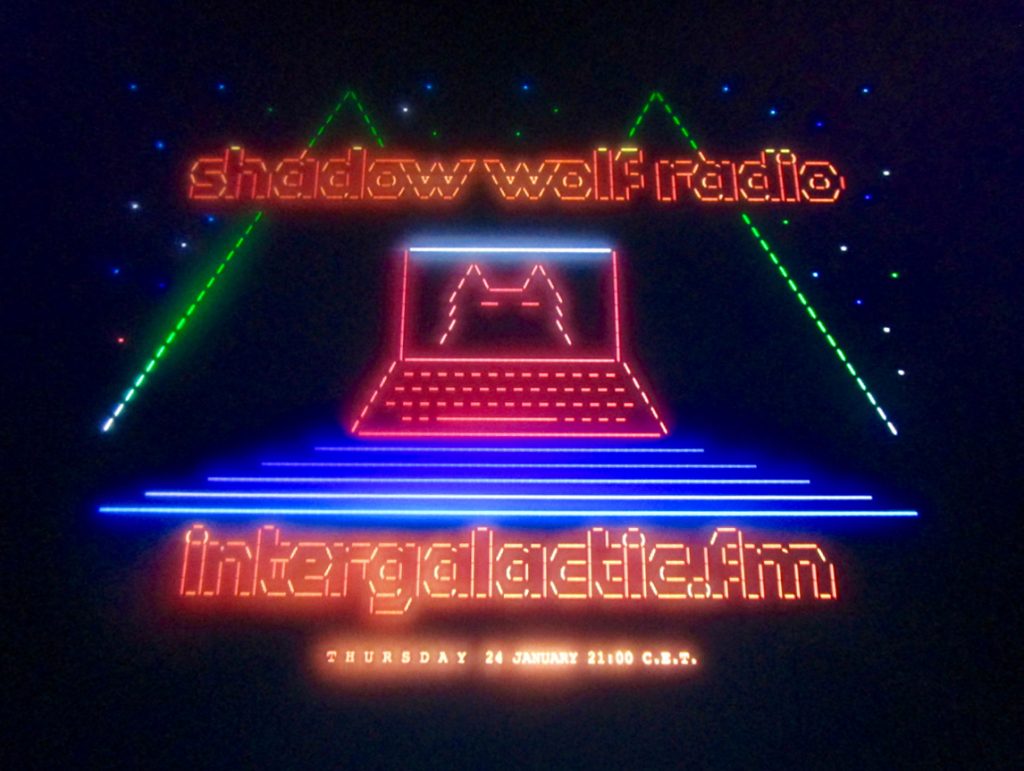 Here is an archive of my radioshows, both SHADOW WOLF RADIO and Astro Unicorn radio shows, which were broadcasted on The Hague's IFM and CBS radio. Currently I am not making radioshows anymore due to lack of time and more focus on music production/animation/art and stuff. It always took a lot of time to find good music and dig deep in the everelasting mudpile of muzak to find something worthwile. Maybe in the future I will do some radioshows again for sure, until then enjoy this archive 🙂
SHADOW WOLF RADIO EPISODE 8 – MARCH 2020
Bach played on Oberheim
Antoni Maovvi – Zombi Beach
Tuff Crew – Going the Distance
Exozoology in my Sampler / Skinny Boys Rip The Cut Loop
Legowelt – Deep Cover Freaks
Spark O feat. Assaf Gavron – Mona
Peego, The Fatman & King Asher – Rude Boy Smackos Version
Horace Andy – Curfew Acidhall Version
Worlds Best Lover Computerhall version
SPK
Big Ocean Mobb IV-1-5 Gangster Driven
Vamos Dançar Millios Kaiser version
Vort – Tulip
Shawn O'Sullivan – Wrest
Noel – Silent Morning
DJ Overdose – Stekker L.I.E.S
Nick Klein – Drive Through The Rainbow
Pancakes With Mist – We Move Like Shadows In The StreetLife
Noah Chompy – 29Adar5780
Seperate Minds – Scattered Thoughts Original 1993 Detroit Version
Vladimir Dubyshkin – Machines Behaving Badly
Legowelt SMEM album track
Ragga Twins – Hooligan 69
Ein St Ein – Warsavia
Smackos – Clipper casting a shadow over the silver waves of the South Pacific
Jentleman – Withouth winning you over
Bakground – Wisdom Teeth
---
SHADOW WOLF RADIO EPISODE 7 – December 2019
Mark Van Hoen –  Truancy
Dissemblance – L'aigle Mort
Den Harrow – Mad Desire
Futuro – Camminare Senza Meta
Carl Matthews – Aeon
Hot Chocolate – Cicero Park
Enrique – Self Loathing
Hieroglyphic Being – This is a terrible place
Nick Klein – Pena Adobe
Franziska Lantz – Plan Escape Route
Imperial Goat Pro One
Lokier – Fighting The Past
Legowelt – MAMBO Bogota live track
Off The Meds – Belter
Kato – Fantasies of Lust (Smackos Remix)
Brother From Another Planet – Wind Up
Snobgodess – Hate Cloud Attractor
Captain Mustache – Computer Monkey Feat.The Advent Legowelt Remix
Detroit In Effect – Programming
Duckie Dumpling & The Like Whatevers – Deconstructed Club music is even worse then tech house
Skitungen – Ofrivilliga Rörelser
Luke Eargoggle – The Bathroom Mirror
Exaltics remix
Legowelt – Once Upton a time at the In&Out Burger Academy
Dendo Mannequin – Frozen Edge
Bene Gesserit – Postcards From Arrakis Funny toys
Wool & The Pants – I've got Soul
Little John & Black Culture – Reality
DEXED Yamaha FM DX improvisation (download VST here)
J Dilla – Let's take it back
Pennik Ettek – One hour Before
Cadman, Stephen – Big Smith Stays in Bed Conversation
---
SHADOW WOLF RADIO EPISODE 6 – 11 October 2019
Chairweiner – Follow the Leader
Call Here My Varlet – The Police Sais…
Dawn Of The Iconoclast
Legowelt – Squirrel
Moon B – Moonside Track 2
De Ambassade – Zo Hoog als de Bogen
Ende Shnaefliet – New Synthi
O Yuki Conjugate – P2
Mono Junk – Onket
David Lyme – Bambina
Nightmoves – Transdance
Smersh – Cassettepets – Herman
Mono Junk – Won't You Leave Love to Me
Beverly Hills 808303 Acid Planet 4
Lynx – Call
IOSS – Yes Yes Oh Yes Composition Nr.1
Unit Moebius – Bombo
R-Zac – Digital Acid
Frank De Wulf VS T Quest – Play
Legowelt – Don't Let Your Life Go By On Automatic Pilot
Bamboo Spaceship – Go Between
Traxman – Lady Dro
Vibert & Simmonds – Go To Sleep Everything Is Alright
Infiniti – Think Quick
Ian Boddy – Living In A Ritual
Penik Ettek – Black Catalogue Ritual Acid
Sparkwave – Crashers
Trinere – How Can we Wrong
Ceephax Acid Crew – Arachnid Acid
Nosferatu Chip
Coverti World Ultra Distortion
Black Tape For A Blue Girl
---
SHADOW WOLF RADIO EPISODE 5 – 15 August 2019
Leroy Smart – Let Off Sup'm  Smackos Pro One Version
Martial Cantarel – Forms 
Smackos – Lelystad D50 (or Lelystad D10 !?)
Frederik Müller – Active Guru Song 1
Bene Gesserit – It's So Hard
Horace Ferguson – Sensi Addic Legowelt Acidhall remix
Pixies In The Woods – From Nursery To Misery Primitive Lands
Wolfram & Pamela Anderson – Whats Your Mind Like (Legowelt Remix)
Chikissecrets – Cold Cool Summer With Poly 800
KASKO Allisa – On Vain Taa Yo (Radioversion)
Consequential – Magic Key
Ende Shnaefilet – My Mother Sells Tupperware
Mars 2008 – Love In The Net
AquaRhythms – Bodyjazz Bodyfusion Ether Spiritool Mix
Great Circles – Heckadecimal – Trash 120
Gladio – Fantasy of Desire Dreams Of Debauchery
JP08 hypno track Live recording
Helena Hauff – Sea Shore Acid
---
SHADOW WOLF RADIO EPISODE 4 – 25 April 2019
Ben Daglish – Blood Valley
Crime Stopper – Drugs Addiction 
Body Withouth Organs – Dada Kabbalah
The Trash Company = Cinnamon
Bookworms – Outdoor
Micheal E – Beat On The Drums
Betonkust – Because I want to Fit In
Kraftwerk – Cybernetic Interface 
Jeans – NohzDyve
Ultradyne – We Are Eternal – The Return Of The Five
Fauli – Jugend Unsin Tape track
Werner Karloff – Shadows
Roy Garrett & Man Parrish- Hot Rod To Hell track
Ben Daglish – Hades Nebula
Endfest – Bus 53
Acid Improvisation +House Nation Original Version
Gladio – Battle Of The Tyreems
Lady Blacktronika – Who Gets Your Love
Luke Eargoggle – Automatic Voyage
Analogous Doom – The Third Decenate
Gladio – Olympus Panspermia
---
SHADOW WOLF RADIO EPISODE 3 – 28 March 2019
Intro Miles Davis L'ascenseur Pour L'echefaud + Prophet 5 arpeggio
Konrad – Working Man
Ultravox – Dislocation
Unknown Composer – Jeep Command C64 SID tune
Eric B & Rakeem – My Melody (Dub)
M.C.Shan – Dub Biter mixed with Sonic Graffiti – Elven Warrior
Dynamix II – Yellow Beats mixed with Delroy Edwards Slowed Down Funk Vol.1
Dean Blunt & Inga Copeland – The Narcisist
Blue Krishna – Rising Sun This Is Just The Beginning
Sun Ra – Enlightenment
Lee Perry Quantum Physics experiment with Amnesia Maximum Ganja
Ralphie Falcon – Everynow and Then
Hell Interface – Trapped
Gladio – Germania Inferior
Drewsky – Wigged Out
Lake Haze – Someone To Love testing the Smackos Lemuria Vintage Sampler Simulator
Ivy's Hands – Nightfall
Fiume – Tension
---
SHADOW WOLF RADIO EPISODE 2 – 28 February 2019
Twin Roots – Know Love
Inertia – The Screen
Napoleon Cherry – When You Had The Chance
Dynamik Bass System – On A Rainy Evening
Falckenhaus AKAI S900 loop & beats
Horace Andy – Curfew
Jorge Velez – Sudden Guests
Nine Circles – Twinkling Stars
Roy Garrett & Man Parrish – Hot Rod To Hell
Legowelt – Vamparch
Sarah Dion – Fugitive
Roy Garret & Man Parrish Poem
Japanese Telecom – Japanese Animation
Delroy Edwards – Do Do
The Orb – Assasin
Connection Machine – Echoes From Tau Ceti
Judith Tripp – Li Sun
Violent Quand On Aime – A Search Fi Marijuana
LNS – Herer
Post Industrial Noise – Eyes
---
SHADOW WOLF RADIO EPISODE 1 – 24 January 2019
playlist:
Intro Yamaha PSS480 music station ambient (http://legowelt.org/yamaha-pss480/)
Spoon Fazer – Rising Sun
Legowelt SMEM recording Prophet 5 + Pulser dual voice synthesizer
Frizzi Triumphator (Fabio Frizzi The Beyond with TR808 illegal remix)
Viper The Rapper – Feel
Druid II Enlightenment soundtrack played on JVC KB700 synthesizer
Sampler workout + Jdilla track
Patrick Cowley – One Hot Afternoon
Terry Riley – Lifespan soundtrack
Go Nuclear – Techno World
Liquid Assets – In Laboratory
Faceless Mind – Viggen Formations
The Future – C'est Grave
Jonny Cortex – The Beyond
Luke Eargoggle – The World Won't Listen
DJ Assault – Techno Freak
Model 500 – Warning
Michelle Mercure – Proteus & The Marlin
---
ASTRO UNICORN RADIO ARCHIVE
Below is an archive of some episodes of my Astro Unicorn Radio show, this was a weekly radioshow I did back from 2007ish to 2011 on Intergalactic FM, The Hague's hottest international radio station broadcasting 24 hours per day 7 days a week all year round!!! Sometimes I would make NPR style radio docs on the road with my little portable SONY cassetterecorder.

---
Astro 2 December 2010
download
In the footsteps of the Lomax expedition I travel to Chapel Hill North Carolina to research the FrequeNC record label hidden deep in the woods.
---
Astro 21 January 2010
download
Another documentary reportage from a cold winter rainy afternoon in New York….this time we follow DJ Ron "The Falcon" Morelli…we visit the sewage plant studios in Brooklyn, a mexican restaurant in Queens were we eat pastry rolls and a special 40 minute DJ mix from him too!
---
7 January 2010
download
Smackos visits Minimal Wave records boss Veronica Vasciska in New York were they take out the dog in the park and play around with obsolete east german drummachines in her studio
---
24 December 2009
download
A seasonal holiday special with the Roland Jupiter 8 – For FREAKS and superdorks only!!!
---
---
---
3 December 2009
download
Some hot tunes and I check out a Technics Synthesizer from the 1980s I got from Baz Reznik
---
---
 19 November 2009
download
Smackos goes underground in the psych fuzz motor rock world – a dangerous escapade with Drugged up long haired freaks, Motorbike gangs, hockey girls and gym teachers.
---
---
---
---
23 December 2010
download
Another radio reportage, this time from the cold snowy Rotterdam were we investigate Mono-Poly's & Dr.Albert Putnams research in Biorhythms using modular synthesizers such as the Fenix and Buchla.
---
---
---
---
---
---
---
---
---
---
---
---
---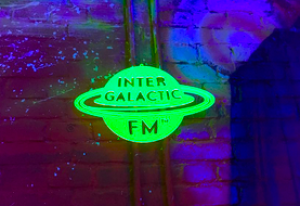 ---
---
---
---
---
---
---
---
---
---
---
---
---
---
---
---
---