AMAZONIA 5 VST SYNTHESIZER FOR PC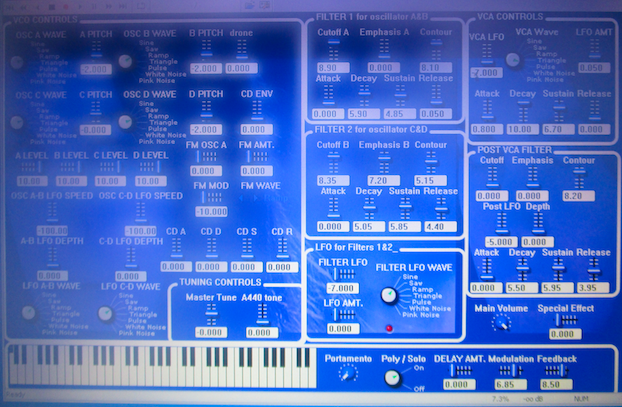 I recently found this again somewhere on my server -> This is a ramshackled – PC only – VST plugin I made around 2004 in synthedit. Very much aimed at 70s style BBC radiophonic workshop Hammer Horror soundtrack and avant garde 'early electronic music' sounds. Good for evolving weird sounds with lots of unexpected artefacts.

Because of its amateuristic gimcracked nature it has some 'issues' which are easily workable:
– Only the left output works so you got to set your DAW or mixer channel to mono
– If the delay amt. (Delay amount) is zero there is no sound, so it should always be on, if you don't want to have the delay effect just put the modulation and feedback at 0.
-The special effect overides the main volume control for some reason.
It will run any PC with a 32bit VST host/DAW even a windowsXP or things before that – if you want to run it quick get the free SAVI host (savihostx86.zip 32 bit) -> run it and select the 'AMAZON5.dll" file when it asks what VST you want to run (this on a XP I have no idea how that stuff works on modern Windows but I am sure it will work too)

Despite its shoddy appearance and operation it can make some interesting sounds, check out these demos made by Jorge Velez:

Mating Call Of A Disturbed Emo
ofcourse its all free for you -> Download it here and start tweaking those sliders!!!