AGENDA
For worldwide bookings contact rene@octopus-agents.com

////////////////////////////////////////////////////////////////////////////////////////////////////////////
See Legowelt perform in…
1 September Felix Anjuna Goa India
2 September Anti Social Mumbai India
3 September Fandom Bangalore India India
8 September (also Noda & wolfers live!) Kaiku Helsinki Finland
9 September (Noda & Wolfers live!!!) Draaimolen festival Netherlands
10 September (Noda & wolfers live!!!) Parc Royal Brussels Belgium
15 September Understand Festival Disaster Lisbon Portugal
22 September Fünk club Mexico City Mexico
23 September Radio bar Irapuato Mexico
29 September Paraiso Santiago de Chile Chile
30 September Festival Sao Existe São Paulo Brazil   
7 October Laska V21 Riga Latvia
14 October Geopark Lights Festival Granada Spain
20 October Ballroom Blitz Beruit Lebanon
10 November Club 21 Florence Italy
17 November TES Tblisi Georgia
3 December Kauz Club Zurich Switzerland
23 December LO-FI Amsterdam Holland
30 December About Blank Berlin Germany
MORE T.B.A
**********
///////////////////////////////////////////////////////////////////////////////////////////////////////////////////
Past Gigs from last years 2017, 2018 etc:
23 September Koninklijke Schouwburg Den Haag Holland
30 September Sao Paulo Brazil
6 October Grelle Forelle Vienna Austria
7 October MTW Club Offenbach An Main Germany
21 October LAB111 Cinema Amsterdam Holland
27 October Griesemuhle Berlin Germany
3 November Clone Rotterdam Holland
4 November Claire Amsterdam Holland
11 November Los Angeles USA
17 November Boston USA
18 November Output New York USA
24 November Rex Club Paris France
25 November 25 Years Bunker PIP The Hague Holland
8 December Control Club Bucharest Rumania
9 December BAR Rotterdam Holland
15 December Poznan Poland
16 December  Nr.Z.P. Bielefeld Germany
26 December Shelter Amsterdam Holland
31 December Paradigm Suiker Unie Groningen Holland
2018:
1 January Hamburg Germany
12 January Phonox London England
19 January Seoul Korea
10 February Shadow Wolf Cyberzine seminar WORM Rotterdam Holland

17 February Tivoli De Helling Utrecht Holland

23 February Astropolis Winter Edition Brest France
24 February Madrid Spain
3 March Fribourgh Switzerland
8 March Moscow Russia
9 March Das Lokal Wroclaw Poland
10 March The Ground Planet Warehouse Den Haag Holland
16 March Bambi's Toronto Canada
24 March Berghain Berlin Germany

30 March Le Diskret Lyon France

31 March IBoat Bordeaux France

5 April Dekmantel Tel Aviv Israel
7 April Lisboa Electronica Festival Lissabon Portugal

13 April The Temple Athens Greece

14 April London Oval Space England

21 April Concrete Paris France
2 May Santiago de Chile Chile
5 May Vrijland Festival Blijburg aan Zee Amsterdam Holland

5 May Het Depot Leuven Belgium

9 May Oslo Norway
18 May Intergalactic FM festival PIP The Hague Holland
19 May 4GB Saguramo Georgia
1 June Helsinki Finland
13 Juni Moog Barcelona Spain
23 Juni RaggaTron Digital Era Dub set Woosah Scheveningen Holland
29 June Taste of Orpheu Amsterdam Holland
30 June Mandela Hall Belfast Northern Ireland
7 July Rex Paris France
13 July Wildenburg Festival Kraggenburg Holland
14 July St.Petersburg Russia
21 July Rote Sonne Munich Germany
28 July Motel Campo Geneva Switzerland
4 August Moonland Festival Vassalena Vald Estonia
11 Augustus Blijdorp Festival Rotterdam Holland
12 Augustus Paradigm Festival Groningen Holland
17 Augustus Theatre De Verdure Patrimonio Corsica
30 August PLAC ZABAW NAD Warzawa Poland
1 September Losjes Festival Den Bosch Holland
8 September GriesseMuhle Berlin Germany
14 September Elsewhere Brooklyn New York USA
15 September Sustain Release Festival Monticello USA
21 September Grote Markt Todays Art Festival The Hague Holland
22 September NITSA Barcelona Spain
28 September Katowicze Poland
29 September Ampere Antwerpen Belgium
6 October Turku Finland
18 October ADE Soundlab cassette workshop Amsterdam Holland
27 October Østre Bergen Norway
2 November PHONOX London England
3 November Thompsons Garage Belfast Northern Ireland
9 November BAR Rotterdam Holland
10 November Electro Park Festival Genua Italy
17 November Legowelt scores Herzog Nosferatu live
Kino cinema Rotterdam Holland
23 November Corsica Studios London England
1 December Tresor Germany
8 December C12 Brussels Belgium
14 December Oost Groningen Holland
21 December Dada Bejing China
22 December VENT Tokyo Japan
24 December FAUST Club Soeul Korea
28 December Berkely Suite Glasgow Scotland
29 December Rashomon Club Rome Italy
2019:
11 January Phonox London England
18 January Le Mouton Noir Fribourg Switzerland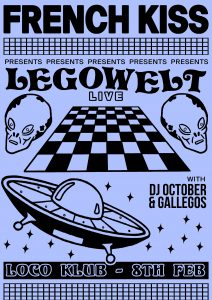 8 February French Kiss Bristol England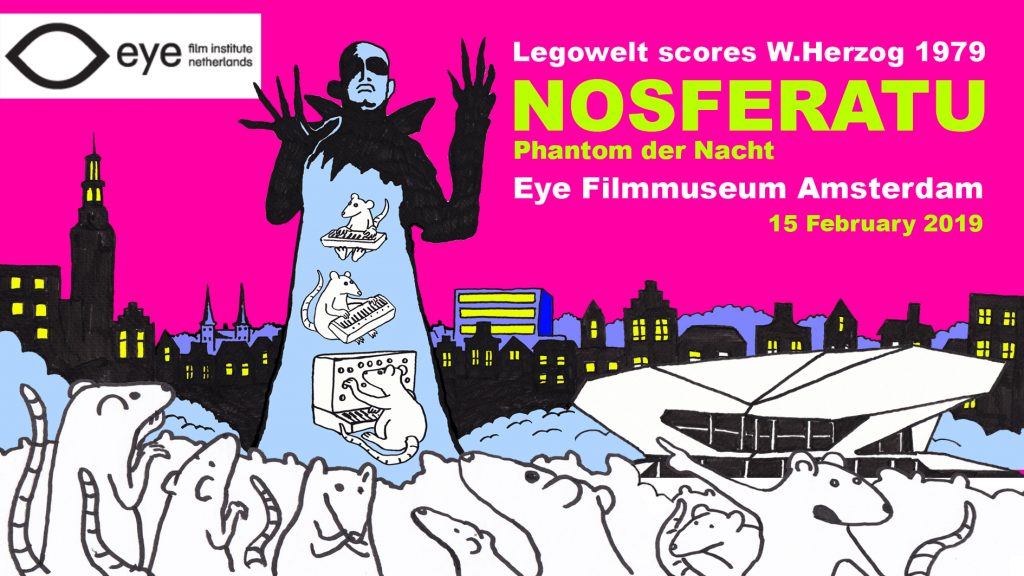 15 February Legowelt Scores W.herzog Nosferatu Eye Filmmuseum Amsterdam Holland
16 February Urban Perugia Italy
2 March Fabric London England
23 March Warzawa Poland
29 & 30 March Chisnau Moldavia
30 MarchPridnestrovian Moldavian Republic Transnistria
5 April Dom Teknika Poznan Poland
6 April About Blank Berlin Germany
19 April Paaspop Schijndel Holland
19 April Cultfarm EKKO Utrecht Holland
27 April Opium Club Vilnius Lithuania
3 May Brooklyn Good Room New York USA

4 May Warehouse Into the Woods Los Angeles USA
5 May MUTEK San Francisco USA
11 May Dresden Germany
18 May Barcelona Spain
24 May Gewolbe Koln Germany
31 May Grey Space Gallery The Hague Holland Art Exhibit
1 June Odessa Ukraine
7 June XOYO London England
8 June OHM Festival Delft Holland
13 June Mondo Disko Madrid Spain
14 June BAR Rotterdam Holland
15 June Bret Amsterdam Holland
Digital era dub DJ set 
21 June Universal Sydney Australia
with DJ Stingray
22 June Canberra Australia
28 June BTHC Warehouse Brisbane Australia
29 June Hybrid Festival Melbourne Australia
5 July VISIO Festival Helsinki Finland 
6 July TRESOR Berlin Germany
27 July OHM Woosah Scheveningen Holland

2 August Katharsis Festival Amsterdam Holland

9 August Dokunight Andrra Prizren Kosovo
16 August Lowlands Biddinghuizen Holland
17 August Robert Johnson Offenbach Germany
18 August Else Berlin Germany
23 August EXT Naranjo 356 Mexico City Mexico
24 August Papaya Playa Tulum Mexico
30 August Salon Amador Medellin Colombia
31 August MAMBO Museo De Arte Moderno De Bogota
Bogota Colombia 
31 August Video Club Bogota Colombia 
6 September Up To Date Festival Białystok Poland
7 September Kasterlee Belgium
14 September Draaimolen Festival Holland
21 September ARTCORE Chisinau Moldova
28 September Expocenter VDNH KIEV Ukraine
4 October Mutabor Moscow Russia
5 October Simplon Groningen Holland
18 October Panorama Bar Berlin Germany
19 October Awakenings Holland
1 november Wigwam Dublin Ireland 
8 November XOYO London England
15 November Klub KegelBahn Luzern Switzerland
16 November Zurich Schönegg Varieté Zurich Switzerland
29 November PAG-TLV Tel Aviv Israel
7 December De School Amsterdam Holland
14 December Morfar Ginko Stockholm Sweden
27 December PIP Den Haag Holland
28 December About Blank Berlin Germany
31 December RTM Rotterdam Holland
with David Vunk
2020:
25 January Ved Siden Ad Copenhagen Denmark
7 February Live Soundtrack Grauzone Den Haag Holland
8 February Caserne des Vernets Geneva Switzerland
14 February BT59 Begles France
22 February London England
6 March Tresor Berlin Germany
13 September Ambient Space Concert @ Paradise Down by the Lake
Brussels Belgium
18 September Ambient space concert at the Openlucht theater de Goffert Nijmegen Holland
23 October  Herzog's 1979 NOSFERATU live score on synthesizers Braga Portugal
2021:
30 July TIVOLI VREDENBURG UTRECHT HOLLAND
6 August Zandvoort & Uilenbal Future Intel The Hague HOLLAND
18 August inner court yard of 3345 Noordeinde The Hague HOLLAND
21 August Grelle Forele Vienna AUSTRIA
10 September DISSOLVE FESTIVAL Białobrzegi POLAND
18 September Suicide Club Berlin GERMANY
30 September Théâtre du Châtelet PARIS FRANCE

1 October Club Freda BRNO CZECHIA
22 October  Lizdas Kaunas Lithuania
6 November COBALT Studios Newcastle ENGLAND
10 November Jasna 1 Warzawa POLAND
26 November NIGHT TALES London ENGLAND
11 December St.Ettiene FRANCE
18 December KIEV UKRAINE
25 December Belgrado SERBIA
2022:
25 Februari LoFi Amsterdam Holland
4 March FUSE brussels Belgium
11 March Trix Theatre Antwerp Belgium
19 March Tivoli de Helling Utrecht Holland

26 March La Machine du Moulin Rouge Paris France

2 April Fomo Klub Białystok Poland
3 April ELSE opening party Berlin Germany
15 April De Nieuwe Nor Heerlen Holland
17 April Halle Tropisme Montpelier France

7 May NL premiere of AMBIENT TRIP COMMANDER
Legowelt's feature animation film with live soundtrack on synths
more info: http://legowelt.org/ambient-trip-commander/
EYE Film Museum Amsterdam Holland
13 May PAL HAMBURG Germany
21 May Rennes MADE Festival France
28 May Fold Club London England
4 June CRAVE FESTIVAL The Hague Holland
10 June Jaeger Oslo Norway
18 June Kapitel Bollwerk Bern Switzerland
4 July DC10 Ibiza Spain
23 Juli ALCHEMULATOR live OCCII Amsterdam Holland
28 Juy
AMBIENT TRIP COMMANDER film screening with live soundtrack
at Het Nieuwe Instituut Rotterdam Holland
29 July 
AMBIENT TRIP COMMANDER film screening with live soundtrack
KINO ARMATA PRISTINA Kosovo
29 July RE:FORM Festival Germia National Park Kosovo
30 July Revier Südost Berlin Germany
4 August OZORA FESTIVAL Igar Hungary
5 August DEKMANTEL Festival Holland
20 August PARAGON New York USA
2 September The Berkeley Suite Glasgow Scotland
9 September MAUKE Wuppertal Germany
10 September HHH – Monokino Festival Oostend Belgium
17 September Klub Poczta Główna Kraków POLAND
23 September ANKALI Prague Czech Republic
1 October HEAT x IFM DE HANGOUT Wijk aan Zee Holland
8 October Zend Festival PIP Den Haag Holland
15 October St-Étienne Le Fil club France
22 October MELKWEG ADE CINEMA Amsterdam Holland
9 November Alphabetum XII Museum WEST Den Haag Holland
Who? Are you – Artist Residency with High on Type
19 November WOMB TOKYO JAPAN
20 November Maho Rashop Festival RANGSIT BANGKOK THAILAND
26 November Gallery 86 Lithuania
2 December White Studios London England
3 December PIRAEUS Athens Greece
with animistic beliefs and more!
2023:
27 JANUARY CABARET LE VAUBAN BREST FRANCE
28 JANUARY LE PETIT BAIN PARIS FRANCE
4 FEBRUARY LE SUCRE LYON FRANCE
11 FEBRUARY HEAT AMSTERDAM HOLLAND
3 March SHELTER Amsterdam HOLLAND
18 March Cialo Wrocław POLAND
1 April PARADISO AMSTERDAM HOLLAND
Screening with live soundtrack on synths of my
7 April   AMBIENT TRIP COMMANDER UFO FACTORY DETROIT USA
14 April Club Fleda BRNO CZECHIA
20 April MUSEUM FOLKWANG & GOETHE BUNKER ESSEN GERMANY 
28 April Basement NEW YORK USA
29 April  Red Room WASHINGTON D.C. USA
6 May 8Lectro BARCELONA SPAIN