Synthstuff Casio CK500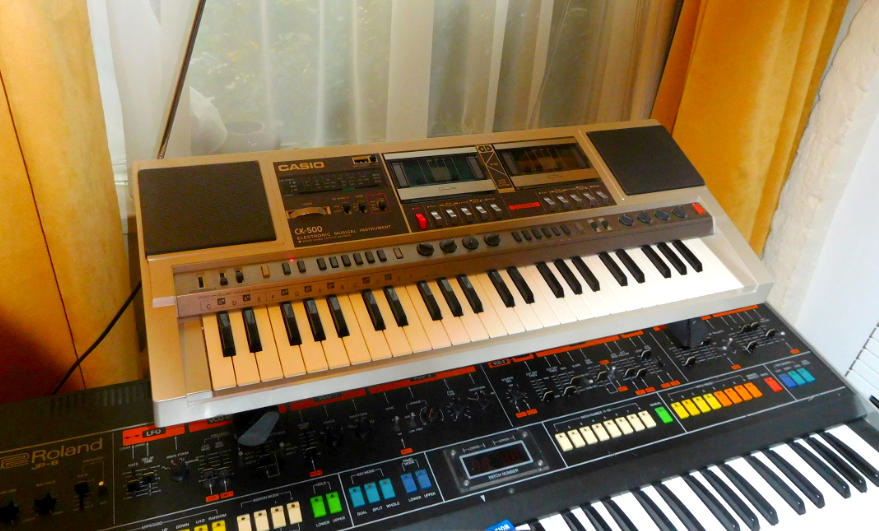 13 january 2015 – I recently acquired this in a shady deal behind the Rijswijk central station. The Casio CK500 "Electronic Musical Instrument" is a 1980s casio keyboard with a double tapedeck and a SW/FM radio build in and one of the few keyboards with an antenna!
The wet dream of any 80s LO-FI retro dork.
The cool thing is that you can overdub tracks on the double cassette recorder, i.e.: Record blankets of casio woolleyness on a tape, put that tape in the player tapedeck and record yourself playing over the stuff you taped earlier…and record that again too on the recording tapedeck. Etcetera…Imagine the levels of tape disintegration possible!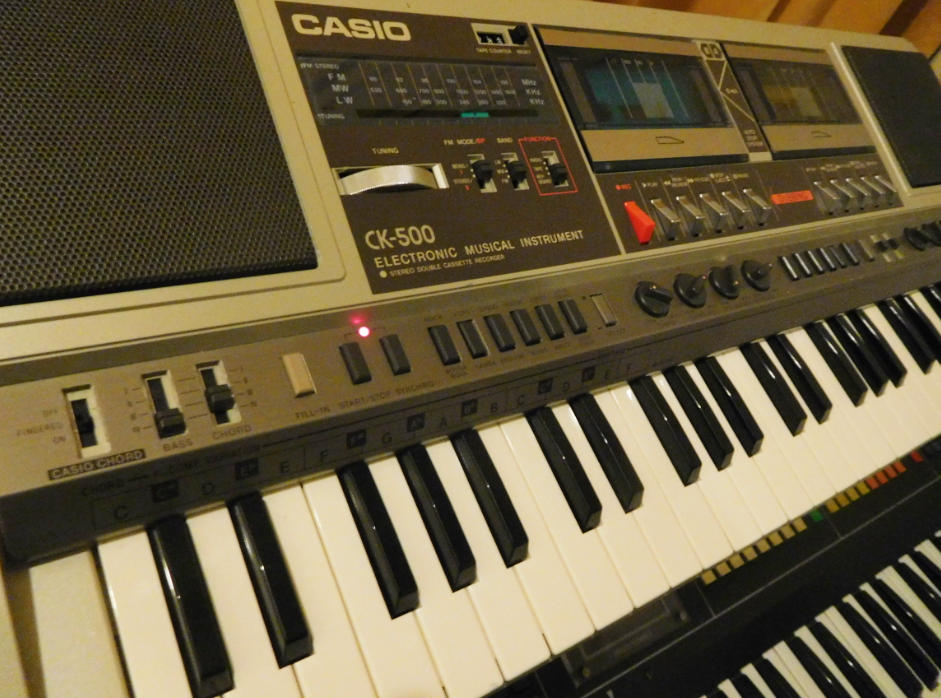 This overdubbing business is a bit theoretical – the individual tapedecks 'wow' and play speeds differ so much from eachother that you might get problems being in tune.
Strangely you can't play the keyboard when the radio is on. You could, ofcourse, first record it on the tapedeck and then play over it…
The keyboard part is quite basic, 12 preset sounds with a vaguely warm character but at the same time very infantile, plastic YET overall, SINISTER. You can't change much in the sounds, if nothing at all actually…you can put vibrato, sustain and reverb over it.
There is a drumsection too with some cool analogue-esque rhythm box sounds and accompaniement bass patterns with a variety of preset rhythms.
The cassette recorder is of such worn out quality that you can use it for ultimate crappy tape mastering. Instant smacked out extreme NOISY minimal wave vibes and tons of fun, though the novelty wears of quick.
Here are some demo songs made with this keyboard (and some outboard FX in some tracks such as the, yet unreleased, SMACKOS SPACE EXPANDER reverberation system)
Laughing Windows (with Jimi Elektrovolt)
Tradewind evensong (with Jimi Elektrovolt)