16 April 2018
New Nightwind Tapes Out Now!!!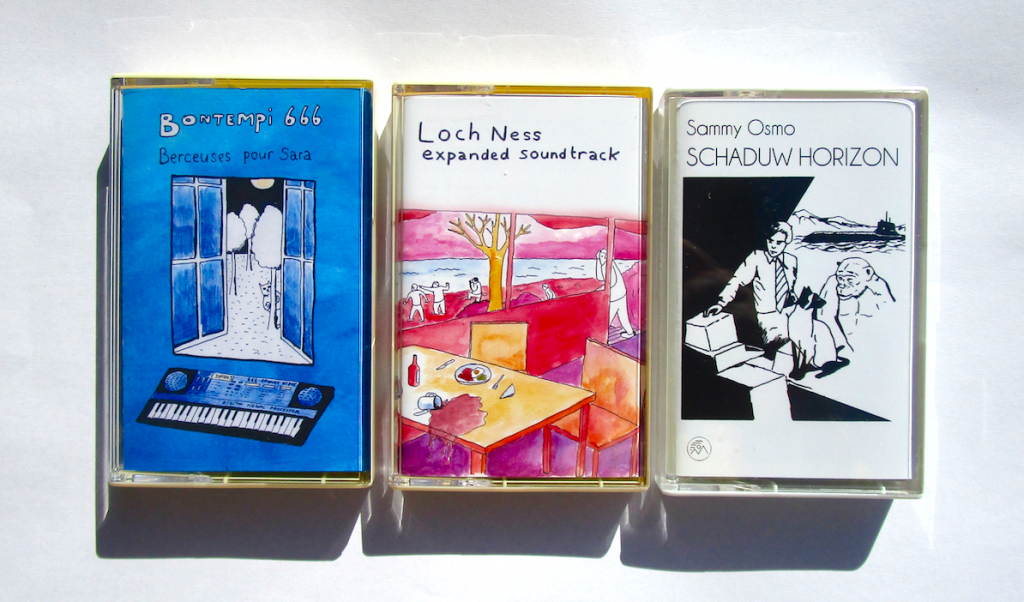 EDIT: they are pretty much sold out DECKS.DE has some copies left, and PHONICA in the UK maybe some other stores too
Three new tapes available now on Legowelt's Nightwind Records label:
NW019 Loch Ness Expanded Soundtrack – Cassette version of this Commodore 64 videogame soundtrack originally released on the Legowelt website in 2012 – with new artwork, liner notes, remastered and with new unreleased tracks! Buy the tape at Clone or IFM or Bleep.com – digital free here on the Legowelt bandcamp (a new digital version recorded straight from the tape so you can experience the tape magnetism and also including the extra tracks and some extras)
NW017 Sammy Osmo's Schaduw Horizon – Chrome type II tape cassette re-issue of this saught after DX7 drenched dutch spywave album originally released on CDR only on Strange Life records in 2007 – Remastered with liner notes – buy the tape at Clone or IFM or Bleep.com– digital on the Legowelt bandcamp
NW015 Bontempi 666 – Berceuses Pour Sara -> varicoloured smoozed saturated electronics and space jazz ,made on a Bontempi BT805 keyboard (aka the BONTEMPI 666) from the local seaside cocktailbar.  Recorded in one go on a moody rainy Monday afternoon somewhere in 2017. Buy at Clone or IFM or Bleep.com – Digital here on the Legowelt bandcamp website

All the Nightwind Records tapes are artisan handcopied, printed, cut and manufactured by myself in Scheveningen Holland.
Note: The digital bandcamp versions come with lots of extras – such as high resolution PDF's of the tape inlays – so you can make your own tape! Just record the bandcamp downloaded wavs/mp3s/flacs whatever on an empty tape on your tapedeck – print out the PDF's –  cut and fold them – insert them into the tapecase and hey here we go!!!