3 September
Swiss Museum For Electronic Instruments Kickstarter
Something *very* exciting:
The kind people from the Swiss Museum & Centre For Electronic Music Instruments (SMEM) are doing a kickstarter to start up the museum with a 'PLAYROOM' – a place where anyone can play the collection with their own hands.
A few levels underground somewhere in the Swiss medieval town of Fribourg is an atomic-bunker-style complex with the world's largest collection of synths. A collection so vast its almost incomprehensible – a space filled with THOUSANDS and thousands of synthesizers, organs, oddball electronic instruments, beatboxes, effects processors and more – collected over the years by eccentric Swiss actor-musician-artist Klemens Niklaus Trenkle. It is curated and taken care of by a group of local volunteers – the SMEM is also a non profit organisation – hence the kickstarter.
"We believe that the best way to share such an unparalleled collection is through experiencing it firsthand." – The kickstarter money will be used to build and facilitate a playroom where at any time 50 instruments selected out of the collection of thousands will be available to play – an accessible studio bringing the SMEM's living heritage to a broad audience of musicians, students, performers, kids, and grown-ups!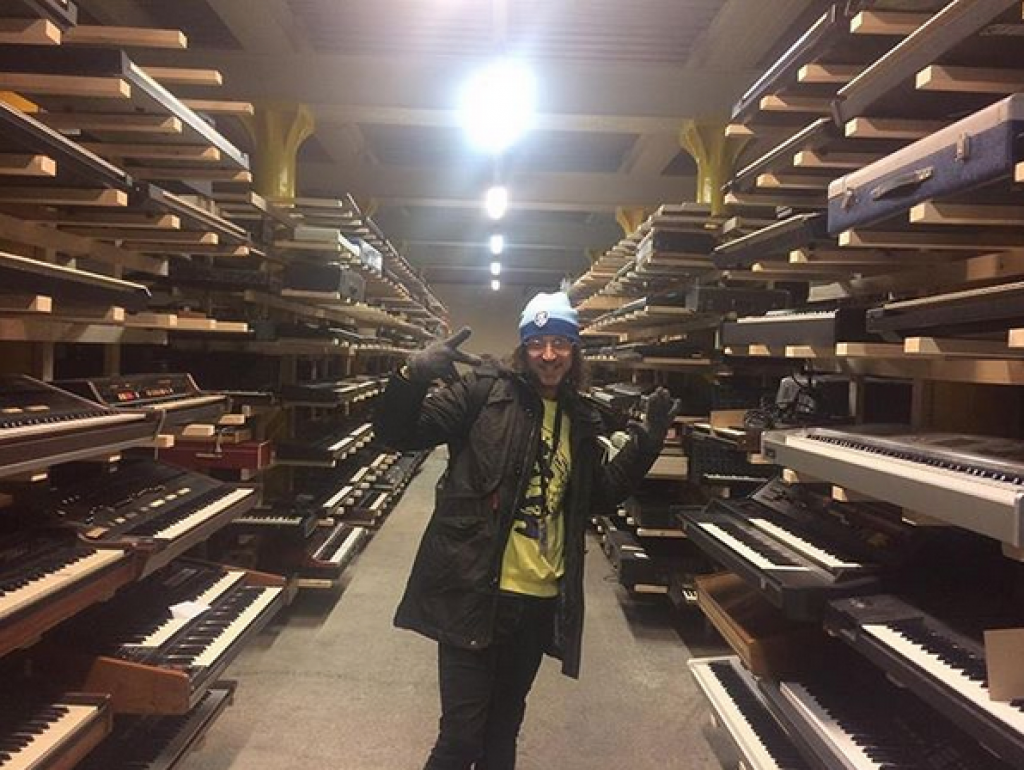 one of the many endless rows of the SMEM collection when I visited it earlier this year in the winter
To support this beautiful project Legowelt will travel to Switzerland and spend a week or so with the collection – probably with the most obscure pieces – to record an exclusive vinyl album. This album will be available only for those who participate in the kickstarter – and nowhere else – not in shops! Already for CHF(Swiss Franks) 55  you will support the building of the studio and get the exclusive record – for 110 CHF you will get the record, a T-shirt and 4 hours of playing time in the playroom. There are lots more pledges and perks starting from 15 going all the way up to 5000 CHF.  Go check out the kickstarter to participate and for full and indepth information on this project!