3 February 2021
Dickie Smabers – Jammed From the Fist 2xLP
COMING SOON!!!! My The Hague moerwijk mullet FC Den Haag hooligan alter ego Dickie Smabers returns (without the Moerwijk crew) with some fresh music on British Unknown to the Unknown Records! If you are unfamiliar with the Dickie Smabers & The Moerwijk Crew project, I made an album with that many eons ago called FC DEN HAAG which goes for crazy $$$$$$ now.  Dickie Smabers' sound signature evolved a bit over the years from old school 808 electro to Unit Moebius ChiHago raw rhythmmmmm tracks.
Anyways this is going to be a 2x vinyl release with 8 overeasy fat The Hague D&R mixer jams squeezed from the 'fist', made in an afternoon or 2. The tape deck heads were so non alligned the tracks almost started to chorus/flange/phase, barely holding things together… 'Track themes' span mostly The Hague related stuff like the disfunctional yet cult BABYLON shopping mall, Buying a second hand Akai X7000 in the posh upperclass Vogelwijk (our version of Hampstead), Obscure nightmarish dutch TV show Pompy the Robodoll and some other adventures from the life of Dickie Smabers!!!
Available mid February at your local record dealer or preorder at BLEEP.COM etc.
MP3 SNIPPETS: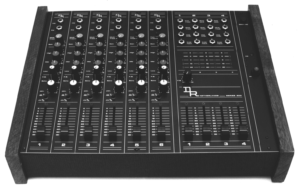 not the mixer this record was mixed on